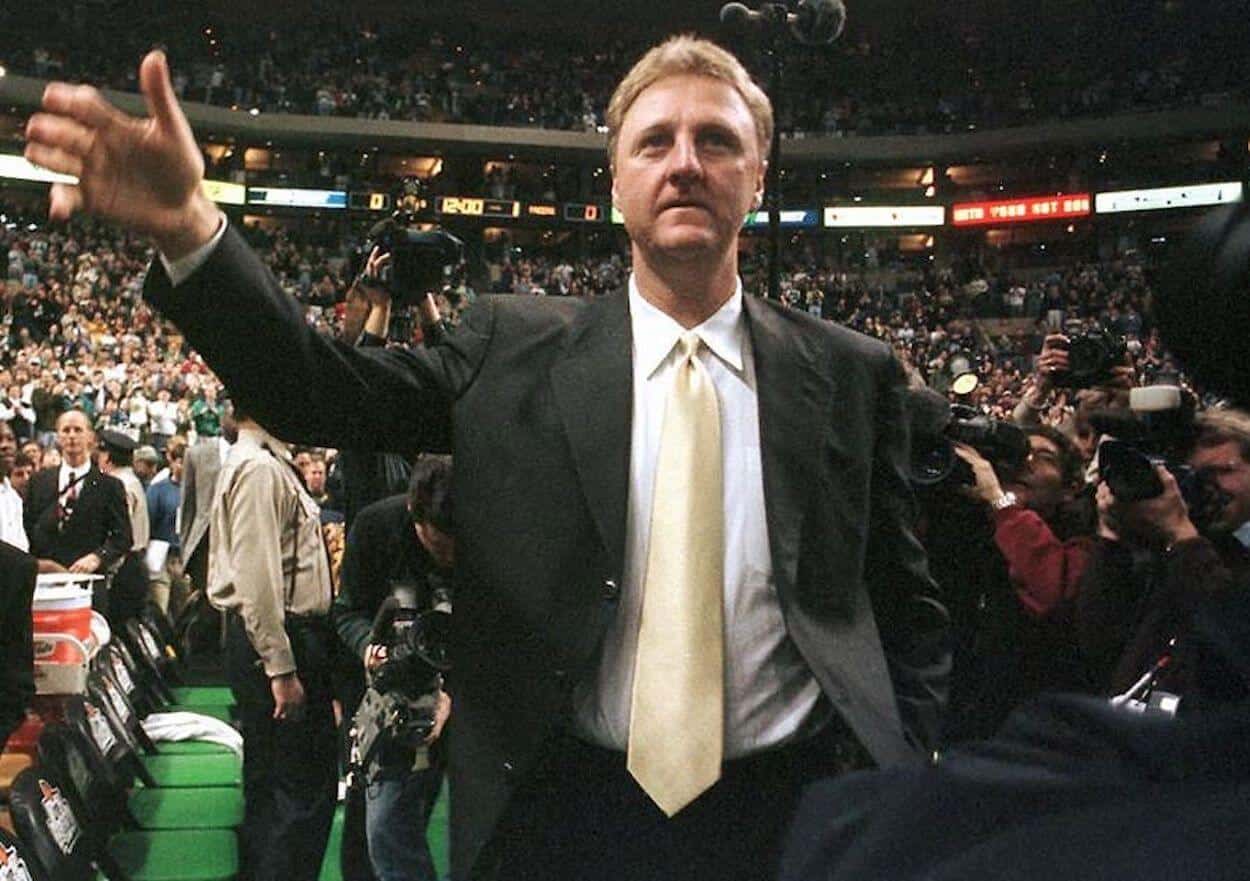 Larry Bird Grew Up Chasing Something Other Than NBA Glory on the Basketball Court and Almost Missed His Chance to Achieve It: 'That Was the Ultimate for Me'
While Larry Bird won three NBA titles during his time in Boston, he was always after a bigger prize.
When you think of Larry Bird and his NBA career, it's safe to assume that the forward accomplished just about everything he could have wanted. While injuries ended the Boston Celtic's career a bit prematurely, he still found plenty of success on that hardwood, winning three championships, three MVP awards, and two NBA Finals MVP crowns. Add in his countless individual honors, and it's pretty tough to take that issue with that resume.
But did you know that Larry Legend didn't consider any of those achievements the top prize while growing up? Sure, NBA success was nice — Bird didn't have the same edge as Michael Jordan, but he did want to win — but there was something greater out there.
And that target was an Olympic gold medal.
Larry Bird considered a gold medal 'the ultimate' and accomplished the feat just before he retired
These days, it's safe to assume that anyone who grows up dreaming of playing professional basketball wants to reach the NBA. While Larry Bird wasn't an exception to that rule, he did consider something else the ultimate prize.
"Being a young kid and being able to watch the Olympics on TV, and watching participants getting their gold medal, and their [country's] song was played, that was the ultimate for me," the forward was quoted as saying in a 2008 throwback Yahoo story.
But, despite that being a dream, it looked like Bird had missed his chance at international glory. At the time, the United States national team was largely composed of college players. When the 1976 Olympics rolled around, Larry Legend was about to re-enroll in school after leaving Indiana and working as a garbage man. Understandably, he didn't have a place on Dean Smith's roster.
While No. 33 did get to play at the 1977 World University Games — he even earned a gold medal — time wasn't on his side. Not only had he joined the Boston Celtic by 1980, but the United States boycotted the Moscow Olympics.
Since he had entered the pros, it looked like Bird's chance of claiming a gold medal had gone up in smoke. Ahead of the 1992 Games, though, everything changed. Professional athletes were allowed to enter the competition, and the forward's talent made him a lock to join Team USA. There was, however, another catch.
As NBA fans will remember, Larry Legend made the infamous decision to build a driveway for his mother and injured his back. While that didn't immediately end his career, it started a slow-motion decline. Bird would find himself spending more and more time lying on the floor, getting treatment, and doing whatever it took to remain comfortable.
By the summer of 1992, things had reached the end of the line. The forward was in rough shape and was ready to retire. He was on the Olympic roster, but that looked like a bridge too far; the international travel, combined with fears about pain-killing supplements, seemed to rule the Olympics out.
With an assist from Dan Dyrek and 200 roses, though, Bird gave it a shot. He appeared in all eight games during the tournament — considering the margin of victory, that was likely low-effort work — and won a gold medal. With that item checked off his list at long last, Larry Legend could hang up his sneakers.
 "That was at the end of my career, I knew it was over for me," he added.
Talk about going out in style.
Bird's childhood memories also made that gold medal a bittersweet moment
When you consider that Larry Bird had finally earned an Olympic gold medal in his final act as a professional athlete, it's easy to understand why he felt mixed emotions standing on the podium. There was, however, something else weighing on the forward's mind.
Remember how Bird's view of a gold medal as the "ultimate" stemmed from watching the games as a child? Well, that same memory also conjured up some painful reminders of the past.
"I always watched the Olympics with my dad, and even though I was very young — five or six — I will always remember how my dad stood up with his hand over his heart each and every time 'The Star-Spangled Banner' was played when the USA medaled in an event," Bird once told the Boston Herald. "[My dad] was bursting with pride."
When Larry Legend found himself on the podium, he couldn't help but think back to his old man.
"Of course, when we won the gold medal, and I heard "The Star-Spangled Banner" being played, I thought of my dad with his hand over his heart and knew he would be so proud," Bird added.
Joe Bird wasn't watching his son's moment of glory, though; he had died by suicide when Larry was a teenager.
That duality — Bird finally reaching the top of the international mountain while remembering how much his late father would have appreciated the achievement — is a good reminder that professional athletes are humans, too. We don't know what's going on behind the scenes, and even the best moments can carry a pang from the past.
If that can happen to Larry Bird upon achieving "the ultimate," it can happen to anyone.
How to get help: In the U.S., call the National Suicide Prevention Lifeline at 1-800-273-8255. Or text HOME to 741-741 to connect with a trained crisis counselor at the free Crisis Text Line.