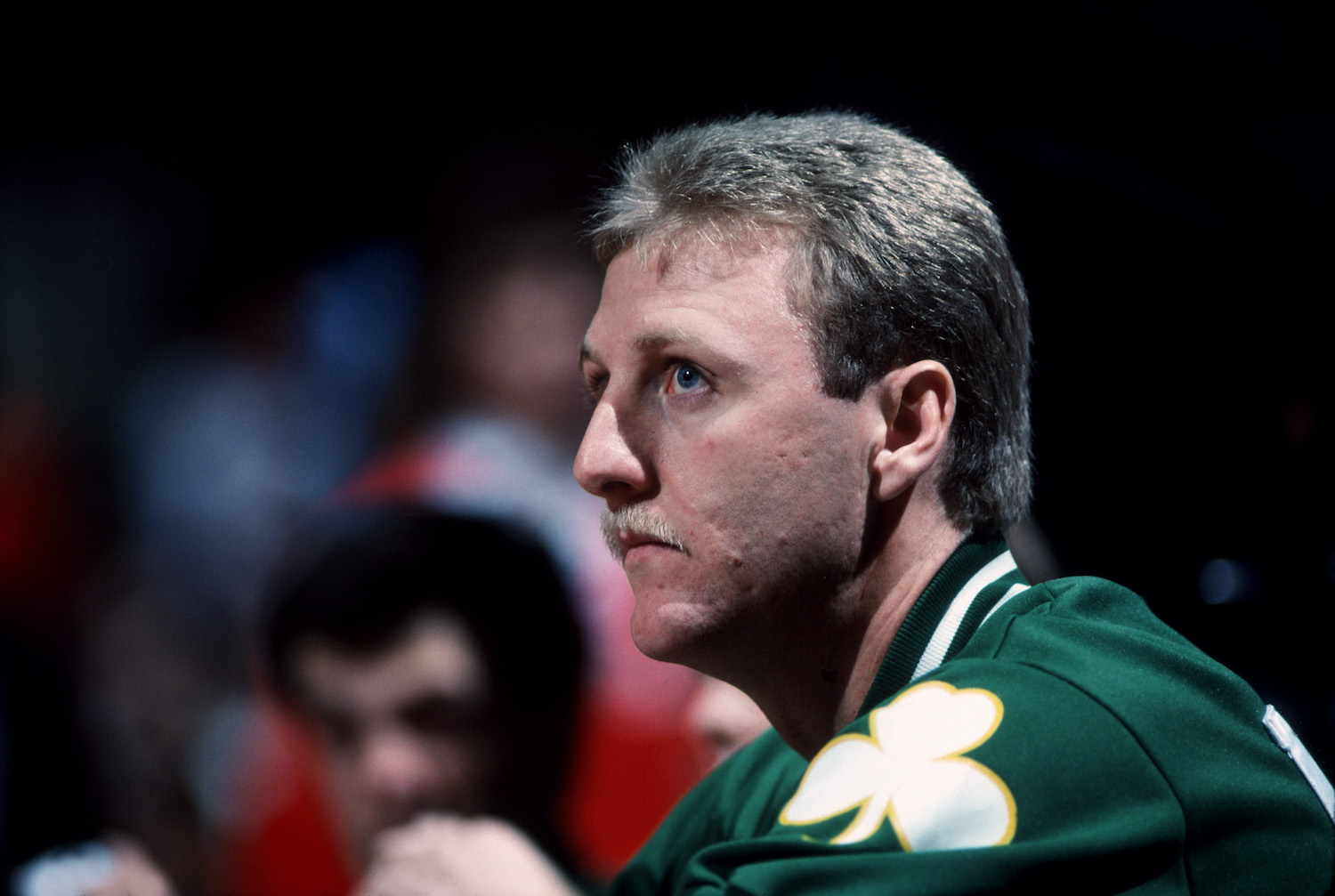 Larry Bird Had 'the Best Time' on the Golf Course by Playing 18 Holes Without Saying a Single Word
For all of his fame and fortune, Larry Bird is a pretty simple guy. He enjoys hitting the golf course and, when he's there, silence.
While Larry Bird found fame and fortune on the NBA hardwood, the forward wasn't exactly at home living the high life. By and large, the Boston Celtics star was always the same guy who grew up in French Lick; he loved playing basketball, hitting the golf course, mowing his lawn, and spending time with family and friends. Even within those preferred pastimes, though, Larry Legend did things his own way.
Take, for example, one round of golf that Bird played with his neighbor. While the forward apparently had "the best time," he also insisted on playing all 18 holes in complete silence.
Larry Bird certainly knew how to talk on the basketball court
When you think of Larry Legend's skill set, three-point shooting and overall offensive prowess probably spring to mind. The Boston Celtics star had another weapon in his repertoire, though: trash talk.
Although Bird might not have played with the same outward intensity as Michael Jordan, he still knew how to mess with an opponent. The forward's signature move was simple yet effective. He would come down the court, tell his defender exactly how he planned on scoring, and then did exactly that.
On other occasions, though, he decided to push things a bit further. During a game against the Phoenix Suns, for example, Bird told the entire bench that he had grown tired of playing them. He then stepped up and, rather than attempting a game-tying two-point shot, buried a game-winning three. He'd also mess with his Celtics teammates and, on at least one occasion, stood over Ed Pinckney and let him have it before hitting the practice court.
With all of that being said, Bird was apparently a pretty nice guy once you got to know him. When it came to basketball, though, he was never shy to talk a big game.
The forward once played an enjoyable game of golf without saying a single word
For all of his NBA trash talk, Larry Bird apparently keeps it much quieter on the golf course.
In 2012, Rick Reilly sat down for a lengthy ESPN interview with Bird and his rival-turned-friend Magic Johnson. At one point during the conversation, the Boston Celtics legend called himself a "loner," and Magic jumped in to provide an example of that reality.
"I know a guy whose best friend lives next door to Larry down in [Naples] Florida," Johnson explained. "They meet up in the driveway, and he asked Larry did he want to play golf. Larry says OK. This guy thought they would talk while playing golf. But Larry never said a word about talking. He just said he'd play golf. So they play golf, and Larry doesn't say a word for 18 holes."
As you might imagine, that man had a fairly awkward experience and worried he had done something to offend the NBA legend. In reality, though, Larry Legend had a ball.
"So now they're loading the clubs back in the car, and Larry says, "I had fun. Wanna do it again tomorrow?'" Magic concluded. "Larry had the best time by not talking."
Larry Bird wasn't the only NBA legend with unique habits on the golf course
While golfing in silence with Bird might be somewhat of an awkward experience, it still sounds like a relatively stress-free way to hit the links. The same can't be said for playing a round with Michael Jordan.
In a recent appearance on GOLF's Subpar podcast, Json Kidd explained that His Airness doesn't tolerate a slow pace of play. "If you don't know how to play fast, then you are not allowed to come back," the former point guard said. "With him, if you don't play fast, he will leave you."
To make things even worse, MJ is apparently also willing to break the rules of golf etiquette to win his on-course bets.
"I played a couple of times with Michael Jordan, and I remember being a fool once and accepting one of his bets on a putt," Michael Douglas explained. "He wanted to make it some crazy amount — in the thousands. I'm not a big gambler. I lined up the putt, and, over and over, Jordan starts ripping the Velcro on his golf glove. I was like, 'What are you doing?!' And he goes, 'Look, man. If I can make a free throw with 20,000 people screaming at me, you can make a putt with me making a little noise.'"
For most basketball fans, playing golf with either Larry Bird or Michael Jordan would be a once-in-a-lifetime experience. Depending on which man you hit the course with, though, that experience would turn out rather differently.