LeBron James Helps Nike Make $600 Million a Year and Recently Saw the Company Place Him in the Same Club as Michael Jordan: 'I'm Definitely Honored'
LeBron James and Michael Jordan. Everyone gets heated when debating between the two of them. Both of their resumes are filled with on-court accomplishments, as they are (arguably) the two greatest basketball players of all time. But they have also achieved a lot off the court.
In fact, James recently received an honor from Nike, the athletic apparel company that has deals with both legends, and it put him in the same club as Jordan, as well as various other all-time great athletes.
Michael Jordan and LeBron James have both helped Nike become successful
Given the era in which Michael Jordan played, he helped put Nike on the map. The six-time NBA champ signed with the company in 1984, his rookie year, and has propelled it to the top of the athletic apparel industry.
After releasing his shoe line that was, and still is, one of the most popular in the world, Jordan and Nike later launched Jordan Brand, which is essentially its own brand but under the Nike umbrella.
All in all, the relationship has paid off big time for both sides. Forbes reported in 2020 that the company had paid Jordan over an estimated $1 billion since signing him, and his brand brings in billions of dollars in revenue each year.
LeBron James, on the other hand, signed with Nike in 2003, inking a seven-year deal worth $90 million. He then received an extension in 2010 before he and the athletic apparel giant agreed to a lifetime deal in 2015. The numbers for his current contract are unknown, but he reportedly makes more than $30 million a year from it, and the total deal is supposedly worth more than $1 billion, per the Akron Beacon Journal.
According to The Undefeated, James' "overall signature business, including shoes, apparel, and accessories" makes an estimated $600 million per year.
LeBron joined MJ with a recent honor from Nike
Whether you're Team Jordan or Team LeBron, one thing is clear: Their relationships with Nike have been very successful. And the company recently honored James in the same way it honored Jordan over 30 years ago. 
It gave The King a castle. 
OK, not an actual castle, but Nike named a building after James with its LeBron James Innovation Center. According to The Undefeated, it's more than 85,000 square feet and has four floors. It's the newest building on Nike's world headquarter campus that now consists of close to 80 structures. The company officially announced its name in September.
James is the first basketball player to receive the honor since His Airness in 1990, as Jordan's building was one of the original eight on the campus. Athletes like Bo Jackson and Steve Prefontaine also joined Jordan with buildings named after them at that time.
The Undefeated reported that LeBron's center will house "Nike's innovation and research teams," and the inside of the building includes a 94-foot basketball court with a running loop along the outside of it. The court is also next to a soccer field.
It seems James is honored to have the company recognize him in such a massive way, and he admitted he was pretty emotional about it when he received the news years ago.
LeBron James reacted to Nike naming a building after him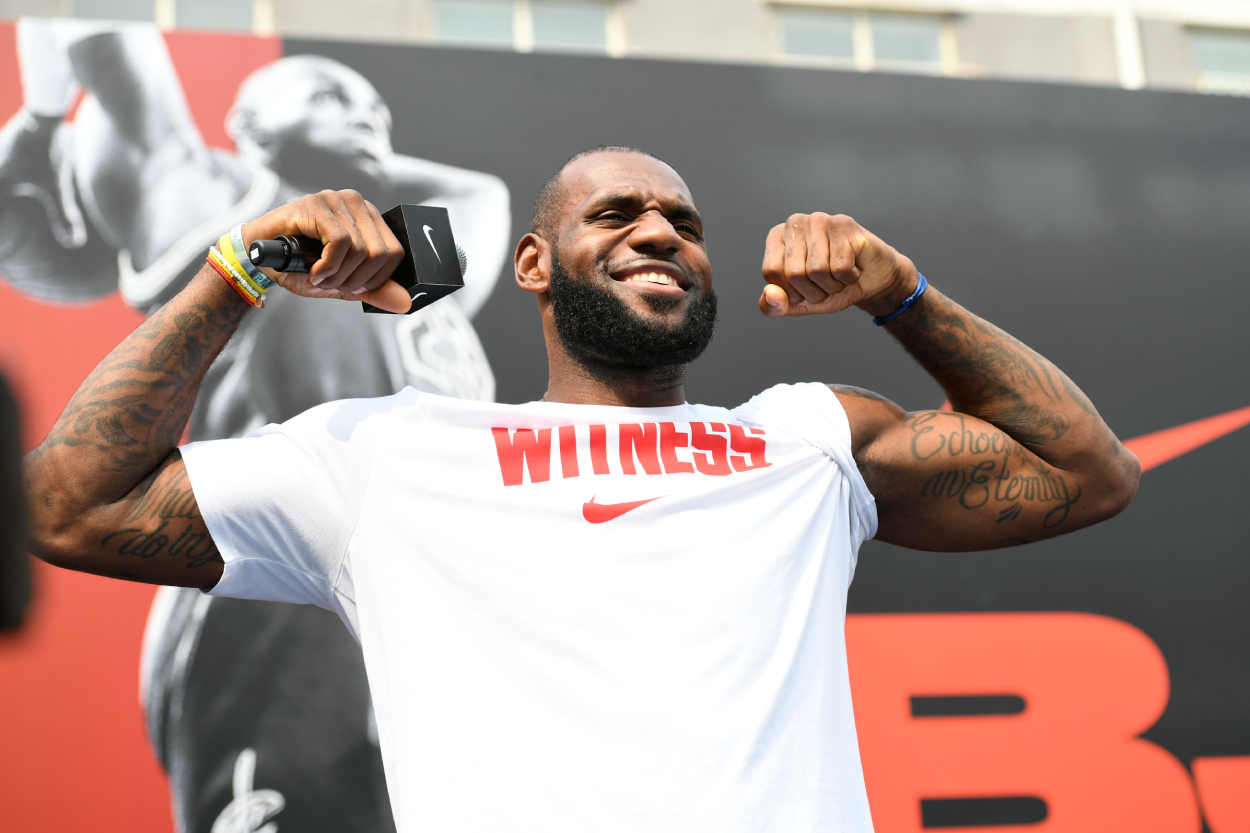 LeBron told The Undefeated that he shed tears when he originally heard the news, as the building was a part of a 2016 expansion plan.
"I'm definitely honored to be one of the Nike athletes to have a building represent their name," said James, who visited it earlier this month, per The Undefeated. "The inside of it and the outside of it, the architecture of it, the story behind it, everything that goes on inside this building is unbelievable."
The inside also has a coffee shop named after his mom, Gloria, and features a mural of the two of them.
"My mom means everything to my journey, everything to my life," James said, per The Undefeated. "Everything that she sacrificed for me throughout my life, especially when I was a kid, her dedication to just trying to be excellent, even through adversity, she set me up to be who I am today. Just being able to overcome shortcomings, overcome anything in my life, seeing the things that she had to go through. To see my mom represented in this building, it's a special thing for me."
No matter how much he accomplishes, it appears James always remembers who helped get him there. His innovation center honors his past but also prepares for the future.