LeBron James Sent a Veiled Shot at Michael Jordan With His Personalized Gift to a Young Stephen Curry: 'The King of Basketball in North Carolina'
Stephen Curry and LeBron James are bitter rivals on the basketball court, but they've always been fans of each other dating back to Curry's college days at Davidson. Back in 2008, James made the trip to watch Curry play in the NCAA Tournament, and he later gave the budding superstar a personalized gift that included a subtle shot at North Carolina legend Michael Jordan.
After 14 years and four battles between the two in the NBA Finals, Curry still cherishes the gift and even has it hanging up in his parents' house to this day.
LeBron James saw something special in a young Stephen Curry
James knows a future NBA star when he sees one. When a young, scrawny Curry started lighting up college basketball at little-known Davidson College, he immediately caught LeBron's eye.
Back in 2008, when James was in his fifth season with the Cleveland Cavaliers, the future Hall of Famer watched closely as Curry led the Wildcats to a Sweet 16 appearance behind two electric offensive performances in the first two rounds of the NCAA Tournament. At that point, LeBron knew he had to see this kid for himself.
So, James traveled to Detroit to see Davidson take on Wisconsin in the Sweet 16, and he wasn't disappointed in the slightest. Curry dazzled the crowd with NBA-range threes and acrobatic finishes at the rim on his way to 33 points in the 73-56 upset win.
LeBron knew that night that Curry would become a force to be reckoned with in the NBA, as he later confirmed in a 2019 tweet.
"Wasn't some kid to me! I knew he was SPECIAL that's why I went to see it up close and personal!" James tweeted in response to a video of Curry's performance that night.
LeBron sent a veiled shot at Michael Jordan with his gift to a young Curry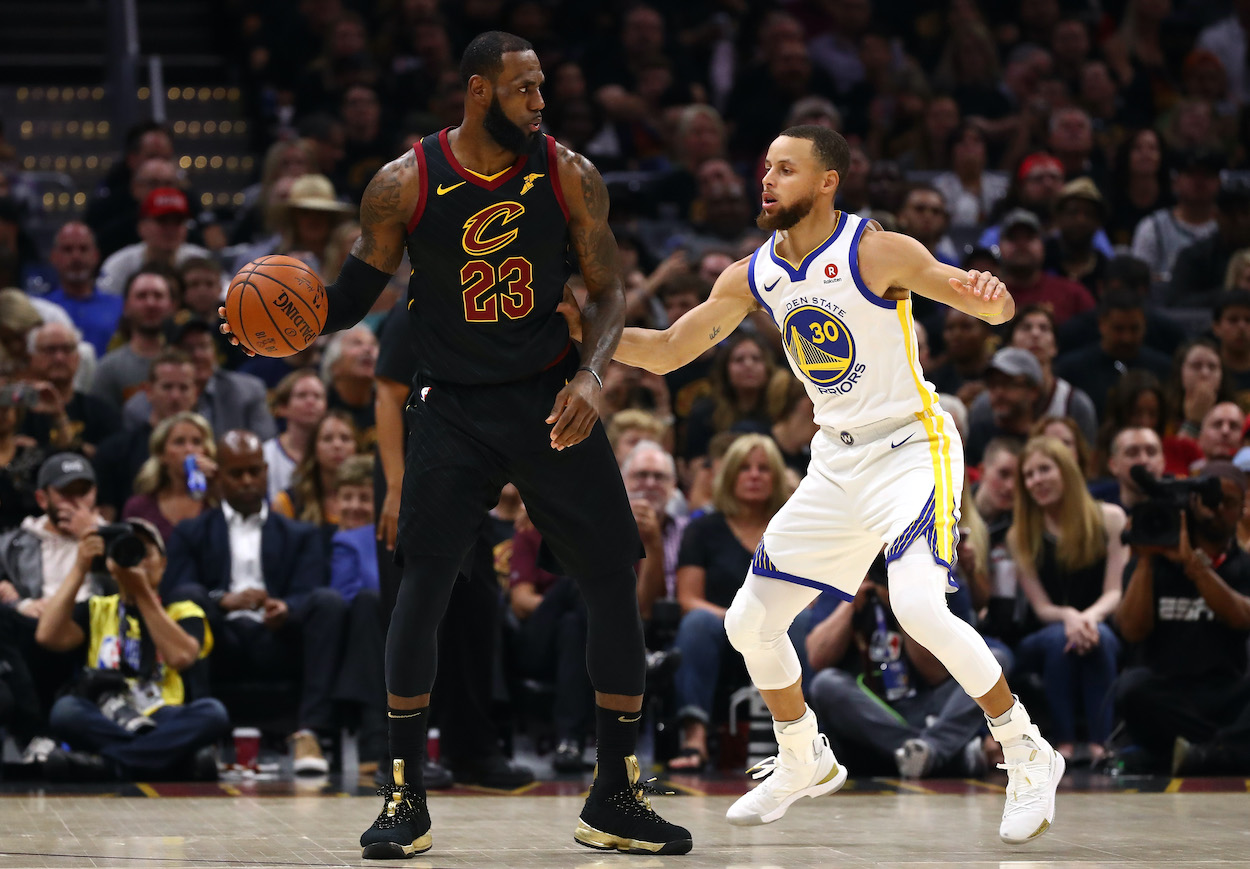 James, being the sheer fan of basketball he is, was so impressed by Curry's game as a 20-year-old kid that he reached out to send him a personalized gift. Fourteen years later, Curry still has that gift hanging in his parents' house.
He recently told the story to Hanif Abdurraqib for a GQ cover story.
I was a sophomore in college and LeBron was coming to my games! I actually still have the jersey he gave me. He signed a jersey for me. I think that was November of my junior year. On my wall at my parents' house in Charlotte, it's still there. And he wrote it to me, called me the king of basketball in North Carolina. So I guess it's like the corny idols-become-rivals thing.

But it's real, though.

Stephen Curry
It must've been surreal for Curry to see one of his basketball idols sitting courtside at his college games and receive a signed jersey in the same year. But to be called the "king of basketball in North Carolina" — the state Michael Jordan grew up in? Maybe LeBron took his message a bit too far.
Still a mutual respect between the two
Just a few years after Curry received the signed jersey from James, the two went from fans of each other to bitter rivals in the NBA. Curry's Warriors later met LeBron's Cavs in the NBA Finals four straight years from 2015-2018, with Golden State getting the best of Cleveland in three of those matchups.
But through it all, the two superstars haven't lost the mutual respect they share for each other. When Curry broke the NBA's all-time record for 3-pointers made last month, James was one of the first to praise him for the accomplishment.
"I wish I could be there to congratulate him," James said at the time. "I'll be one of the guys in our league that will congratulate him socially.
"We're all witnesses to what Steph Curry has done in his career and the way that he's changed the game. He's a once-in-a-lifetime basketball player."
Like Sportscasting on Facebook. Follow us on Twitter @sportscasting19.