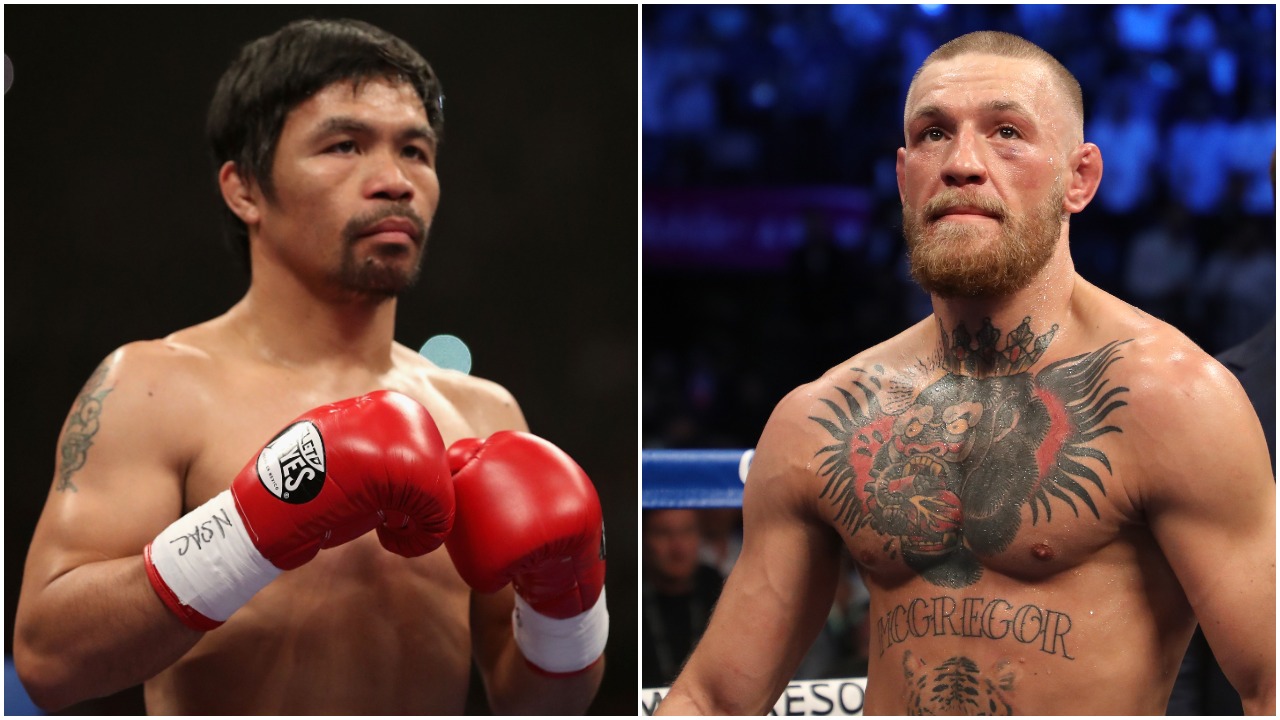 Let's Not Pretend That Conor McGregor Stands Any Chance Against Manny Pacquiao
Breaking down what the potential Conor McGregor vs. Manny Pacquiao boxing match would look like.
Now, for those already upset with the title of this article, let's make one thing clear right from the start. If Manny Pacquiao and Conor McGregor were to meet up under MMA rules in the UFC octagon, McGregor would destroy Pacquiao and it wouldn't even be close. The "Notorious" one is obviously one of the most talented and successful fighters in UFC history and Pacquiao would be helpless in that type of environment.
But we're not talking about a UFC fight here. We're talking about a boxing match, a match that actually looks like it's going to take place. And in that environment, just as it was in 2017 with Floyd Mayweather, Conor McGregor is going to get pummeled and this beating is actually going to be worse than the one he took three years ago. It doesn't matter that Manny Pacquiao is 41 years old (he might be 42 when the proposed fight rolls around) and hasn't fought in more than a year. The eight-division world champion is going to annihilate the two-division UFC champ.
It truly looks as if the Conor McGregor vs. Manny Pacquiao fight is going to happen
On Friday afternoon, Conor McGregor, who supposedly retired for the third time back in June, tweeted out that his next fight would be against Manny Pacquiao in the Middle East. Naturally, there was some skepticism on the validity of such a claim but it turns out that this sideshow of a fight might actually happen.
McGregor's manager, Audie Attar, confirmed on Friday that discussions have taken place about McGregor and Pacquiao squaring off (which UFC is apparently on board with) in December or January, likely somewhere in the Middle East. On Saturday, Pacquiao's aide, Jayke Joson, released a statement confirming that the fight will happen (tweet above) with a portion of Pacquiao's earnings going to COVID-19 relief in the Phillippines, where Pacquiao serves as a Senator.
The 'Notorious' one wasn't overly impressive against Floyd Mayweather in his boxing debut
While some have applauded Conor McGregor's effort against Floyd Mayweather in his professional boxing debut in 2017, it wasn't as impressive as it seemed on the surface. Yes, he deserves a ton of credit from venturing outside his comfort zone to face an all-time great in the undefeated Mayweather. But just as this fight with Pacquiao will be if it happens, it was more of a money grab than anything else.
As for his performance in the fight, he did get some shots in on Mayweather. But it was essentially because "Money May" allowed him to do so. McGregor fell victim to the "rope-a dope" and wore himself out, which allowed Mayweather to pounce, which caused the referee to stop the fight in the 10th round when Conor McGregor could no longer defend himself. Mayweather wasn't overly aggressive, which gave McGregor a slim chance, but that won't be the case with Manny Pacquiao.
Manny Pacquiao is going to destroy Conor McGregor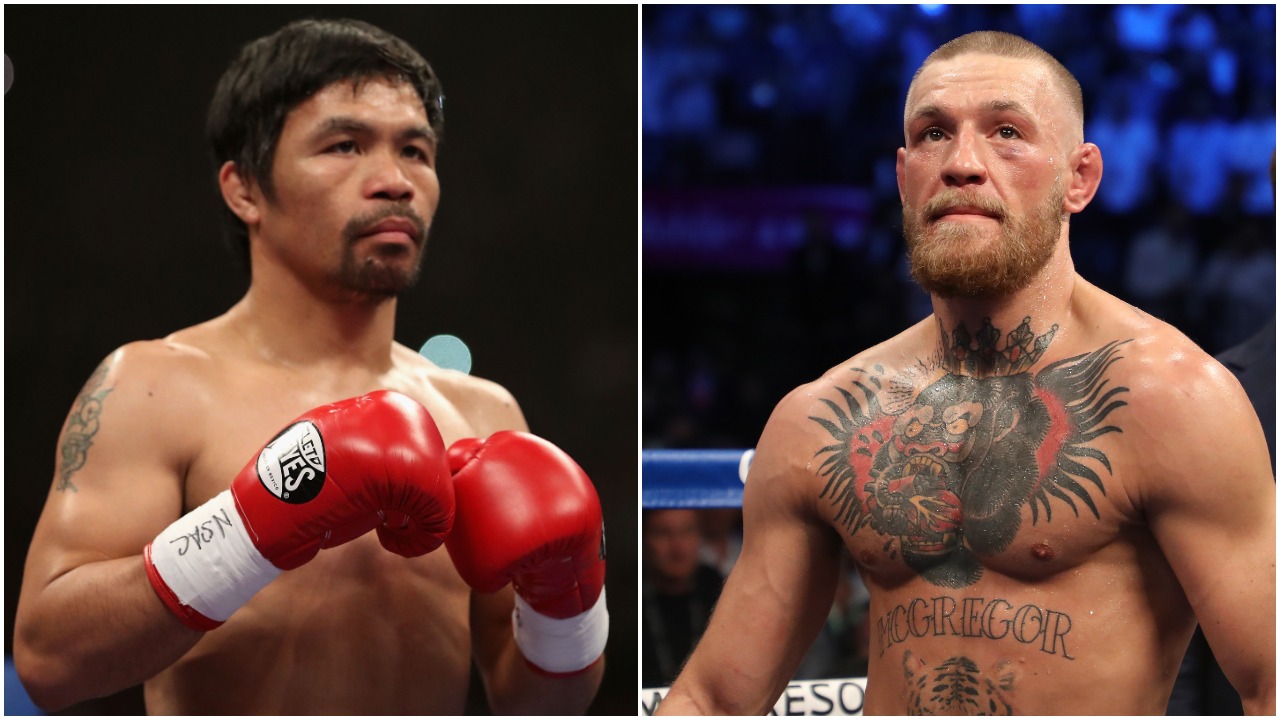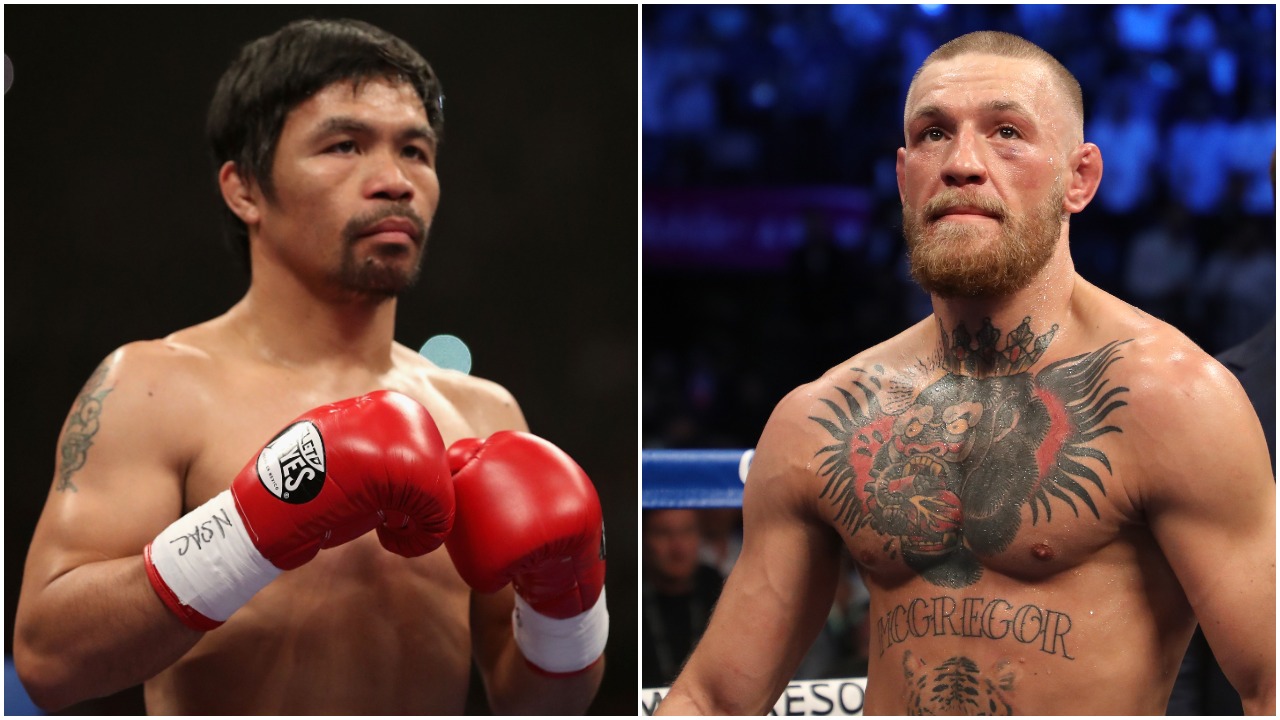 While it is commendable that Conor McGregor continues to want to test himself against quality competition, he stands no chance against Manny Pacquiao in a boxing ring. Is Pacquiao anywhere near his prime? Absolutely not. Nevertheless, he's still one of the top pound-for-pound boxers on the planet (he's currently ranked 10th on The Ring's pound-for-pound list) and his hands will be just way too quick for McGregor to handle. For those thinking that's an insult, it's not. Conor McGregor is a solid puncher but without the kicks and elbows, he can't win.
What's worse for McGregor is that Pacquiao is a much more aggressive fighter than Floyd Mayweather. Mayweather made a fine living being one of the best defensive fighters in history but often didn't stand toe-to-toe, mainly because he didn't need to. But Pacquiao has no problem mixing it up and brawling and Conor McGregor simply can't match up. He's not fast enough and he's not strong enough. Again, that's not an insult. It's just the truth.
But, again, we all know this is just another big money grab. And we all know that people will drop the $75 or $100 for the fight because of the competitors involved.
But hey, if this fight happens in 2020, we've seen that just about anything can happen this year. So maybe Conor McGregor gets lucky and somehow manages to beat Manny Pacquiao. But the chances of that happening are right between slim and none.