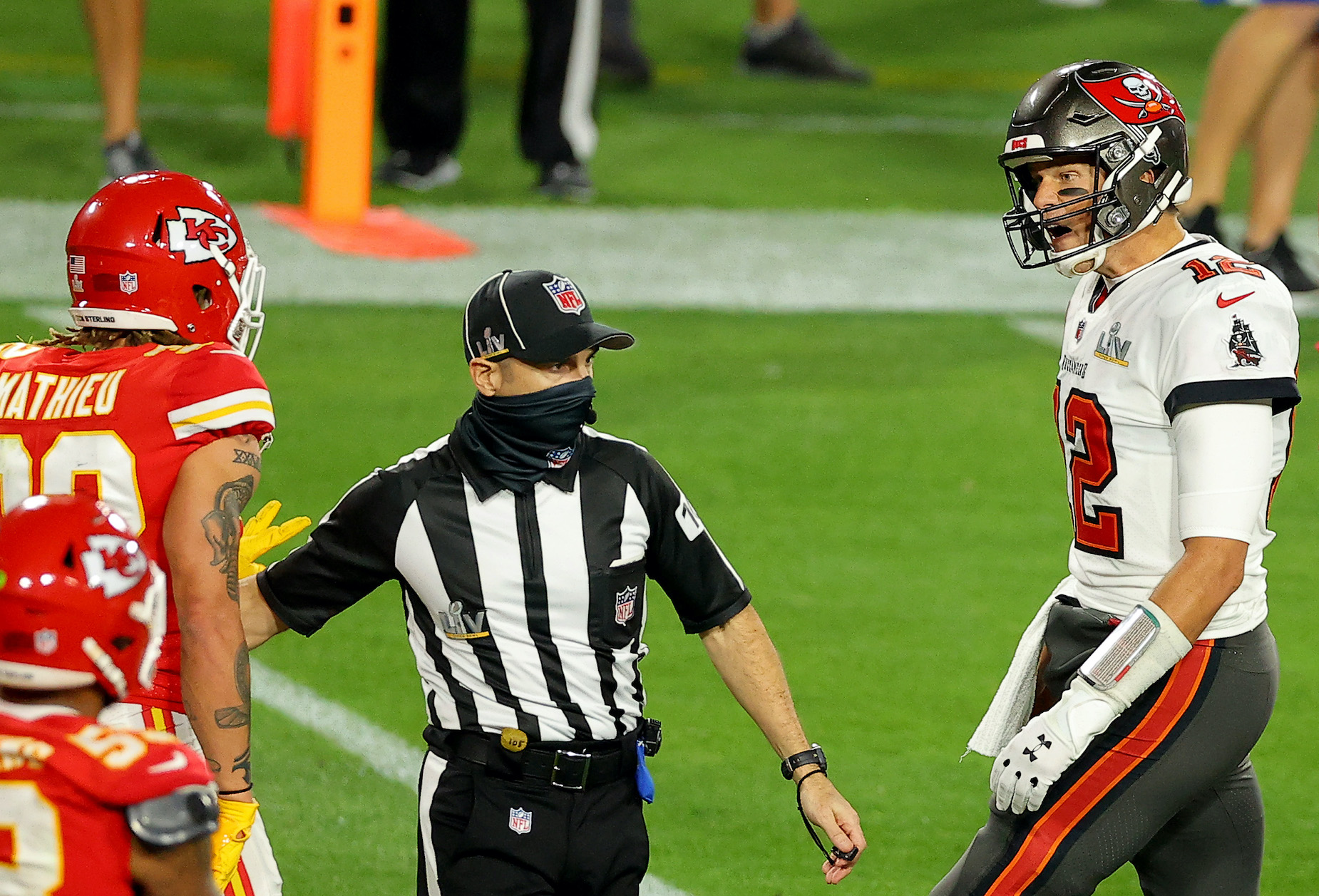 Michael Irvin Reveals a New Detail About What Tom Brady Said to Tyrann Mathieu During Their Super Bowl 55 Showdown
Ever since Super Bowl Sunday, NFL fans have wondered what Tom Brady said to Tyrann Mathieu. Michael Irvin recently provided a bit of clarity.
Since Super Bowl 55 was so one-sided, some other storylines have emerged to keep things interesting. One of those involves an on-field confrontation between Tom Brady and Tyrann Mathieu. While we've heard some details about the incident and know a penalty flag was thrown, it's still unclear exactly what was and was not said. Michael Irvin, however, recently provided a bit of clarity.
During an appearance on the Rich Eisen Show, Irvin explained that he had watched the tape and knew a bit more about what happened on the field. According to the former receiver, Tom Brady did not cross one specific line.
Tyrann Mathieu didn't appreciate something that Tom Brady said during the Super Bowl
For better or worse, trash talk is a part of pro sports. We saw that reality on Super Bowl Sunday when Tom Brady and Tyrann Mathieu squared off at the end of the first half.
During the final drive of the second quarter, Brady and his Buccaneers marched down the field with the help of two pass interference penalties, one of which was called on Mathieu. After Tampa Bay reached the end zone, the Chiefs safety tried to wrestle the ball out of Antonio Brown's hands before saying something to Brady.
While the camera angles didn't make it exactly clear what happened, the two men exchange a few choice words before heading back to their respective sidelines. The Honey Badger, however, was the only one flagged for his involvement.
After the game, Mathieu took to Twitter alleging that his opponent called him something that he wouldn't repeat; that post, however, has since been deleted. The Chiefs' safety also addressed the incident during his media availability, saying that he never saw that side of Brady while declining to specify what was or was not said.
TB12 has since issued an apology via text
Even after the postgame media availability, the saga wasn't over. Instead, there was more news about Tom Brady and Tyrann Mathieu yet to come.
On Monday afternoon, Jenna Laine of ESPN reported that Brady apologized to Matthieu via text message. While the exact contents weren't revealed, we do know a bit about what the quarterback said.
"Brady called Mathieu the 'ultimate competitor' in his apology text and said he knew he needed to match Mathieu's intensity Sunday," Laine wrote. "Brady told Mathieu he'd watched him since his days at LSU, and he praised Mathieu for his heart, calling him an 'incredible leader, champion and class act.'
The Tampa Bay signal-caller also wants to apologize in person at some point, according to ESPN's report.
Michael Irvin reveals that Tom Brady didn't say 'the N-word' to Tyrann Mathieu
As a member of the NFL media, Michael Irvin theoretically has access to film that will never reach the public. Based on that access, he made it clear that Tom Brady did not cross one particular line while jawing with Tyrann Mathieu.
"I'm gonna say this," Irvin explained on the Rich Eisen Show. "I didn't like that Tyrann Mathieu put that out like that. … It makes it sound as if, it makes people want to know what he said. We're curious as if he said the N-word. And he did not. Tom did not. I don't even like that looming over this situation. We should clean that up someway, somehow."
Irvin also suggested that we'd see the NFL Films recording of the incident on Inside the NFL; as noted by Andrew Joseph of For The Win, though, that segment never made the final cut.
Until a video clip reaches the masses, they'll inevitably be some speculation about what actually happened between Tyrann Mathieu and Tom Brady. Thanks to Michael Irvin, though, we know one thing that the quarterback definitely didn't say.