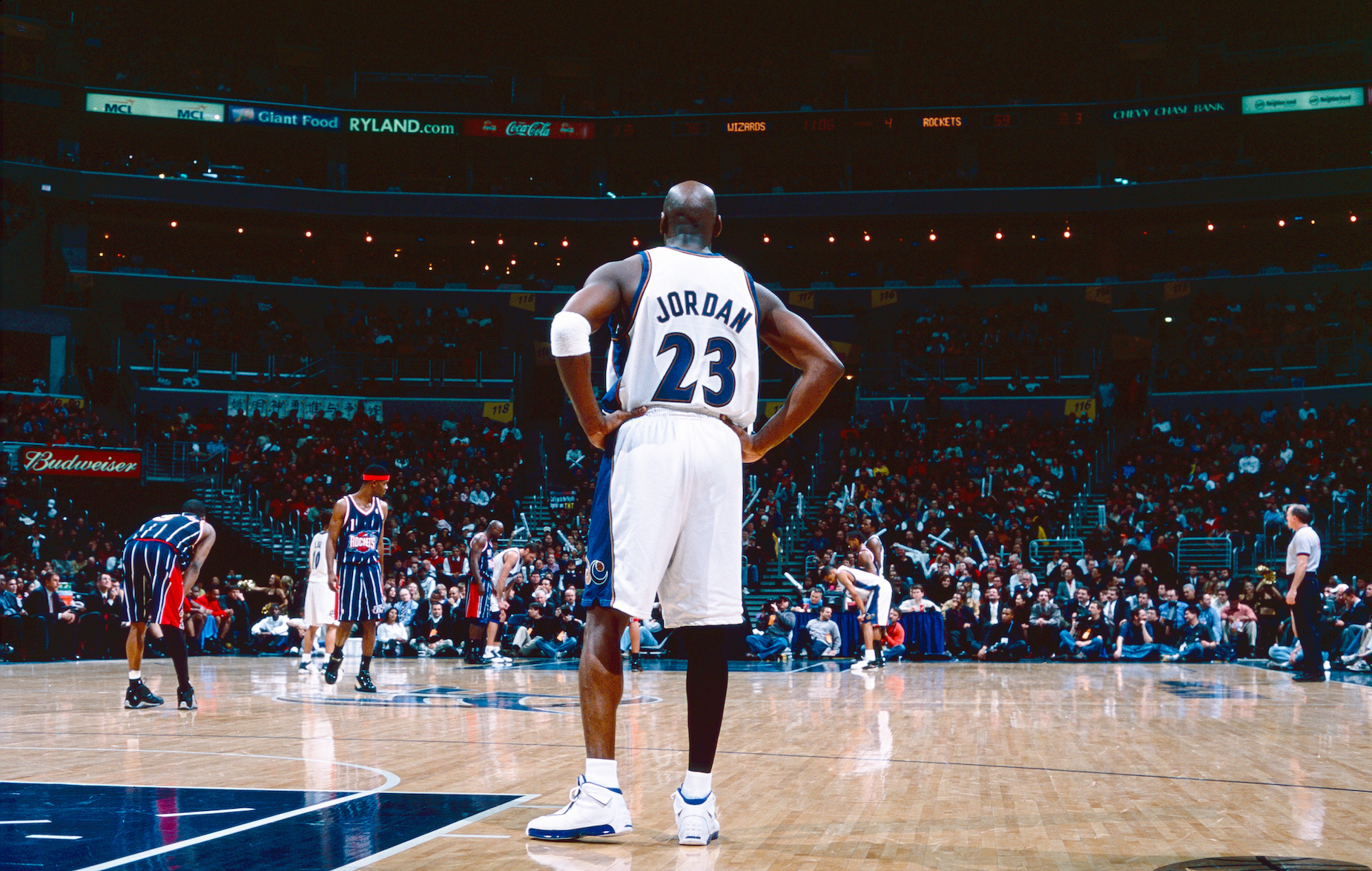 Michael Jordan Battled an Awful Injury With the Washington Wizards: 'His Knee Would Swell Up Like the Elephant Man'
During his time with the Washington Wizards, Michael Jordan battled through a knee injury that would have sidelined a lesser player.
When you hear the name Michael Jordan, certain things probably spring to mind. Whether you remember His Airness lifting six Larry O'Brien Trophies or him taking off from the free-throw line to throw down a slam dunk, pretty much every memory is impressive. The Chicago Bulls star, for better or worse, became a larger-than-life superhero.
At the end of the day, though, Michael Jordan was still a human being. In fact, he struggled with some painful injury issues during his time with the Washington Wizards, swelling up 'like the Elephant Man' after games.
Michael Jordan joined the Washington Wizards as a living legend
When you imagine Michael Jordan, you probably see him wearing the iconic red and black of the Chicago Bulls. While that was true for most of his career, His Airness did finish his career playing for another team: the Washington Wizards.
MJ, of course, joined the Chicago Bulls as the third-overall pick of the 1984 NBA draft. While he immediately established himself as a legitimate talent, Jordan didn't instantly become a champion; the Detroit Pistons and their 'Jordan Rules' blocked his path out of the Eastern Conference.
Once the Bulls broke the seals, though, the rest was history. Jordan and his teammates claimed three-straight titles in 1991, 1992, and 1993; after an initial retirement and some time on the baseball diamond, His Airness returned to Chicago, won three more titles, and retired again.
That retirement, however, wouldn't last; instead, it set the stage for another comeback. In 2000, Jordan joined the Washington Wizards as part-owner and president of basketball operations; the following fall, he decided to suit up as a player again.
Two tough seasons with the Washington Wizards
When Michael Jordan hit the court as a member of the Washington Wizards, it was a bit jarring to see him playing anywhere other than Chicago. To some extent, it set the tone for his entire tenure in D.C.; while MJ still had plenty of talent, things were always just a bit off.
Jordan's first season in Washington, D.C was blighted by a knee injury; he only hit the hardwood 60 times during the 2001-02 campaign before calling it a year due to torn cartilage. The following year, though, he played all 82 games and, by and large, still looked like His Airness.
On the whole, MJ averaged 21.2 points, 5.9 rebounds, and 4.4 assists per outing. The Wizards failed to make the playoffs during either campaign. He also clashed with his teammates, criticizing them in the media and hold them to his usual high standards; while the Chicago Bulls were able to win championships with Jordan, the Washington locker room got all of the unpleasantness without any of the rewards.
Michael Jordan played through some serious pain in D.C.
While Michael Jordan's time in Washington, D.C. was a bit of a mixed bag, that's understandable when you look at the larger context. Not only was MJ getting up there in age, but he was dealing with some pretty serious knee injury. Torn cartilage sounds painful, but, behind the scenes, things got pretty gruesome.
"He would have to get his knee drained and it was like the grossest thing that I've ever seen," Etan Thomas, who played alongside Jordan on the Wizards, recalled on Slate's Hang Up and Listen podcast. Like his knee would swell up like the Elephant Man. And then they would come in with this long needle and drain it and there would be like this black tar goo stuff that would come out. It was disgusting."
Jordan, however, wasn't going to let that stop him; if nothing else, he was a fearless competitor.
"And so I don't even know if he was supposed to even be playing for some of those times," Thomas continued. "I remember one time we're sitting in the locker room and … I looked over at him and I asked him. I was like, 'Why are you even doing this?' Like, honestly, I was like, 'You don't have anything to prove. You're MJ!' He didn't really answer, but I was serious. I was like, what are you even playing for?"
For better or worse, it seems like Michael Jordan was willing to do whatever it took to hit the hardwood and try to win a few more basketball games before calling it a career.
Stats courtesy of Basketball-Reference