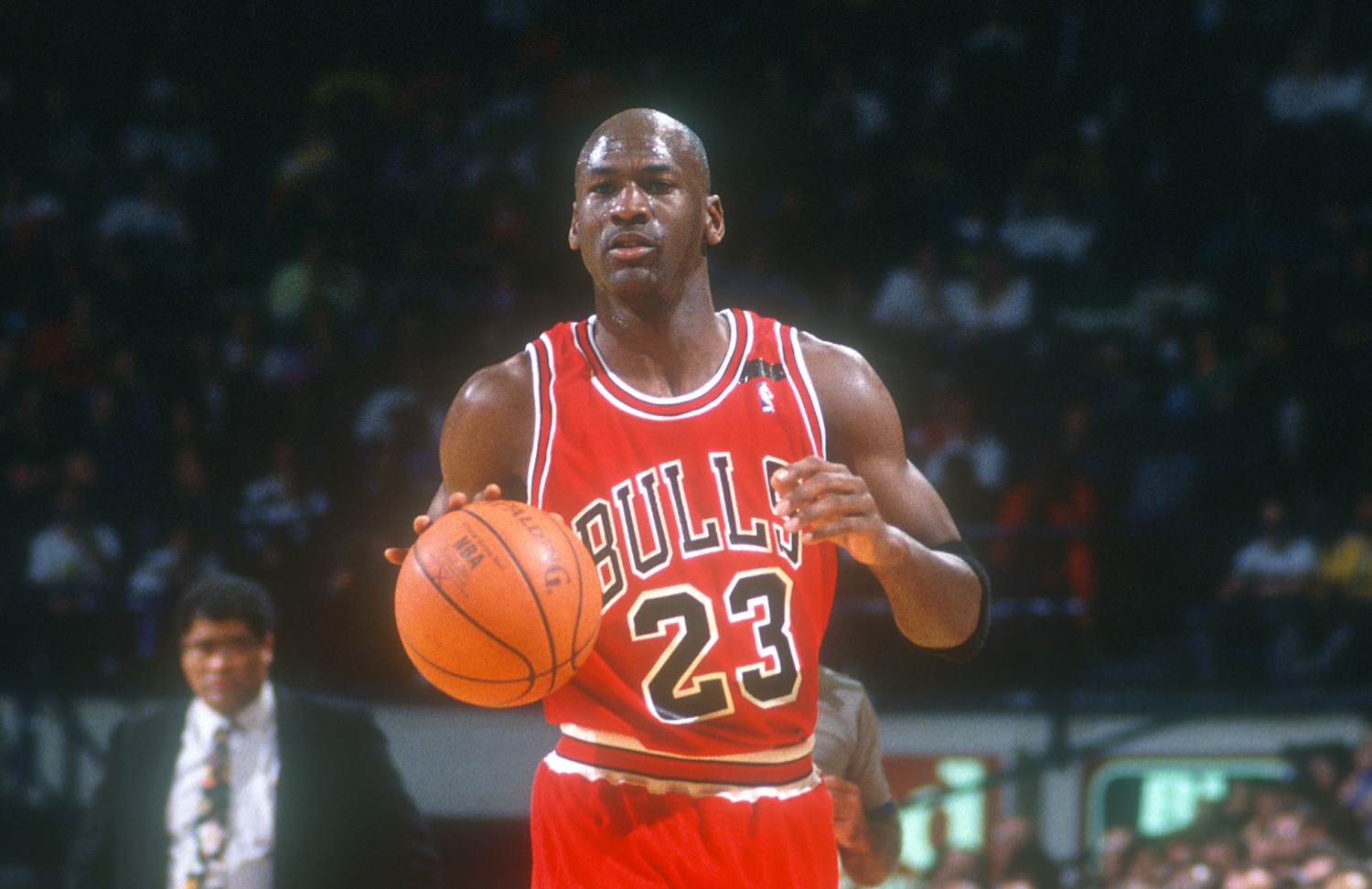 Michael Jordan Called a $57,000 Check 'the Biggest and Most Embarrassing Mistake of My Life'
Two months after returning from the 1992 Olympics with a gold medal, Michael Jordan testified as a defense witness in a case involving drug charges and a $57,000 check he wrote to the accused.
He is 58 years old and hasn't played basketball (or baseball) competitively in almost 18 years, yet Michael Jordan's every move is still watched. One can imagine, then, the scrutiny he was under in 1992. Coming off his second Olympic gold medal and in the prime of his NBA career, the future Pro Basketball Hall of Famer found himself testifying in the trial of a convicted cocaine dealer in U.S. District Court.
It led to Jordan offering a public apology for "the biggest and most embarrassing mistake of my life."
Michael Jordan made $900 from a rigged airport bet
Michael Jordan is on the shortlist of the greatest basketball players ever, and six championship rings qualify him as one of the most successful. He averaged 30.1 points a game over 15 NBA seasons and won 10 league scoring titles. He also dabbled in minor-league baseball for a season, helped Team USA to basketball gold medals in Los Angeles (1984) and Barcelona (1992), and became a business tycoon.
Along the way, however, he acquired a taste for high-stakes gambling, whether on golf courses, in casinos, or even at the airport. One of the many stories about his wagering escapades stems from Jordan betting that his bag would show up first on the luggage carousel during a road trip. Jordan allegedly took $900 off his teammates by bribing the baggage handler.
That story is genuinely funny. The same cannot be one of the others.
A $57,000 check from Michael Jordan raised questions
Barely two months after helping the United States to gold at the 1992 Barcelona Olympics alongside fellow NBA greats Magic Johnson, Larry Bird, Charles Barkley, and John Stockton, Michael Jordan found himself involved in a different kind of court action. He was subpoenaed to testify in the trial of convicted cocaine dealer James "Slim" Bouler in U.S. District Court in Charlotte, North Carolina.
Jordan's connection stemmed from an uncashed $57,000 check that he had written a year earlier to Bouler, on trial for drug and money-laundering charges. Appearing briefly on the witness stand, Jordan said the check was to cover his losses from golf, poker, and other betting during a three-day binge.
Bouler's attorney had called Jordan to the stand to support his contention that Bouler was a high-stakes gambler and not a drug dealer, the Chicago Tribune reported.
Jordan testified he met Bouler about four years earlier and played golf with him several times. He recalled playing in a foursome with Bouler at three Hilton Head, South Carolina, courses. The rest of his Chicago Bulls teammates were on a White House visit at the time after the first of their six NBA championships over a seven-year span.
Jordan explained in court that he wrote the check because he was not carrying cash with him that weekend.
The NBA reprimanded one of its all-time greats
James "Slim" Bouler, the man Michael Jordan testified on behalf of in a 1992 trial, ended up being convicted on money-laundering charges. However, he avoided conviction on the more serious drug charge. The jury deliberated for about four hours before returning guilty verdicts on five counts of money laundering and one of gun possession.
The jury acquitted Bouler on one count of conspiring to distribute five kilograms of cocaine. Because of two previous drug convictions, he faced a mandatory life sentence if convicted on that charge.
Bouler was ordered to forfeit close to $200,000, including the $57,000 check from Jordan.
The basketball legend did not come out of the episode unscathed. Though he was not under investigation in connection with the drug case, Jordan was summoned to a meeting with NBA officials earlier in the year when reports about the check surfaced. The league issued him a reprimand.
How to get help: In the U.S., contact the National Council on Problem Gambling helpline at 1-800-522-4700.