Michael Jordan's Competitive Fire Led Him to Make 1 of the Biggest Mistakes of His Career: 'Republicans Buy Sneakers, Too'
From a sporting perspective, Michael Jordan was pretty close to the perfect player. During his time on the NBA hardwood, His Airness dominated the competition. He turned in incredible individual performances, claimed six championships, and captured the attention of basketball fans around the globe. MJ had to be the best, and, more often than not, he took the top spot. That tendency, however, could also get him in trouble.
Take, for example, Jordan's infamous comment that "Republicans buy sneakers, too." While that single line damaged the legend's reputation, it didn't stem from ignorance or ill will. According to Sam Smith, it all started with MJ's desire to assert his will in every situation.
Michael Jordan used an incredible competitive fire to become an NBA legend
It goes without saying that almost every professional athlete has a competitive streak. Jordan, however, took things a bit further than most.
Growing up, MJ learned to fight for the top spot by battling against his brother, Larry. While Michael suffered an early setback — he famously failed to make his high school's varsity basketball team at the first attempt — he put inner fire to good use. The following fall, he earned a place on the top squad and, before long, Jordan had claimed McDonald's All-American honors and a scholarship to North Carolina. That success, though, was only the beginning.
During his first season with the Tar Heels, Jordan nailed the game-winning shot to seal an NCAA championship. He would, of course, eventually move on to the professional ranks, where he kept on winning. By the time he retired, His Airness had won six NBA titles, five MVP crowns, and countless other individual honors.
MJ didn't just want to be the best on the basketball court, though. He needed to win in every arena and, as his teammates have confirmed, was more than willing to trash-talk, cheat, or do whatever else it took to gain the advantage.
Winning, quite simply, became a part of Jordan's identity.
MJ landed in an awkward situation when he refused to get political
On the whole, Jordan seemed rather untouchable. In one instance, though, he did find himself facing something of a PR problem.
As explained by Jesse Washington of The Undefeated, the 1990 North Carolina Senate race pitted "Harvey Gantt, a black Democrat, [against] the incumbent white Republican, Jesse Helms," who had a "long list of racist transgressions." Jordan, as the story goes, was asked to throw his weight behind Gantt but declined, saying, "Republicans buy sneakers, too."
Understandably that comment dented Jordan's public reputation. To those who viewed him as a hero, it was a rare instance of His Airness (willingly) coming up short of the mark.
"I'll be honest, when it was reported that Michael said, 'Republicans buy sneakers, too' — for somebody who was at that time preparing for a career in civil rights law and knowing what Jesse Helms stood for, you would've wanted to see Michael push harder on that," Barack Obama explained during The Last Dance (H/T ESPN).
That comment stemmed from His Airness' desire to get the last word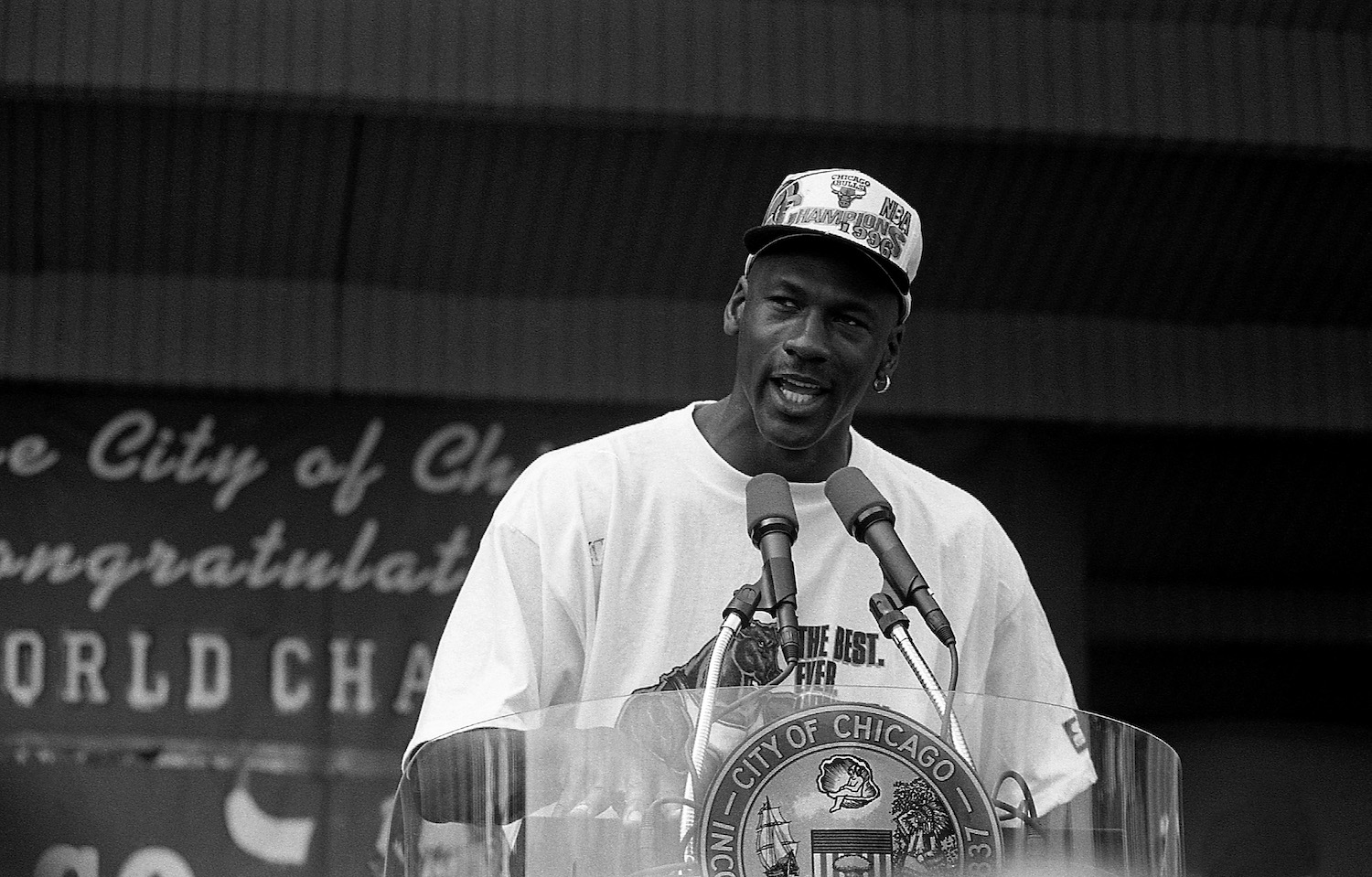 When you read Jordan's quotes in isolation, it's easy to imagine a disinterested star blowing off a political question with a flippant response. According to veteran reporter Sam Smith, though, the comment arose from MJ's relentless will to win.
"So I'm making my case about Charlotte mayor Harvey Gantt, and even though Jordan knew this wasn't a topic that was best for his league, he still delighted in the last word. Because after all, that meant you won," the scribe recounted on NBA.com. "Conversation and can-you-top-this was a competitive event to Jordan. There were more skilled players, but no one with that manic, never drained reservoir of competitive energy and desire. It's why he worked harder, also. Not necessary to be better. But not to lose to anyone at anything."
In Smith's version of events, Jordan said, "Republicans buy sneakers, too" in an attempt to do just that. His Airness simply wanted to dictate the terms of the conversation.
So he shot me the last word.

"Republicans," he said with a smile, "buy sneakers, too."

It was all net!

I laughed, which also derailed my train of thought. It was the final word.

Sam Smith, writing for NBA.com
That quote would eventually reach the public, and, from there, the rest is history.
Since then, Michael Jordan has gotten a bit more political
While Smith's story doesn't exactly match up with Jordan's account — during The Last Dance, MJ insisted that his comment was made in jest while speaking to Scottie Pippen and Horace Grant — both share a similar sentiment. Whether you buy that explanation or not, though, we do know that the NBA legend has been doing things a bit differently as of late.
During the summer of 2020, MJ announced that the Jordan brand would give $100 million "over the next 10 years to organizations dedicated to ensuring racial equality, social justice, and greater access to education." He also released a Twitter statement after the murder of George Floyd, in which he highlighted the need for justice and change.
Jordan has also used millions of his own money to open two health care clinics in North Carolina. While that might seem a bit less political than some of his other donations, universal access to medical care has proven to be a particular prescient issue, especially in light of the COVID-19 pandemic.
Whether his infamous comments were truly a joke or not, MJ seems to have decided that, in retirement, there's less of a reason to hold back.