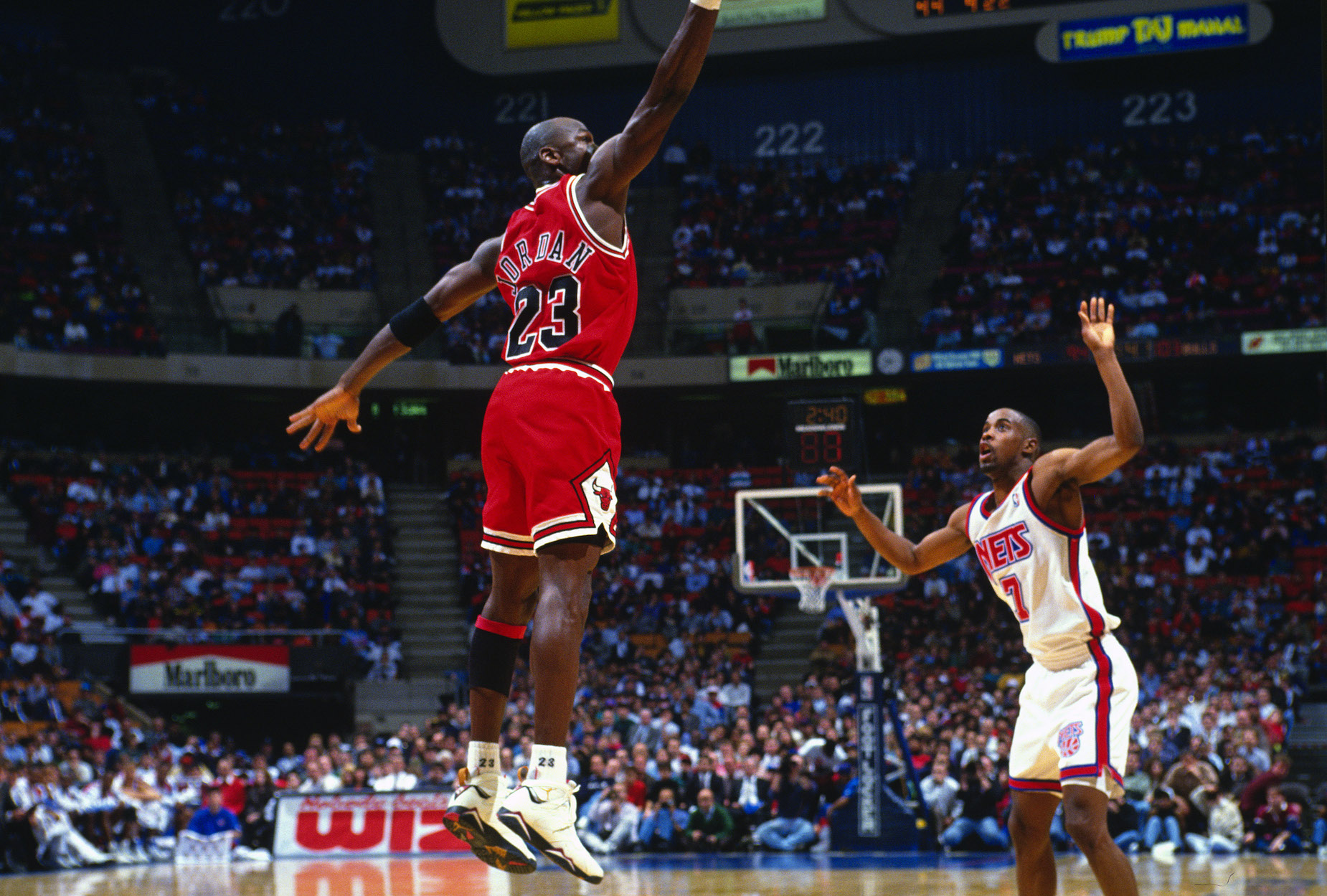 Michael Jordan Defied Conventional Wisdom and Indulged in Steak Before Bulls Games to Gain an On-Court Advantage
While Michael Jordan possessed plenty of raw talent, steak also played a role in his NBA uccess.
Thanks to his legendary basketball career, Michael Jordan's name has become synonymous with success. Although His Airness possessed plenty of natural talent, he was also prepared to seize any advantage that came his way. Take, for example, his pregame meals.
While conventional wisdom dictates that carbs are the way to prepare for athletic exertion, His Airness did things a bit differently. Before hitting the hardwood, he made a point of eating some steak.
Michael Jordan needed to win, no matter the circumstances
It goes without saying that virtually every professional athlete wants to win at all costs. Jordan, however, took things to the next level.
During his youth, MJ honed his competitive instincts by battling with his brother, Larry. Even as he matured, though, that fire never dimmed. If anything, it burned brighter with each successive success.
As we've learned through The Last Dance and stories from other pros, Jordan always needed to be the best. Before hitting the court, he'd push himself to the limit in the gym and seize on seemingly innocuous comments to turn them into personal motivation. Once on the hardwood, MJ could trash-talk with brutal efficiency.
His Airness' winning ways weren't limited to the hardwood, though. From golf and pitching pennies to betting on the airport baggage carousel, Jordan only had one speed. The Bulls legend wanted to be the best and would seize any advantage en route to the top.
Eating a pregame steak for an on-court advantage
For most people, steak is a special occasion meal. His Airness, however, made it a regular part of his pregame preparation.
In 1989, MJ teamed up with trainer Tim Grover to ensure that he always hit the hardwood in peak physical condition. One of the changes the pair put into effect, however, was more culinary than athletic.
"Back in the eighties and nineties, the nutrition prescription for athletes was carbs, carbs, and more carbs,' Grover explained in Men's Health excerpt of his book. "Everyone was eating rice and pasta for fuel, but that wasn't working for MJ: Aside from feeling bloated, he was playing so hard that it just wasn't enough for him. When the team was playing at home, he was eating at 3:30 in order to get to the stadium by 6:00. So he was starving by the 7:30 game time, and by the fourth quarter, he could feel his energy decreasing."
With that in mind, the trainer added steak to the menu. While it flew in the face of conventional wisdom, it helped Jordan achieve peak performance.
"Now, listen: I'm not telling you to eat steak before a game, I'm not giving you nutritional advice here," Grover continued. "I'm telling you we had to devise a new plan for Michael, based on his body chemistry and schedule, his playing minutes, and the massive amount of energy he expended on the court. The steak slowed down the digestion of everything else he was eating—the starches, vegetables, etc.— and kept his blood sugar consistent so he had more energy throughout the entire game."
Michael Jordan also gained an advantage through another indulgence: cigars
For those who enjoy the finer things in life, there's nothing like a fine cigar to follow up an indulgent steak. For Jordan, however, smoking was simply a part of his pregame routine.
As explained in an old Cigar Aficionado interview, His Airness started smoking cigars after he smoked one to celebrate his first NBA title. From then on, they became a relaxing part of his routine; while Chicago traffic meant he'd have to spend more than an hour sitting in his car en route to the stadium, a nice cigar kept him calm. When he arrived at the arena, he'd be relaxed and ready to get down to business.
MJ was also known to light up for intimidation tactics, too. According to Chris Webber, Jordan and Scottie Pippen were spotted smoking cigars ahead of a series-clinching playoff game against the Washington Bullets. "It was almost like, 'I lit the cigar. I'm celebrating already.' This is just a formality," the forward explained.
As Grover noted, steaks and cigars aren't a part of most athletes' game day routines. Michael Jordan, however, does things a bit differently.