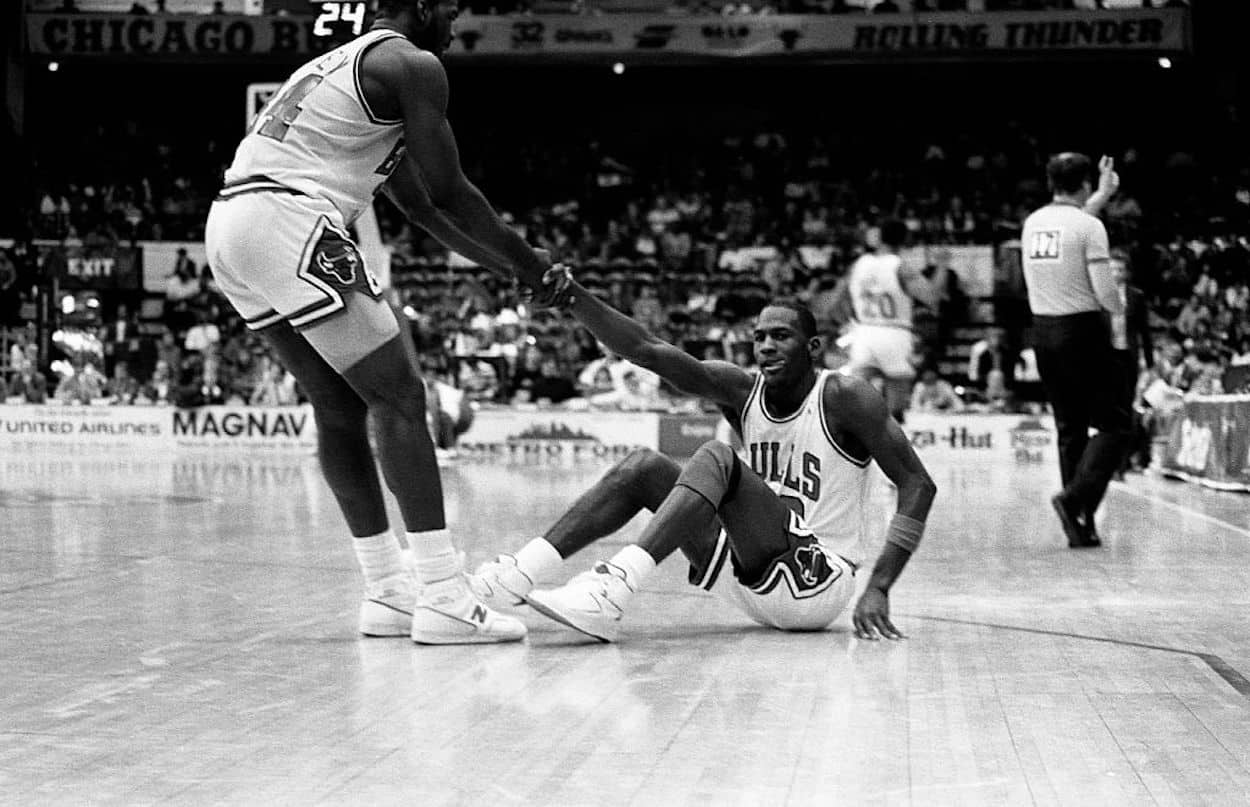 Michael Jordan Once Offered to Pay Charles Oakley and Doug Collins' Fines After a Message-Sending Brawl
Michael Jordan wasn't exactly a warm and fuzzy teammate, but he did appreciate those who came to his defense in 1988.
When you hear the name Michael Jordan, you probably think of a fierce competitor who refused to to back down from any opponent. While that might be true, the Chicago Bulls star didn't (usually) do his own dirty work. He may have punched some teammates, but someone like Charles Oakley was usually present to take care of any overly physical opposition.
And, despite his reputation as being somewhat of a jerk, Jordan apparently appreciated those efforts. In fact, he even offered to pay Oak's punishment on one occasion.
Charles Oakley and Doug Collins were fined after fighting Rick Mahorn and refused to accept Michael Jordan's money
During the late 1980s, the Detroit Pistons weren't a team to mess with. The Chicago Bulls, however, had Charles Oakley on the roster, providing something of a counterpoint to the Bad Boys' physicality.
The threat of mutually assured destruction didn't keep things quiet, though. As Oakley tells it, the Pistons still tried to throw Michael Jordan off his game whenever they had the chance.
One of those chances came on January 4, 1988.
"[Bill] Laimbeer had taken a shot in December, so it was pretty obvious where this was headed," the Bulls big man wrote in his 2022 book, The Last Enforcer. "Tensions boiled over in the third quarter when Rick Mahorn fouled Michael by grabbing him around the waist and throwing him to the floor. Mahorn was big and strong and wanted to send a message."
The Bulls, however, had their own message to send. They weren't going to be pushed around, especially not on their own floor.
"We had no choice but to go right back at him," Oakley continued. "I immediately went after Mahorn, and two of my teammates, Mike Brown and Brad Sellers, were pushing Mahorn as well. The fight drifted toward our bench, where our coach, Doug Collins, went to grab Mahorn around the neck. I give Doug credit for sticking up for Michael, but Mahorn tossed Doug on the scorer's table like a rag doll. Both benches ended up on the court. It was crazy."
When the smoke had cleared, Mahorn received a $5,000 fine and a one-game suspension. Oakley was ordered to pay $2,000, and Collins had to cough up $1,500. Jordan told reporters how the incident made it clear that his teammates really cared and, in a show of appreciation, he offered to pay both Oakley and Collins' fines.
The two men, however, declined the offer.
"Doug wanted to pay his fine to make sure the league knew that he stood against fighting," Oakley recounted. "He said: 'I don't incite my players to fight and I don't condone fighting. Fighting isn't part of basketball.'"
That anecdote does show a Michael Jordan who cared about his peers
These days, Michael Jordan is commonly remembered as an incredible player who could be somewhat of a terrible teammate. And while that perception is at least partially based in fact — MJ talked trash to the Bulls, held them to an incredibly high standard, and even threw a few punches — Oakley's memory shows a different side of the star.
For all of His Airness' talk, and he certainly could talk, there is something striking about hearing him speak about the experience of having his teammates stick up for him. "I think my teammates really cared about the way I was being treated," he told the media, according to Oakley. "Charles Oakley is a very caring person. I'm very grateful he came over and tried to take up for me."
Then, we have the offer to pay the fines. While $3,500 wasn't much for Jordan, even during the relatively early days of his career, it still clashes with the star's reputation for being cheap.
While you could cynically suggest that MJ behaved differently because he wasn't the guy just yet — in 1988, Jordan was already shining, but he hadn't become an international celebrity just yet — reality is probably somewhere between the two extremes. His Airness wasn't exactly warm and fuzzy, but he also wasn't 100% terrible either. If you proved yourself and had his back, he had yours.
Charles Oakley and Doug Collins, it seems, passed that test with flying colors.
Like Sportscasting on Facebook. Follow us on Twitter @sportscasting19 and subscribe to our YouTube channel.