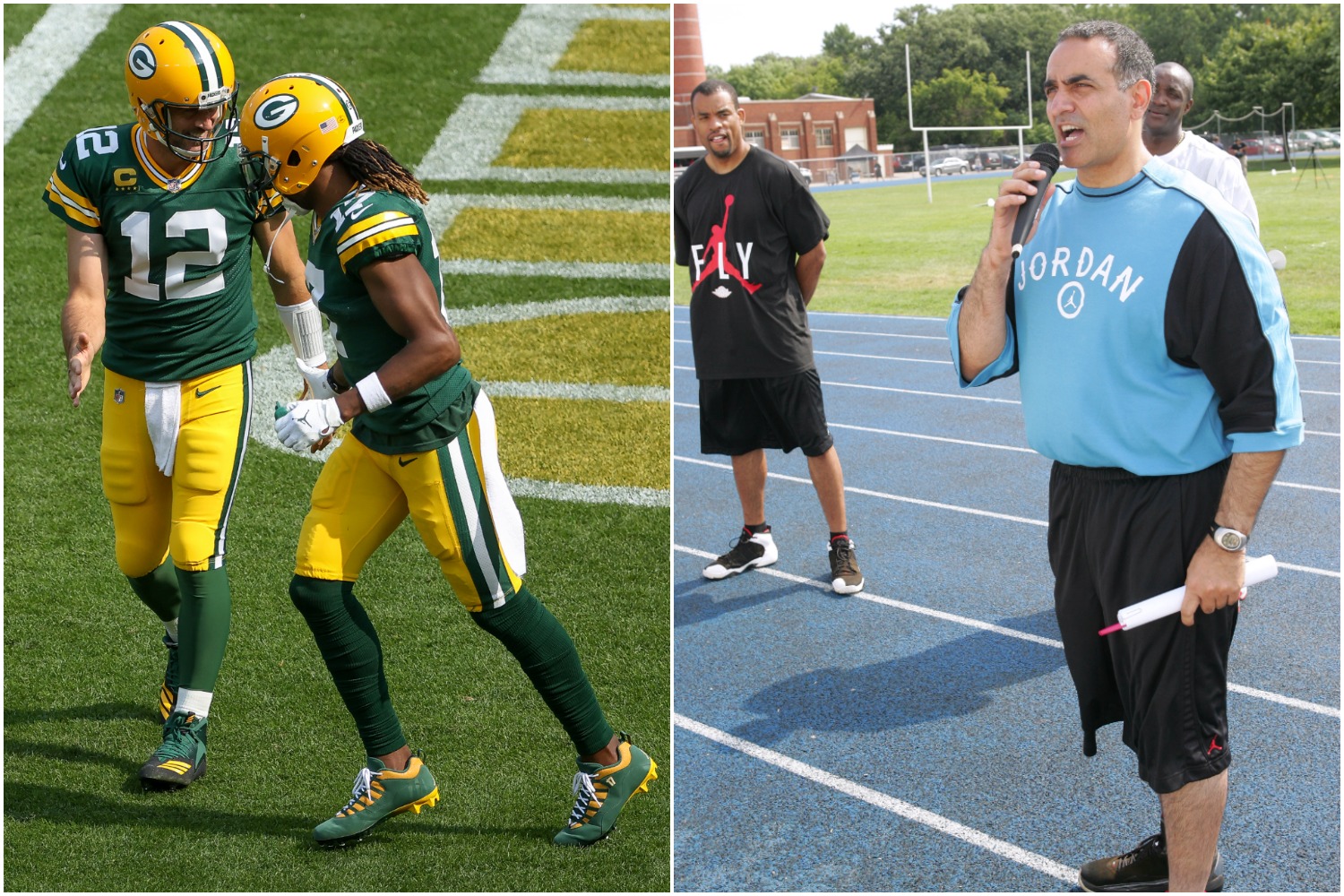 Michael Jordan's Legendary Trainer Fires Massive Shot at the Packers' Disgruntled Duo of Aaron Rodgers and Davante Adams
Michael Jordan's longtime trainer, Tim Grover, stuck up for his former client by firing a massive shot at the Green Bay Packers' disgruntled duo of Aaron Rodgers and Davante Adams.
As someone who got a chance to work closely with Michael Jordan over the years, Tim Grover understands what it takes to reach the pinnacle of success in the pro sports world. After all, the well-known trainer spent a significant portion of his life helping His Airness harness his athletic potential. Thanks to Grover's dedication and motivation — along with the help of star sidekick Scottie Pippen — Jordan achieved championship glory six times before he finally retired from the NBA.
Unfortunately for Aaron Rodgers and Davante Adams, they haven't reached anywhere near that level of success in the NFL. However, while the two Green Bay Packers stars may liken themselves to the legendary basketball tandem, Grover fired a massive shot at the disgruntled duo that illustrates the ugly truth about Rodgers' legacy with the Packers.
The Packers' two biggest stars have their own reasons to be upset with the front office
The Packers' two best offensive players look less likely than ever to continue putting up big numbers together. In fact, the chances of Rodgers and Adams making magic on the field for another season seem close to zero. 
Both stars have raised serious doubts about what lies ahead for a Packers squad that narrowly missed earning a trip to Super bowl 55. From his pessimistic comments after losing the NFC Championship to skipping offseason workouts, Rodgers has done everything possible to send a message that he wants out.
Reports that he turned down a record-setting contract extension offer only furthered the narrative that the reigning MVP's issues go well beyond money. 
On the other hand, Rodgers' No. 1 receiver does have a problem with his contract. After leading the NFL with 18 receiving touchdowns during the 2020 season, Adams enters the final year of the $58 million extension he signed in December 2017. However, even though he's clearly one of the best players at his position, the Packers didn't show their top wideout the respect he wanted at the negotiating table.
With both sides reportedly "in a bad place" following failed extension talks, it wouldn't be a surprise if Adams' name starts to appear in more trade rumors, too. 
Michael Jordan's legendary trainer fires massive shot at Aaron Rodgers and Davante Adams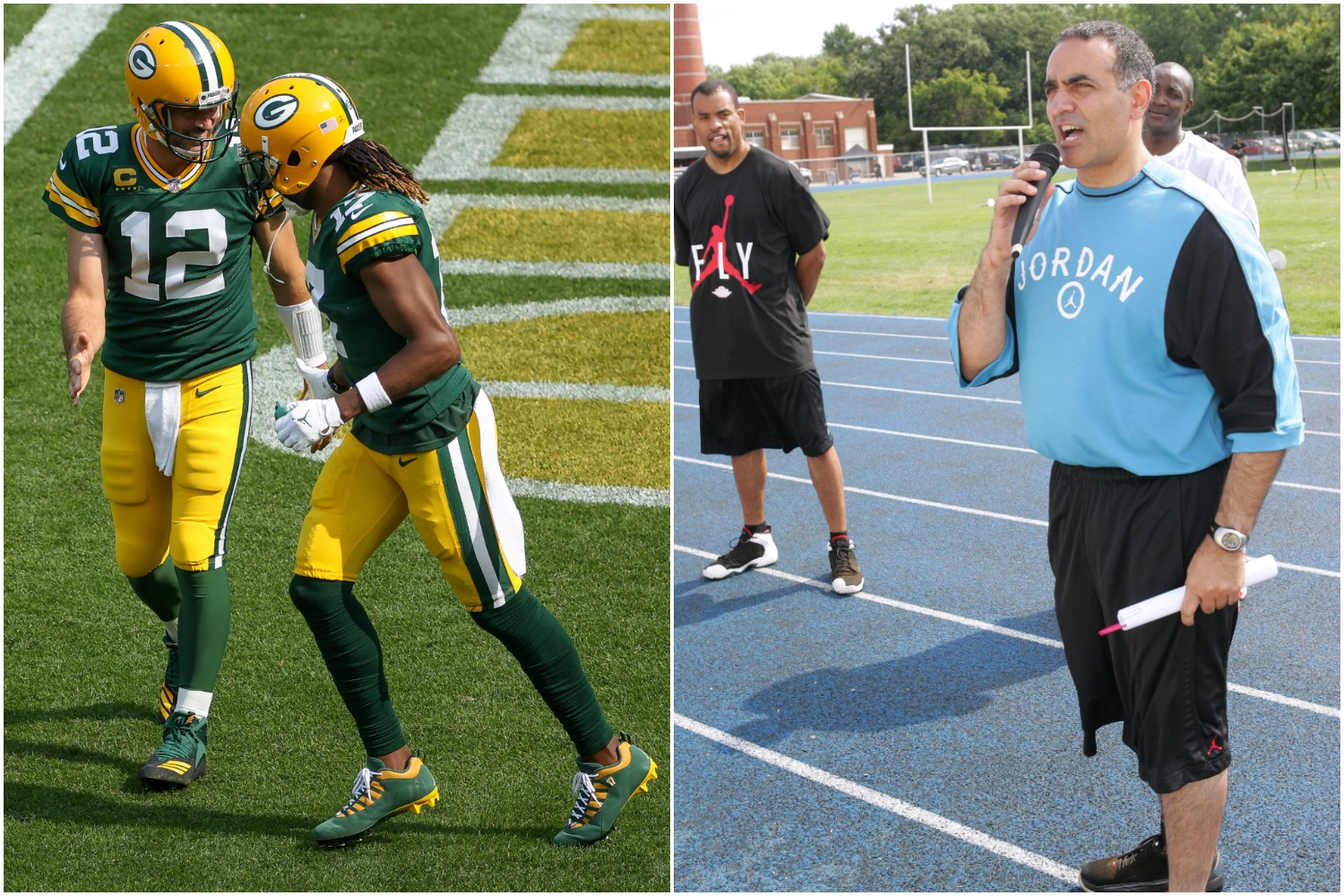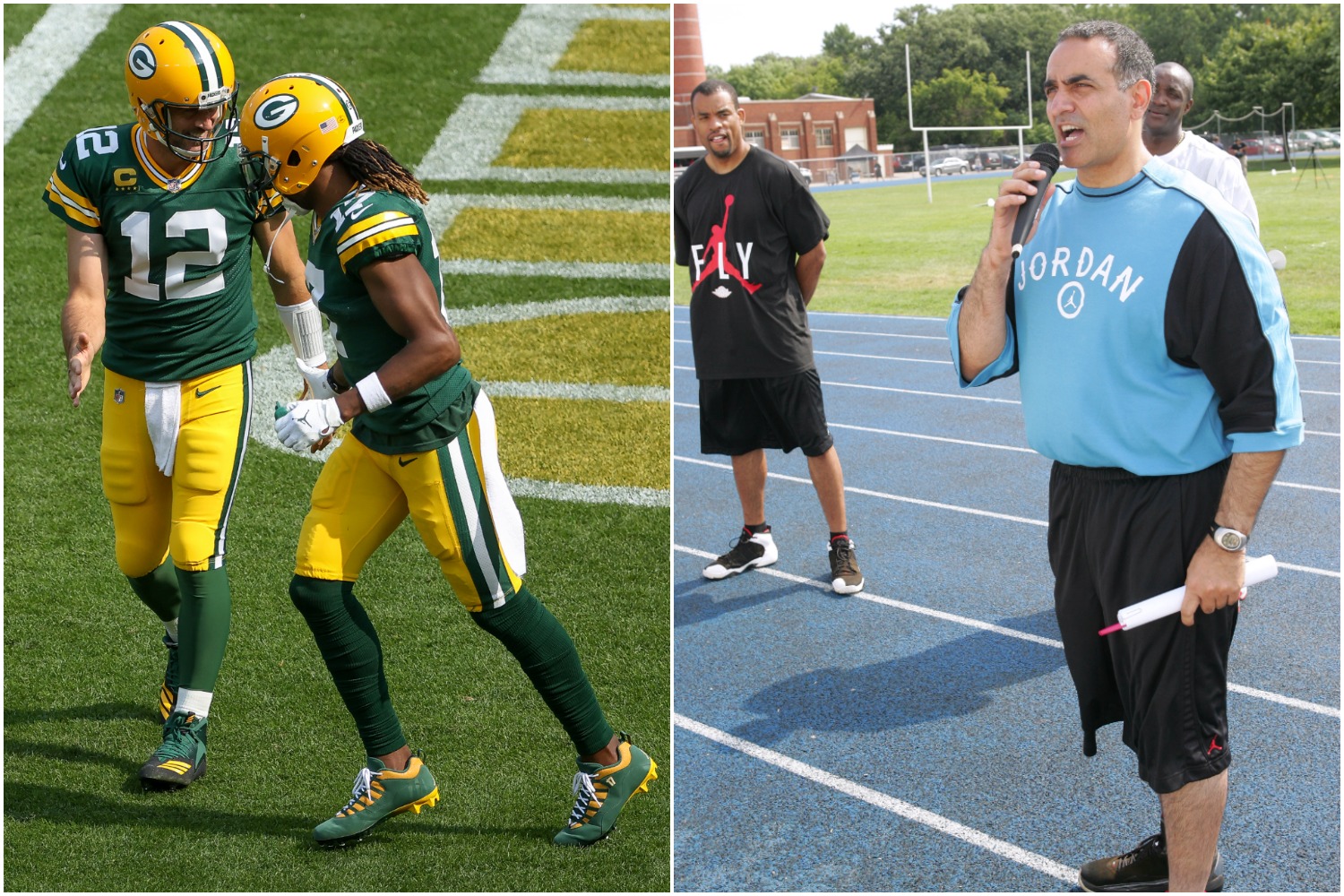 Rodgers and Adams recently raised eyebrows around the league by sharing the same picture of Michael Jordan and Scottie Pippen on their personal Instagram accounts. Their coordinated social media campaign added yet another interesting layer to an offseason full of drama in Green Bay. 
However, while Rodgers and Adams may think they're on the same level as the legendary Chicago Bulls tandem, Jordan's longtime trainer made sure to serve a slice of humble pie to the two NFL stars via social media
Tim Grover shared the same photo of the two NBA Hall of Famers, but he included some hard-hitting facts in his caption.
"This photo appeared in the Instagram stories of @aaronrodgers12 and @taeadams today," Grover wrote on Instagram. "MJ and Scottie won six titles together. I believe Rodgers and Adams have zero together. Winning doesn't lie."
The well-traveled trainer may have upset some Packers fans by firing a massive shot at the team's most accomplished players, but Grover's point holds true. Unlike Jordan and Pippen, Rodgers and Adams haven't experienced much postseason success together. Since the two became teammates in 2014, the Packers have gone 6-5 in the playoffs with zero Super Bowl appearances. Needless to say, that's not particularly impressive for a team led by arguably a top-five quarterback of all time.
Unfortunately for Packers fans, they shouldn't expect to see Rodgers hoist the Lombardi Trophy again in a Green Bay uniform. Barring a complete 180, the 37-year-old and his most trusted target will finish their respective careers elsewhere. 
Potential trade landing spots for Rodgers and Adams
Like the Chicago Bulls' dynasty, all good things must come to an end. For Packers fans, that means saying goodbye to one of the league's top quarterback-receiver duos. Given what's transpired this offseason, it's almost a guarantee that both Rodgers and Adams will retire as members of other teams.
So, where could the Packers' two disgruntled stars land? 
Rodgers would make any offense better, but that doesn't mean it'll be easy to make a deal for the three-time MVP. Given his age, the cost to acquire him, and his reported contract demands, Rodgers may be too expensive for some teams. Still, it's difficult to see the Denver Broncos and Las Vegas Raiders not at least exploring the possibility of trading for him. 
Adams' future hinges on how much teams value a receiver who's projected to hit free agency at age 29. Will a franchise want to trade valuable draft capital and have to give him a potentially record-setting contract? 
If a team feels it's a receiver away from competing for a Super Bowl title, perhaps the Packers will receive an offer they can't refuse for their All-Pro pass-catcher. 
Either way, the only certain thing about the entire situation is that Aaron Rodgers and Davante Adams don't come close to measuring up to the dynamic duo they likened themselves to on Instagram. 
All statistics courtesy of Pro Football Reference.