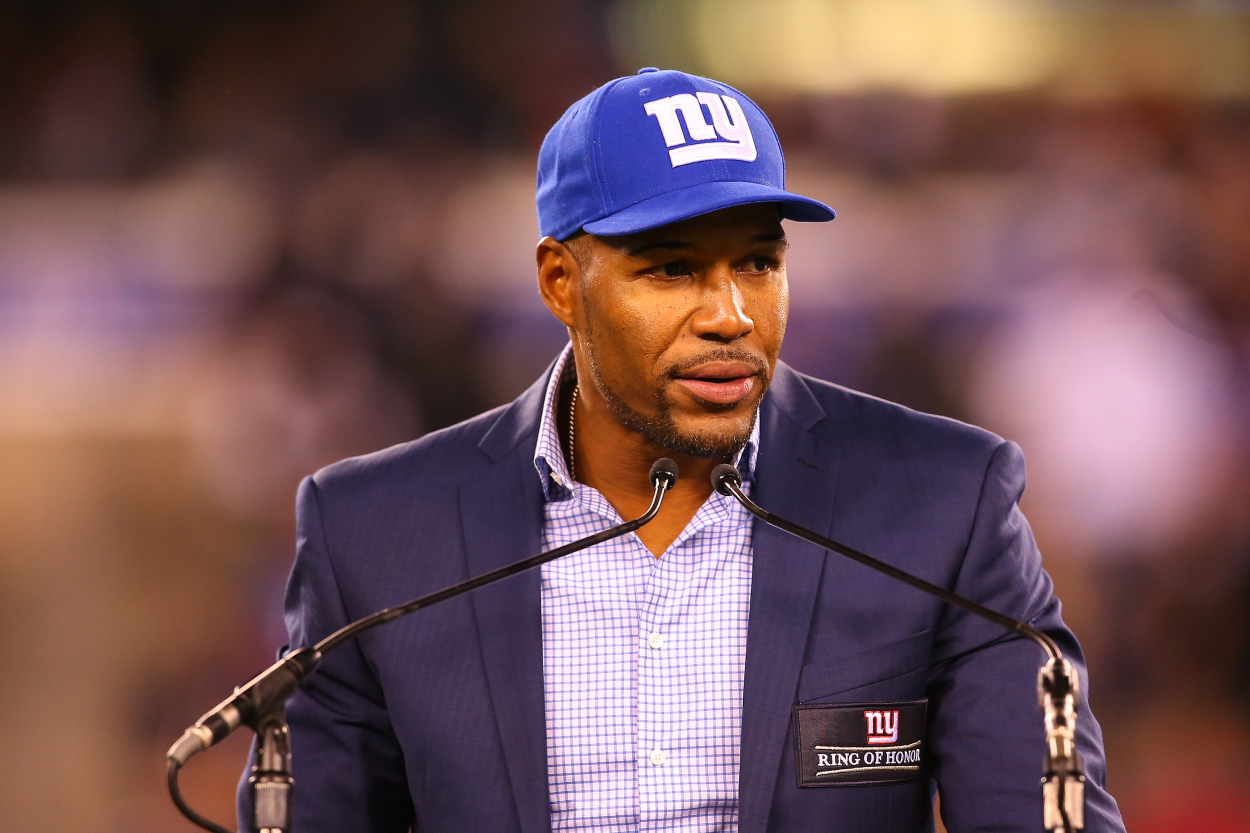 Michael Strahan Once Admitted That He 'Could've Killed' His Giants Teammate During an Intense Fight in His Career
Michael Strahan and Scott Gragg were teammates on the New York Giants for five seasons. They went against each other nearly every day in practice. However, they once got into a heated fight and Strahan later admitted that he "could've killed" him. This discusses their fight and their careers.
During his Hall of Fame career, Michael Strahan became an NFL legend with the New York Giants. Opposing offenses, especially quarterbacks, feared Strahan. They weren't the only ones who should have been terrified of him, though. In fact, Strahan actually once got into a fight with a Giants teammate and even later admitted that he "could've killed" him.
Michael Strahan and Scott Gragg were teammates on the Giants
Defensive end Michael Strahan went to the New York Giants in the second round of the 1993 NFL draft. He became a pillar of that Giants' defense immediately, too.
Then, in the second round just two years later in 1995, the Giants selected offensive lineman Scott Gragg. Gragg — a man who played at 6 feet, 8 inches, and 315 pounds — went on to become an essential piece of the Giants' offense the next few years. After he played in 13 games but didn't start in any in his rookie season, Gragg, who played against Strahan nearly every day in practice, started in all 16 games for New York in each season from 1996 through 1999.
Gragg's time with the Giants ultimately came to an end after that, though, as he then joined the San Francisco 49ers in 2000.
They got into a fight during a New York Giants practice
Whether it was during a practice or in a game, Strahan became a completely different person whenever he had a helmet on during his NFL career. Once he buckled up that chin strap, he just had a different sort of intensity.
During one practice, though, Scott Gragg was on the wrong side of that intensity.
"I love Scott; great guy," Strahan said on a 2018 episode of In Depth with Graham Bensinger. "… I could've killed him. I look back now and I'm like 'Oh, that was stupid.' But at the time, you don't understand; it's a different switch. It reminds me of when I went to Africa, and I looked at a lion, and a lion has, in its eyes, there's no life; there's no concern for you. It's like 'I'll eat right now, I'll kill you. I don't care. You don't matter to me.'"
So, what actually happened between the Gragg and Strahan? Well, during a spring practice, Gragg chose to go a little too hard one day, despite the fact that everyone was just wearing helmets and no pads. This resulted in Gragg and Strahan getting into a fight.
"He grabs my face mask, so I grab his face mask, and then we're tussling," Strahan said. "Then his helmet comes off, and he still had my face mask. I'm in that 'I don't care about you' [mode]. I looked at [his helmet] for a second and thought about it. [I thought], 'Ah, why not?' Bop! I hit him in the head. I just remember him [falling back]. Then when he falls back, then I jumped on him again. You have to fight MMA — gotta finish him. So, I'm down, and I'm punching; they pull me off. By that time, Jessie Armstead started fighting somebody over here, somebody else started fighting somebody over there. Coach called practice off."
It sounds like things got pretty heated. So, did Strahan and Gragg work things out?
"We get in the locker room, and Scott has blood and everything else, and he looked at me and goes (laughing) 'You got me today,'" Strahan said. "That was it; we were great. We were back at it."
Even though there was actual blood involved, at least there wasn't any bad blood between the two teammates after the fight.
Michael Strahan's intensity paid off for him and the Giants
While Scott Gragg may have come out on the wrong side of that battle during practice, opposing teams were often punished by Michael Strahan's intensity during the years he played for the Giants.
After having a decent start to his career, Strahan recorded 14 sacks in 1997 and then 15 the following season, which helped him earn Pro Bowl and First-Team All-Pro honors in both years. He then continued to dominate on the Giants throughout the rest of his career. Strahan led the NFL in sacks twice. He even recorded as many as 22.5 in 2001, which is an NFL record for a single season. Strahan also ultimately earned seven Pro Bowl and four First-Team All-Pro selections in his career, as well as the 2001 Defensive Player of the Year award.
In total, Strahan, who is now in the Pro Football Hall of Fame, recorded 141.5 sacks, the sixth most in NFL history. He also helped lead the Giants to a Super Bowl victory during his final NFL season in 2007.
The intensity Michael Strahan had once he put on a helmet may have caused an intense fight in practice between him and Scott Gragg, but it was also what helped him become an NFL legend.
Stats courtesy of Pro Football Reference