Mike Hampton's $121 Million Pitching Contract Was All for His Kids
Mike Hampton earned the nickname of the "Education Pitcher" early in his time with the Colorado Rockies. It had nothing to do with Hampton's intelligence or the college offers he earned from the likes of Florida State and Notre Dame.
When Mike Hampton signed an eight-year, $121 million contract with the lackluster Rockies after the 2000 season, Hampton said his decision had more to do with the state's school system than it did money.
What was Mike Hampton's fascination with Colorado school systems, and did his time with the Rockies pan out? Let's take a look back in time.
Mike Hampton was an above-average pitcher in Houston and New York
It is easy to forget how effective Mike Hampton was in his career. Hampton, then with the Houston Astros, went 45-35 with a 3.55 ERA in his first four full seasons as a starter from 1995-98. The crafty lefty took things to another level in 1999 and finished second in NL Cy Young voting with a 22-4 record and a 2.90 ERA.
Houston traded Hampton to the New York Mets in December 1999. Hampton responded with a 15-10 record and 3.14 ERA for the NL Champion Mets in 2000. Hampton was named NLCS MVP after going 2-0 and not allowing a run in 16 innings against the St. Louis Cardinals.
The New York Yankees rocked Hampton for four runs in six innings in the World Series, though, and the Mets fell in five games.
Hampton said he chose the Rockies for Colorado's education system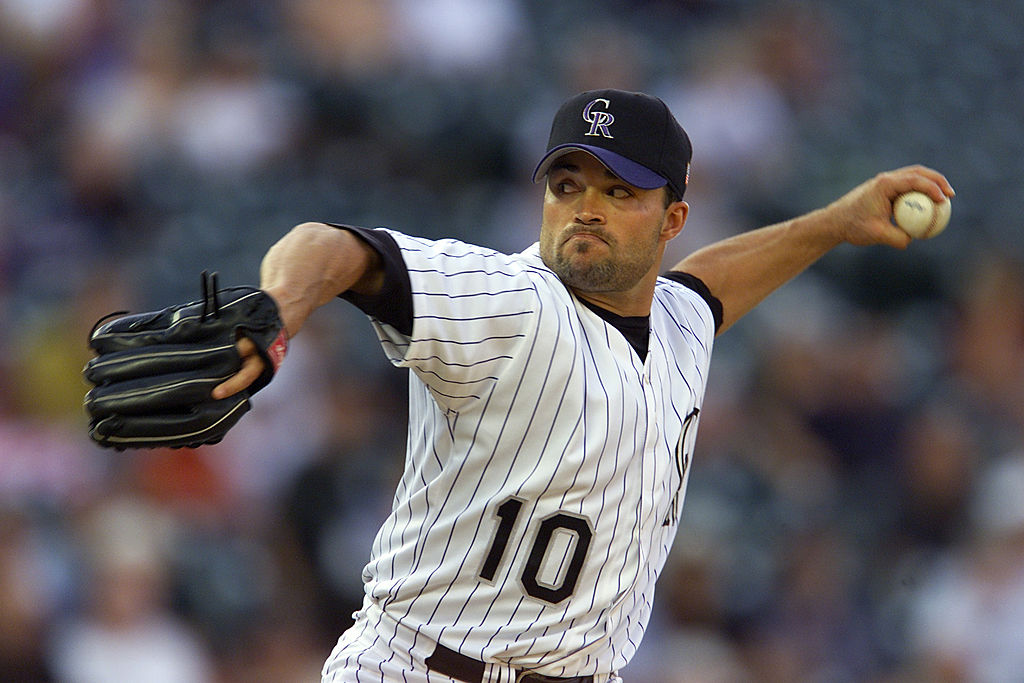 Mike Hampton was 27 and coming off two stellar seasons when he signed with the Colorado Rockies in December 2000. The signing didn't make much sense at the time. Colorado went 82-80 in 2000, a 10-game improvement from 1999, but pitchers historically struggled in Coors' Field's high altitude.
Brian Bohannon was the only regular member of Colorado's rotation who finished 2000 with an ERA under 5. Bohannon's 4.68 ERA in 34 games (26 starts) still wasn't much to write home about.
So what, besides money, drove Mike Hampton to sign with the Rockies? Hampton, a father of two, said it was all about his children and their future.
"They were the best by far. Colorado is our kind of place. This was a place I could move my family to without having to take my kid out of school every three months. Colorado was the place for my family."
Mike Hampton is one of the biggest free agent busts in MLB history
Many in baseball weren't pleased with Mike Hampton's answer about picking the Rockies. Longtime Oakland Athletics general manager Sandy Alderson, who worked in the commissioner's office from 1998-2005, dismissed Hampton's comments.
Alderson famously said he didn't "want to hear about the Wheat Ridge (Colo.) school system."
Mike Hampton may have loved Colorado for the school system, but he surely didn't appreciate pitching in Coors Field. Hampton went 14-13 with a 5.41 ERA in 33 starts during the 2001 season.
Colorado finished a disappointing 73-89 that year, good enough for last place in the NL West. Hampton regressed to 7-15 with a 6.15 ERA in 30 starts for the 2002 Rockies, who fired manager Buddy Bell after a 6-16 start.
Hampton briefly reinvented his career with the Atlanta Braves and went 32-20 with a 3.96 ERA from 2003-05. Injuries cost Hampton the 2006 and 2007 seasons, though, and he retired after spending 2010 as a reliever with the Arizona Diamondbacks.