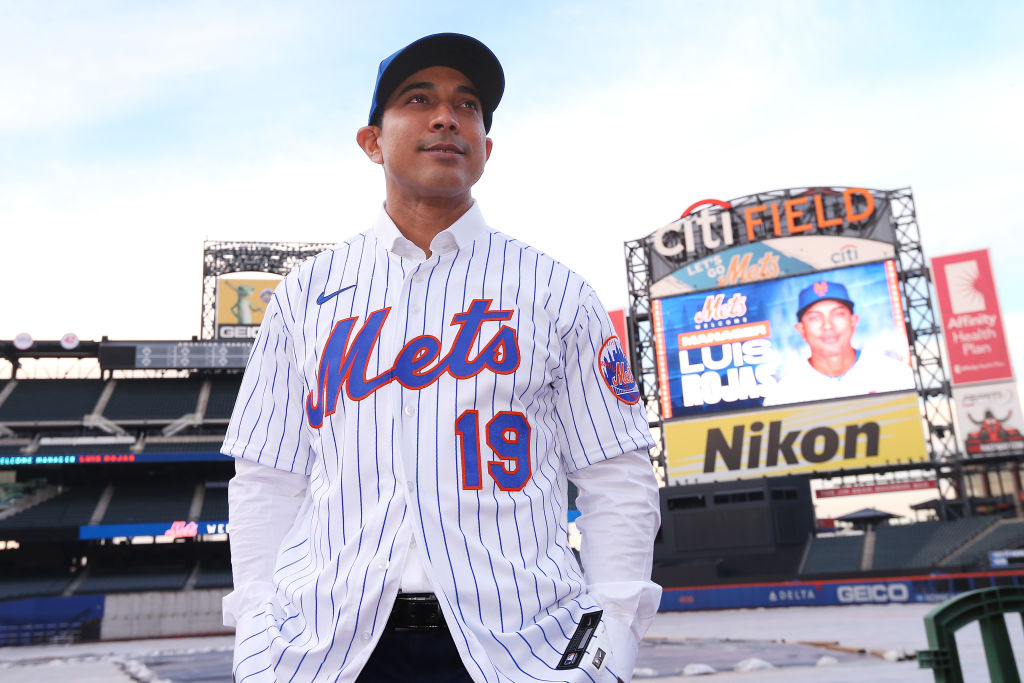 New York Mets Manager Luis Rojas Hounded Players When He Was 7 Years Old
Luis Rojas grew up around baseball, so being just 38 years old doesn't mean
Expectations have seldom synched up with results for the New York Mets since their trip to the 2015 World Series. And just when the team played to exactly the level it should have in 2019, the front office threw everyone a curve by changing managers – twice – and putting Luis Rojas in charge.
If there's a guy who can get the absolute most out of his players, it might be Rojas, who shared a story this week that gave insight into a man who isn't going to let the Mets coast into another third- or fourth-place finish in the division.
Luis Rojas grew up around baseball
New York Mets manager Luis Rojas may only be 38 years old, but he has spent just about his whole life around baseball diamonds. His father is Felipe Alou, one-third of a distinguished first generation of major-leaguers.
Felipe Alou was a three-time National League All-Star who played 17 seasons and accumulated 2,101 hits for a .286 average; Jesus Alou batted .280 over 15 seasons, and Matty Alou, the third brother, hit at a .307 clip over 15 seasons, winning an NL batting title in 1966.
Felipe Alou, who twice led the league in hits, followed his playing days by managing, first in the minors and then in the big leagues. Managing the Montreal Expos from 1992-2001 and San Francisco Giants from 2003-06, Alou posted a 1,033-1,021 record.
Luis Rojas remembers how as a 7-year-old he and his brother used to tag along when their father was managing the Palm Beach Expos in the Class A Florida State League. They would spend hours on the field alongside the young prospects as they went through batting practice and fielding drills, then watch from the dugout once the game began.
On one day in particular, little went right for the team. Batter after batter was getting mowed down on strikes by the opposing pitcher, and Rojas told SNY.TV that he started razzing the Expos players about it until dad had enough and locked the boys in his office for the rest of the game.
"It was really embarrassing. I remember I was told, 'You never do that again,' after the game. I learned that lesson that day from my dad, one of my lessons that he taught me in my life." – Luis Rojas
The Mets are getting a young but experienced manager
New York Mets players will have a manager still young enough to relate to them once the do-over of spring training starts, perhaps as soon as early June. And at 38 years old, Luis Rojas has vast managerial experience.
Rojas has logged 14 years in the Mets organization, finally moving onto the big-league staff in 2018 as the quality control coach and 2019 as the outfield coach. Before that, he worked his way through the minors as a manager beginning with rookie ball in 2011, meaning he saw a lot of current big-league stars – Pete Alonso played two seasons for him in Class AA Binghamton — as they worked their way through the system.
Rojas is a fan of analytics, but he mostly just loves to manage. He spent five seasons managing winter ball in the Dominican Republic, winning a championship in 2016. Alonso and utility man Jeff McNeil give Rojas high marks for being even-tempered. The 7-year-old who mocked his father's players isn't going to knock over the buffet table because of a three-game losing streak.
Mets looking for stability and results
Luis Rojas was not the first choice to manage the New York Mets in 2020. The team let Mickey Callaway go even after went 86-76 in his second season on the job, giving the team just its third winning record in 11 years.
The Mets originally turned to Carlos Beltran as the replacement, but everyone agreed to part ways after Beltran was caught up in the Houston Astros' sign-stealing scandal.
In retrospect, having to dump Beltran after just 11 weeks might have been a positive. Playing 20 seasons in the majors doesn't automatically translate into knowing how to run a pitching staff or when to gamble on righty-lefty matchups.
Rojas has more than a thousand games under his belt as a manager. Given that he inherits a roster that looks very similar to what Callaway had to work with in 2019, it will be interesting to see if Rojas can exceed expectations and squeeze out just enough wins to reach the postseason.