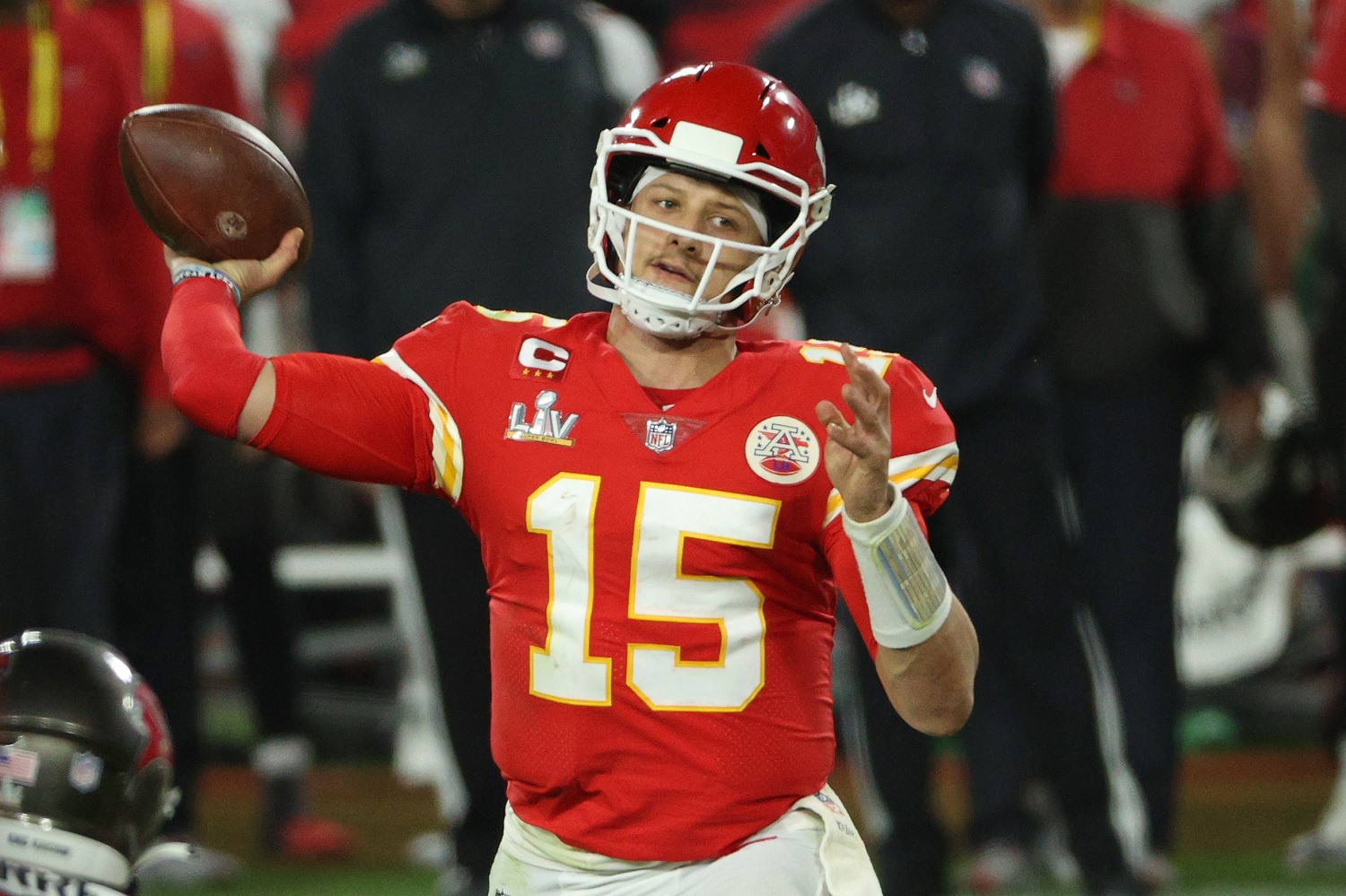 Patrick Mahomes Hasn't Been This Flummoxed Since Super Bowl 55
Patrick Mahomes tried firing off a shot at LA Chargers QB Justin Herbert, but it backfired when he mixed up his words.
He may not be living there rent-free, but rising NFL star Justin Herbert definitely resides somewhere inside Patrick Mahomes' head these days.
The Tampa Bay Buccaneers left Mahomes flustered in Super Bowl 55, but the Los Angeles Chargers quarterback has the Kansas City Chiefs standout tongue-tied with just a couple of weeks to go before the start of NFL training camps.
Patrick Mahomes' season ended on a down note at Super Bowl 55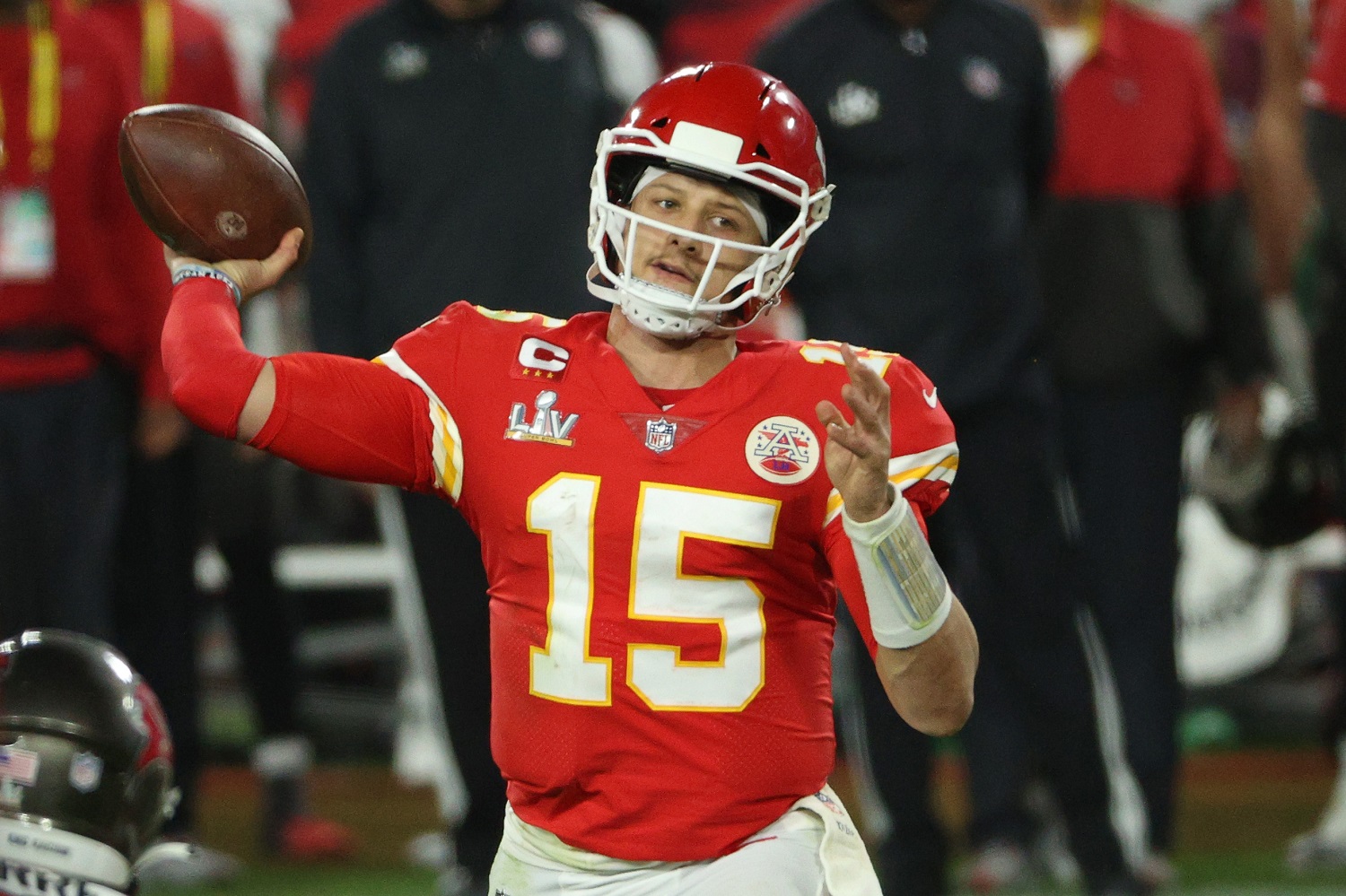 Lest anyone forget, the Chiefs did not sail through the 2020 NFL regular season, regardless of what a 14-2 record suggests. Beginning with Week 9 against the Carolina Panthers, Kansas City rattled off seven consecutive victories by just 27 total points. The Panthers, Miami Dolphins, and New Orleans Saints all scored in the final 2:06 to make the contests look closer than they actually were, but an average winning margin of not quite four points a game does not suggest domination.
In addition, division rivals were tough on KC. The Chargers and the Las Vegas Raiders each went 1-1 against the Chiefs and were tough outs even in the losses.
So, seeing the Buccaneers pull off a dominating victory in Super Bowl 55 did not constitute a shock. Tampa Bay harassed Mahomes into 23 incompletions and a pair of interceptions en route to a 31-9 victory to deny the Chiefs a second straight NFL championship.
Mahomes was tongue-tied while trying to deliver a zinger
The Chargers finished 7-9 under Anthony Lynn a season ago. They moved on to former Los Angeles Rams defensive coordinator Brandon Staley as their head coach, but Herbert is still their quarterback following a sensational rookie season in which he completed 66.6% of his passes for 31 touchdowns and engineered three game-winning drives.
CBS analyst Tony Romo, who was doing interviews ahead of last weekend's American Century Championship celebrity golf tournament, touted the Chargers for the upcoming NFL season.
The Chiefs' Mahomes played in that tournament and finished tied for 50th in a field of 88. During Sunday's final round, a fan yapped at Mahomes that he should "watch out for Justin Herbert next year," USA Today reported.
Mahomes, normally the definition of thinking on one's feet – 114 touchdown passes and just 65 sacks in his three full seasons – didn't just fumble the response, he practically turned it into a pick-six.
"I'll see it when I believe it," was the best response he could muster. The correct phrase is "I'll believe it when I see it." Had Mahomes said it that way, it still would have been weak. Merely laughing off the comment or saying, "Let's see if his sophomore jinx is as good as mine," would have worked way better.
The Chiefs' defense should take the Chargers seriously
There's no reason to believe Kansas City cannot repeat as the AFC West champion, and a third straight trip to the Super Bowl is also plausible for what is probably still the best front-line talent in the AFC. However, Herbert and the Chargers do bear watching by Mahomes and the Chiefs.
Herbert's first NFL start came against Kansas City in Week 2 last fall, and it was one of the most impressive debuts in recent memory: 22 completions in 33 attempts, 311 yards, a touchdown, and an interception. The Chargers lost in overtime, but it began a string of seven straight starts with 264 or more yards for the former Oregon star.
In the rematch in Week 17, an insignificant contest for the Chiefs since they already owned the first-round bye and the home field throughout the AFC playoffs, Herbert threw for 302 yards and three TDs in a 38-21 triumph.
Football is still a two-platoon sport in which no quarterback can do it all alone. Nevertheless, the fan on the golf course last weekend may have been right in suggesting that the Chiefs look out for Herbert in 2021.
All stats courtesy of Pro Football Reference.