Penny Hardaway Goes Against His 'Favorite Player' When Making His Pick in the Ongoing Michael Jordan vs. LeBron James GOAT Debate
As the GOAT debate involving Michael Jordan and LeBron James (a debate that will seemingly never actually end) rages on, four-time NBA All-Star Penny Hardaway, who early in his career seemed as if he could actually be in the discussion someday, has weighed in with his opinion on the matter. And while Hardaway says it's close, he has chosen a clear-cut winner…at least for now.
Michael Jordan vs. LeBron James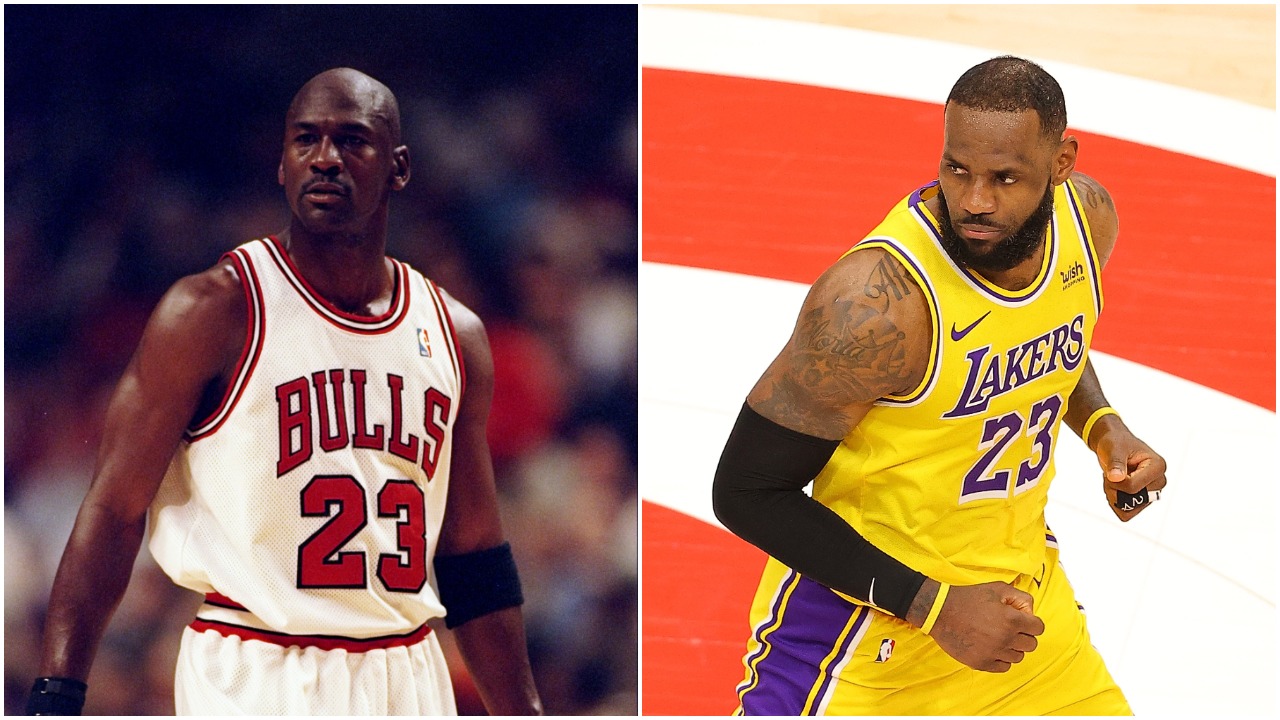 RELATED: Here's the Real Difference in the NBA Finals Records of Michael Jordan and LeBron James
Before we get to Penny Hardaway's choice, let's get to the obligatory rundown of the accomplishments of both Michael Jordan and LeBron James first…we'll take the list approach this time around.
Michael Jordan
15 NBA seasons
6 NBA titles
6-time NBA Finals MVP
5-time NBA MVP
14-time NBA All-Star
11-time All-NBA selection
9-time All-Defensive selection
1988 Defensive Player of the Year
10-time scoring champion
3-time steals leader
32,292 points scored (5th on the all-time list)
Per-game averages: 30.1 points, 6.2 rebounds, 5.3 assists, 2.3 steals, 0.8 blocks
LeBron James
Currently in his 18th NBA season
4 NBA titles
4-time NBA Finals MVP
4-time NBA MVP
17-time NBA All-Star
16-time All-NBA selection
6-time All-Defensive selection
1-time scoring champion
1-time assists leader
35,283 points (and counting) scored (3rd on the all-time list)
Per-game averages: 27.0 points, 7.4 rebounds, 7.4 assists, 1.6 steals, 0.8 blocks
Penny Hardaway was on his way to becoming an all-time great before injuries hindered his career
There are many NBA fans out there who believe Penny Hardaway was on his way to putting himself in the GOAT conversation early in his career. Looking back on it, he truly was somewhat of a hybrid of the two other guys we're discussing here as he could score like Michael Jordan when necessary but could also pass like LeBron James.
In those first few years of his career with the Orlando Magic alongside Shaquille O'Neal, Penny was seen by many as the next Magic Johnson with Shaq being his Kareem Abdul-Jabbar. The duo took Orlando to the NBA Finals in just their second season together, even beating Jordan's Bulls along the way, and likely would have won numerous titles together had Shaq not taken his talents to Hollywood to join the Lakers.
Although Hardaway played 14 NBA seasons, he was never the same player following that first knee surgery in 1996 and didn't make an All-Star team in his last nine seasons after doing so in four of his first five years in the league. But that's life in pro sports.
Anyway, let's get to Penny's pick.
Penny Hardaway says Michael Jordan is the GOAT but that LeBron James isn't far behind
RELATED: Dwyane Wade Chimes in on the Michael Jordan vs. LeBron James GOAT Debate and His Pick Really Shouldn't Surprise Anyone
In a recent appearance on FS1's Skip and Shannon: Undisputed, which you can view above, Penny Hardaway discussed a number of topics with hosts Shannon Sharpe and Skip Bayless, including the ongoing GOAT debate involving Michael Jordan and LeBron James. As Hardaway actually played against both during his career, his opinion might carry a little more weight than most as he was actually able to witness their greatness up close and personal. Here's what Penny had to say.
"Honestly, I'd hate to compare the guys, but right now, to me, Michael is the GOAT and LeBron is not far behind. It's just my opinion."

Penny Hardaway on the Michael Jordan vs. LeBron James GOAT debate
Hardaway went on to say that it was tough for him because LeBron is his favorite player. But he still went with MJ and we now just have to wait and see who chimes in next.
Stats courtesy of Basketball Reference