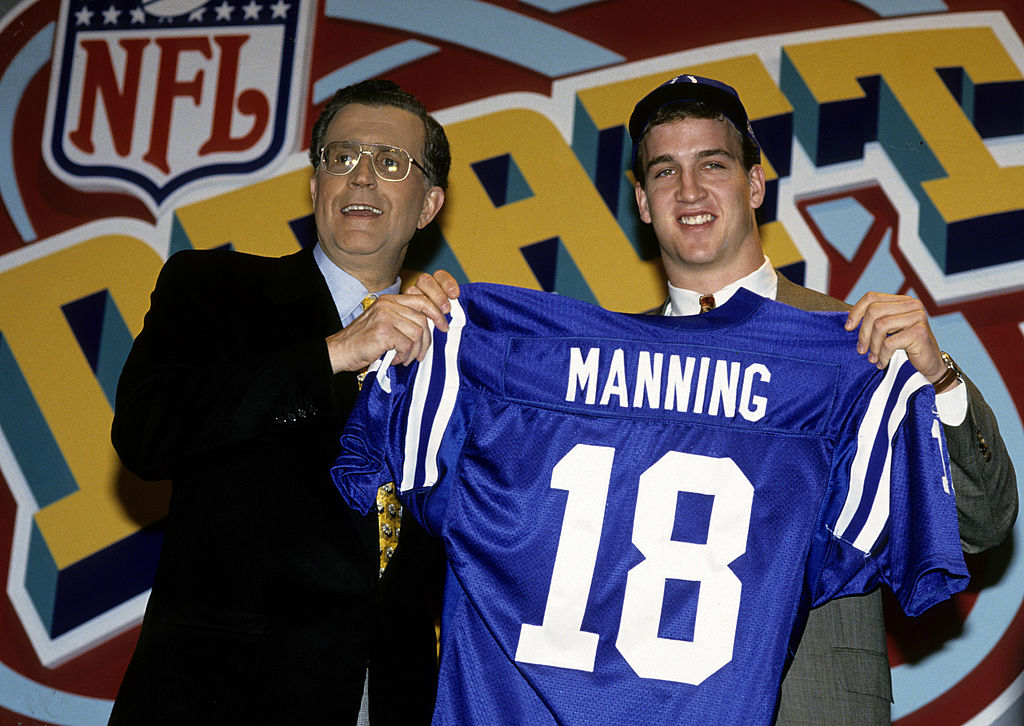 Peyton Manning Gives Joe Burrow Hilarious Advice Ahead of His Rookie Year
Joe Burrow reached out to Peyton Manning last week for advice on his upcoming rookie season. Manning's answer of course was a sarcastic joke.
Joe Burrow will most likely join the Cincinnati Bengals as the No. 1 pick in the NFL draft this week. He's surely receiving tons of advice every day from current players and legends of the game. Peyton Manning is the most recent to give Burrow some rookie year tips, but his advice came with a sarcastic and humorous touch.
Burrow will join Manning as a No. 1 overall pick in the NFL draft
Peyton Manning might be the perfect role model for Joe Burrow. Manning was the No. 1 overall pick by the Indianapolis Colts in the 1998 NFL draft. He went on to play in four Super Bowls and win two titles before retiring in 2016.
Many No. 1 picks have flamed out before even getting their careers off the ground, so Burrow would be wise to seek advice from Manning. Manning turned his first overall selection into 71,940 passing yards, good for the third-most in NFL history.
Burrow would be ecstatic with a career similar to Manning's. He has high hopes across the entire football world, but those expectations are hard to live up to for most.
Manning had those same expectations in 1998. He relished them and even outperformed even the most optimistic fans. Burrow can do the same with people like Manning in his corner.
Burrow called Manning for advice last week
Burrow is already showing signs of a true leader and future winner in the NFL. He called Manning last week for advice heading into the NFL draft this week.
Manning said on ESPN's SportsCenter Sunday that Burrow asked him about how to handle his rookie season. He was happy to offer advice, but in typical Peyton Manning fashion, he obviously had to include a joke.
Manning told Burrow to soak up all the advice he gets and learn as much as possible in his first year. He also gave Burrow the go-ahead to beat his rookie NFL record. However, his record wasn't for touchdown passes or yards or even anything positive.
His rookie record was actually for interceptions thrown. Manning threw 28 picks in his first NFL season, the most in league history for a rookie. It's the one record Manning owns that Burrow wants no part of.
Manning told Burrow patience is key as a No. 1 pick
Aside from his sarcastic advice about beating his rookie interception record, Peyton Manning did give Joe Burrow some real advice during their talk last week.
One of the most important things Manning said was to be patient. He said the team picking No. 1 is there for a reason, so you can't expect to win right away in the NFL.
Manning led the Colts to a 3-13 record in his rookie season. He said he lost more that year than he did in his entire high school and college careers combined. Burrow will most likely have to deal with the same scenario. He led LSU to an undefeated season in 2019, but it won't be as easy next year with the Bengals.
Manning bounced back from his 3-13 rookie season and led the Colts to a 13-3 record the next year. He told Burrow not to get discouraged and just do all you can to improve as a player until the team around you catches up. Burrow will surely take Manning's advice, but maybe not in regards to throwing more than 28 interceptions next year.