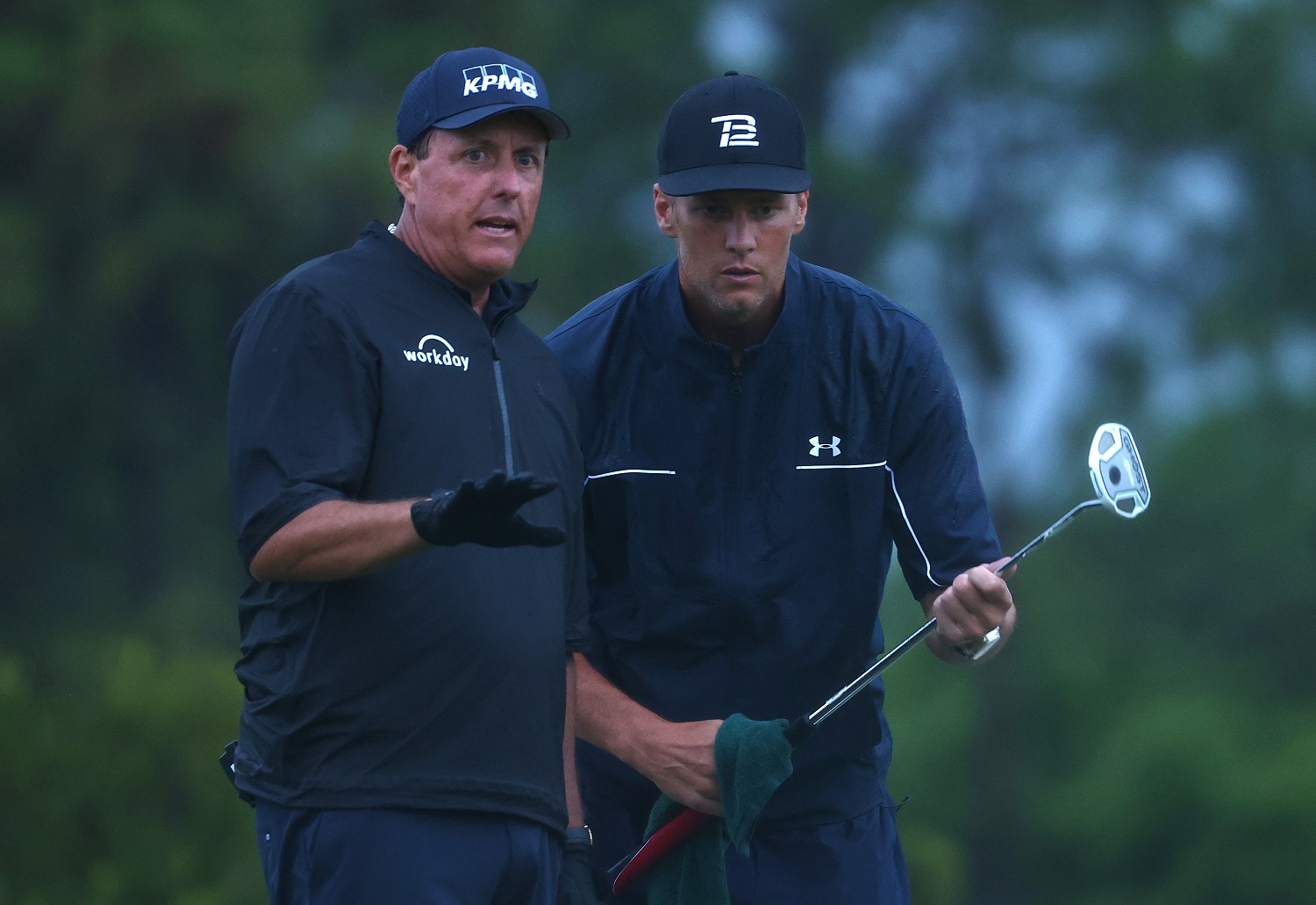 Phil Mickelson Is Counting on Tom Brady Magic to Carry Him to the Career Grand Slam
Phil Mickelson credits Tom Brady with teaching him to be better prepared to perform. Brady's influence may have helped Mickelson capture his sixth major championship.
Phil Mickelson is suddenly a contender to complete the evasive career grand slam. All it took was watching Tom Brady and absorbing. The oldest quarterback to win a Super Bowl actually taught the oldest golfer ever to win a major a thing or two.
"I've been fortunate to spend time with him," Mickelson said Monday. "And when I'm around him, I learn a lot … just watching and observing the dedication, the hard work."
This is the week we find out if that translates into a U.S. Open victory.
Phil Mickelson and Tom Brady have a golf date in July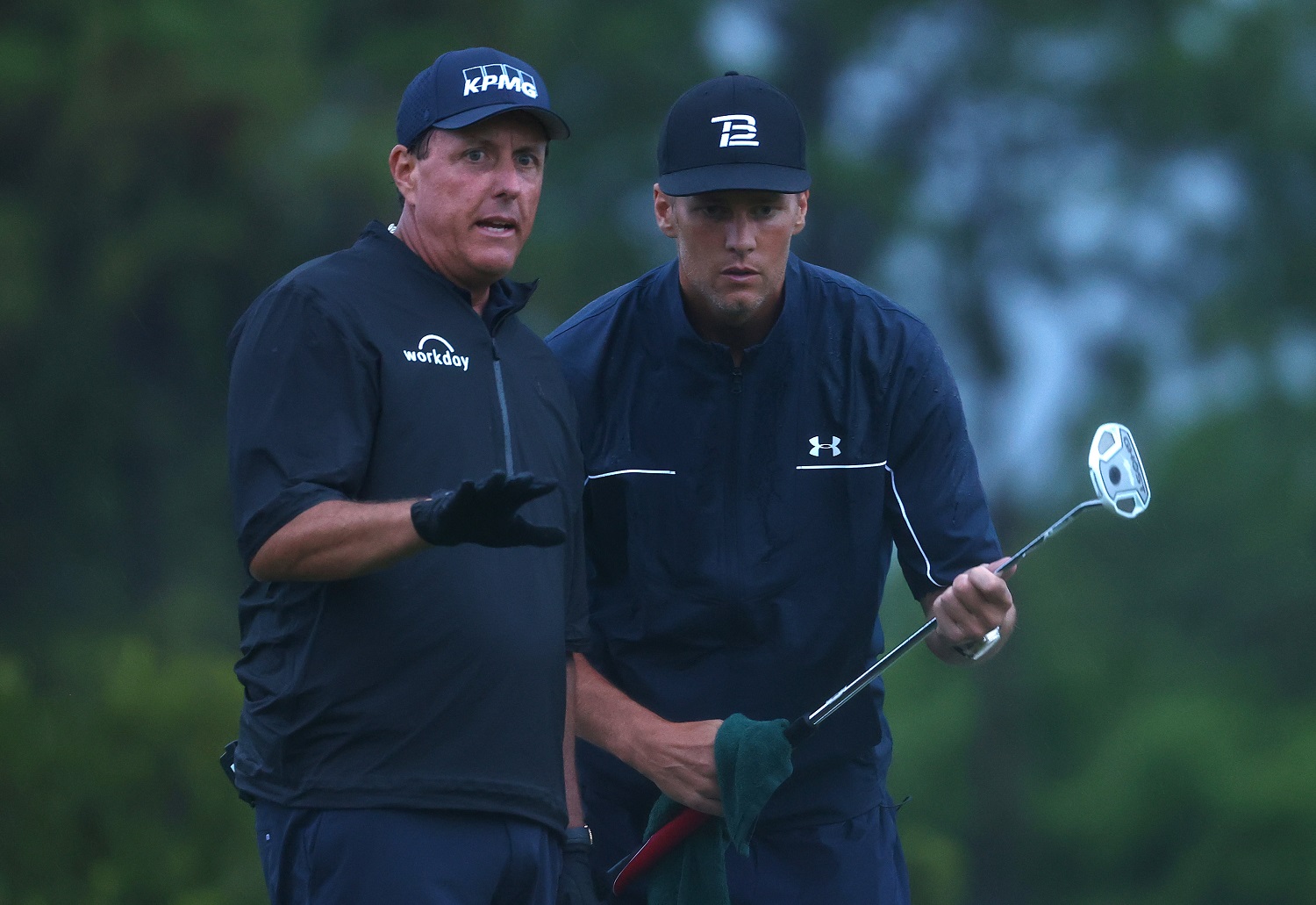 Mickelson and Brady have a partnership going on the golf course. They teamed up last spring against Tiger Woods and Peyton Manning in a charity match. The next installment of the series that began with Mickelson playing Woods 1-on-1 comes July 6 when they reunite to take on Aaron Rodgers and Bryson DeChambeau.
Brady won the Super Bowl in February. Mickelson captured the PGA Championship in May. Aside from being successful elder statesmen in their respective sports, they're both focused on health – even if Mickelson was comparatively late to the game.
Making up for the lost time, Mickelson started Coffee For Wellness, a gourmet blend touted for beating back fatigue and improving cognitive function. Brady's been on the nutritional kick for much of his NFL career.
"He's very disciplined in what he eats and recovery and taking the time to do the right things after the round and so forth," Mickelson said at a news conference at Torrey Pines, where the U.S. Open begins Thursday. "It's inspiring to see."
Brady showed his dedication at Augusta
An average weekend golfer who finds himself at the hallowed Augusta National Golf Club might be tempted to walk around with his set of clubs and squeeze every possible minute out of the practice green, driving range, and golf course.
Not Brady.
"When we would go play at Augusta and he'd stay at the cottages, he would be up hours before we played," Mickelson told reporters. "He would go to the gym and do a bunch of band work for an hour just getting his shoulders and knees and hips and everything firing and activated."
That's been a source of motivation for Mickelson.
"When you see it happen, it's much easier to do," he said.
Mickelson is completely focused this week
Mickelson has won The Masters Tournament three times, the PGA Championship twice, and the British Open once. He's come tantalizingly close at the U.S. Open, finishing second six times from 1999-2013, but he still needs a victory to complete that career grand slam.
He turns 51 on Wednesday, is coming off a victory that has changed the way people perceive the status of his game, and understands he is running out of time to win the major that completes his story.
"It's in my backyard," said Mickelson, who was born in nearby San Diego. "I have a chance to prepare properly, and I wanted to put in the right work. So, I've kind of shut off all the noise. I've shut off my phone. I've shut off a lot of the other stuff to where I can kind of focus in on this week and really give it my best chance to try to play my best.
"Now, you always need some luck, you always need things to kind of come together and click. But I know that I'm playing well. And I just wanted to give myself every opportunity to play at my best."
Brady left his home of 20 years to add to his legacy with Super Bowl Ring No. 7. Now, Mickelson has a chance to add to his at home.
Like Sportscasting on Facebook. Follow us on Twitter @sportscasting19.