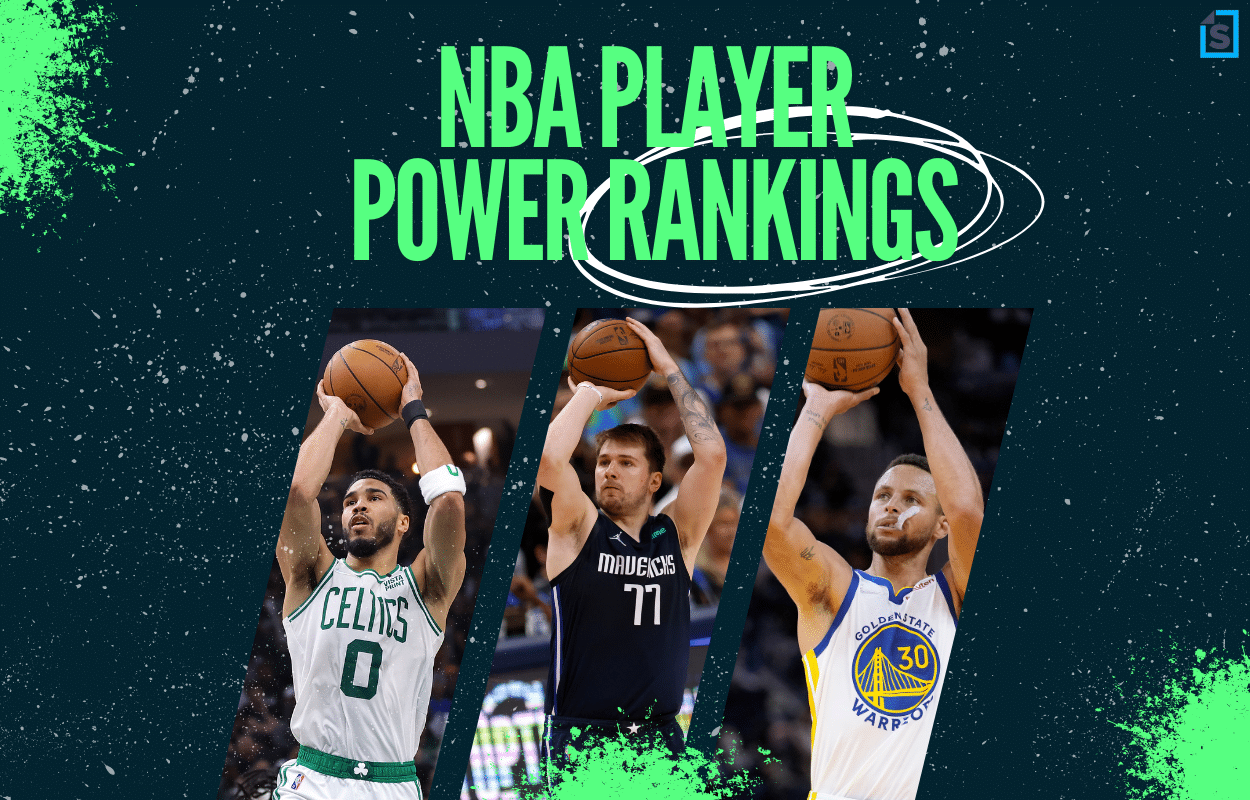 Ranking Luka Doncic, Stephen Curry, Jayson Tatum, 25 Hottest Players Heading Into NBA Conference Finals
Luka Doncic, Stephen Curry, Jimmy Butler, and Jayson Tatum are the biggest names, but we're ranking more than just those four players in the conference finals.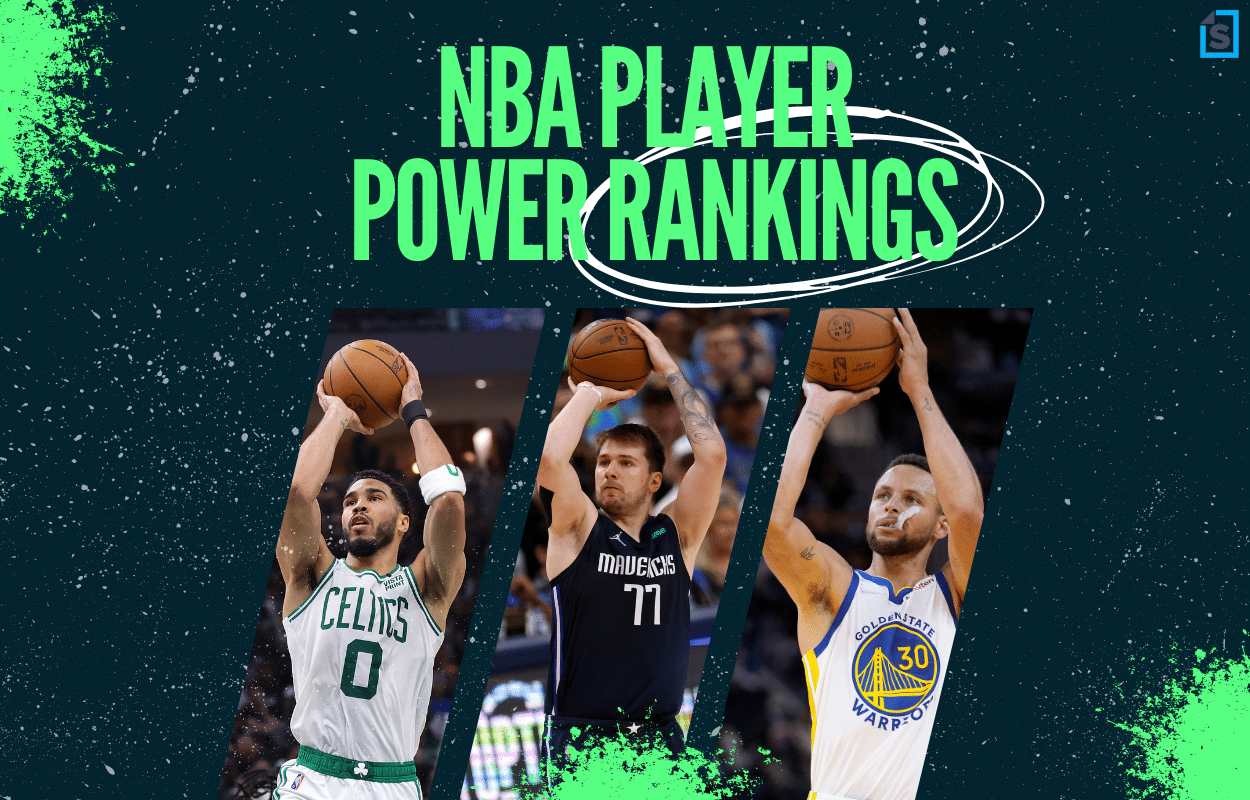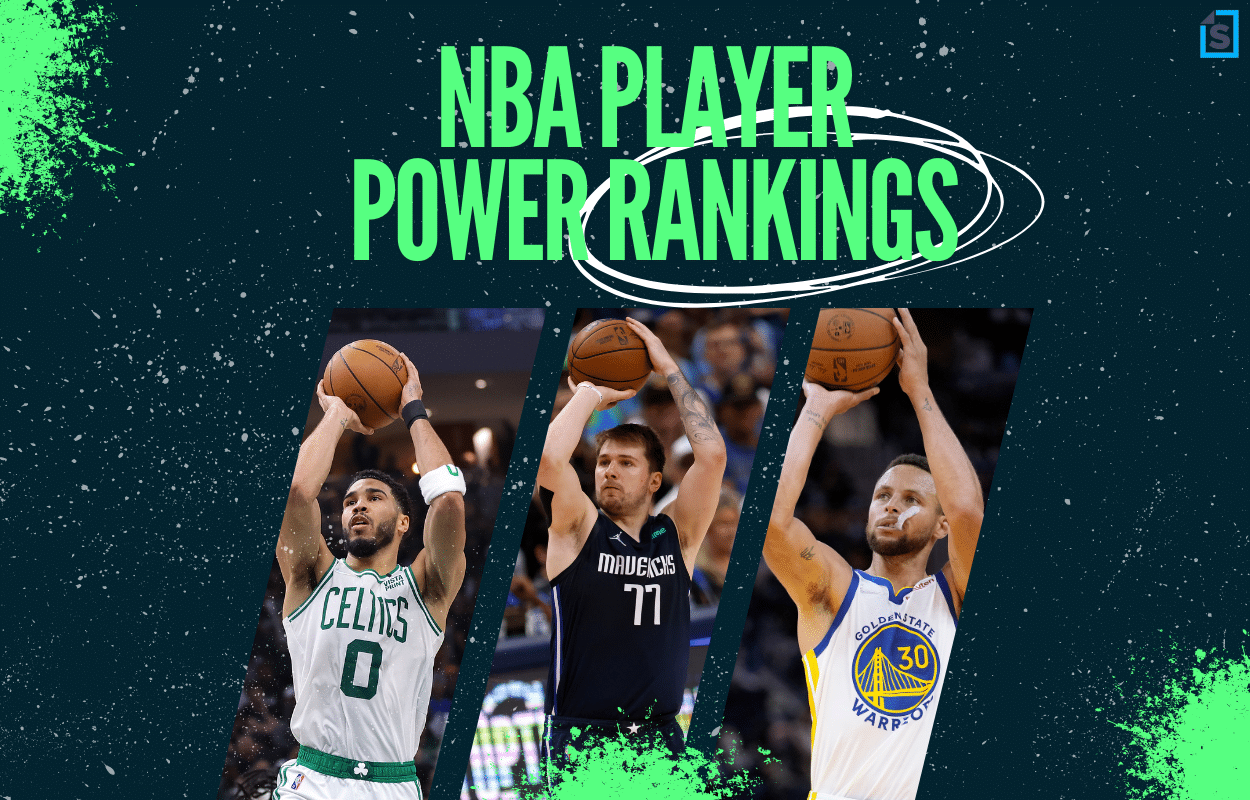 The 2021-22 NBA standings first shrunk the postseason field to 16, and only four remain in the quest for the Larry O'Brien Trophy after the Phoenix Suns' complete collapse. But as the Miami Heat and Boston Celtics prepare to clash in the East and the Golden State Warriors and Dallas Mavericks square off in the West, how do the NBA power rankings as of today shake out, specifically looking at the leading players rather than the surviving teams?
Jimmy Butler, Stephen Curry, Luka Doncic, and Jayson Tatum have taken top billing as they've propelled their teams onto the Association's penultimate stage, but are they the four top figures in our rankings? The playoffs have featured fantastic performances from Grant Williams, Victor Oladipo, Jordan Poole, and plenty of others, but which supporting-cast members rise highest?
Using data provided by NBA Math, we're turning to rolling player ratings, which use game score and schedule adjustments to evaluate how each player has performed over his last 10 appearances. The higher the number, the better the performance, and it's scaled in a way that the scores are comparable to the scale on which scoring outputs are measured.
Players must have suited up at least once in the last week and still be alive in the championship chase to be eligible for our top-25 countdown, which begins now.
Nos. 25-21: Kevon Looney, Derrick White, Jonathan Kuminga, Maxi Kleber, Grant Williams
25. Kevon Looney, Golden State Warriors: 5.32
24. Derrick White, Boston Celtics: 5.78
23. Jonathan Kuminga, Golden State Warriors: 6.07
22. Maxi Kleber, Dallas Mavericks: 6.91
21. Grant Williams, Boston Celtics: 7.88
Through his first 10 appearances in the 2022 playoffs, Grant Williams had averaged 9.4 points, 4.2 rebounds, and 0.9 assists while slashing 41.4/41.9/78.3. But the Milwaukee Bucks dared the Boston Celtics to make him the one to beat them in Game 7, and that's exactly what he did.
Milwaukee's defense routinely rotated away from Williams, leaving him open from beyond the arc so that he'd have to take looks otherwise reserved for Jayson Tatum and Jaylen Brown. The pressure that was supposed to be too big for the 23-year-old role player didn't seem to affect him, though.
Rather than clanking too many shots off the iron, Grant Curry hit seven of his 18 three-point attempts en route to a career-high 27 points — not a career high in the playoffs, but a career high at any stage of his NBA tenure, topping his previous best of 20 on March 21, 2022, against the Oklahoma City Thunder. If that's the version Boston gets for the remainder of the postseason, it could end up hoisting some hardware at the end of the NBA Finals.
Nos. 20-16: Reggie Bullock, P.J. Tucker, Draymond Green, Spencer Dinwiddie, Max Strus
20. Reggie Bullock, Dallas Mavericks: 7.96
19. P.J. Tucker, Miami Heat: 8.13
18. Draymond Green, Golden State Warriors: 8.36
17. Spencer Dinwiddie, Dallas Mavericks: 9.02
16. Max Strus, Miami Heat: 9.28
These rankings are purely objective, which is bad news for Draymond Green because so much of what he does to lift the Golden State Warriors — the relentless passion that oozes from his pores, the defensive rotations to prevent shots, the on-court coaching he provides his younger teammates — doesn't show up in the box score to help his overall standing. In reality, the Michigan State product checking in at No. 18 drastically undersells his contributions.
Of course, the Dubs probably wouldn't mind if Green's box scores started looking a bit better.
His defense will be key against the Dallas Mavericks, regardless of whether Luka Doncic becomes his primary assignment or he's filling a more well-rounded role, but his offense needs to improve quickly. His sloppy passing, particularly in transition, was contagious against the Memphis Grizzlies, and he missed all six of his three-point attempts while often looking afraid to shoot and turning down good looks for tricky feeds.
Green has been here before, though, which should make Golden State that much more confident about things clicking for him at the right time. This is his sixth career trip to the Western Conference Finals, and he has yet to lose at this stage of the postseason.
Nos. 15-11: Tyler Herro, Dorian Finney-Smith, Victor Oladipo, Andrew Wiggins, Marcus Smart
15. Tyler Herro, Miami Heat: 9.9
14. Dorian Finney-Smith, Dallas Mavericks: 10.42
13. Victor Oladipo, Miami Heat: 11.07
12. Andrew Wiggins, Golden State Warriors: 11.35
11. Marcus Smart, Boston Celtics: 11.59
Tyler Herro has struggled to make much noise during the 2022 playoffs despite exploding for 24 points in Game 3 against the Atlanta Hawks (albeit in the series' lone loss) and a 25-spot against the Philadelphia 76ers in Game 1 of the conference semifinals. As a whole, he's averaging just 13.8 points, 4.3 rebounds, and 2.9 assists while slashing 42.0/27.3/91.3.
But the Miami Heat are still dependent on his shot-making ability, and that'll be especially true against a suffocating Boston Celtics defense that routinely makes every shot in the half court as difficult as possible.
Herro doesn't always have the greatest shot selection, but he's tremendous at getting off difficult looks and somehow tickling the twine with a hand in his face. He's comfortable creating in a one-on-one setting and serving as a bail-out option late in the shot clock, and Miami's success could hinge on how many of those tough attempts wind up successful.
Nos. 10-6: Al Horford, Jordan Poole, Klay Thompson, Bam Adebayo, Jalen Brunson
10. Al Horford, Boston Celtics: 13.11
9. Jordan Poole, Golden State Warriors: 13.49
8. Klay Thompson, Golden State Warriors: 13.99
7. Bam Adebayo, Miami Heat: 14.02
6. Jalen Brunson, Dallas Mavericks: 14.84
The Dallas Mavericks might go as Luka Doncic goes, but turning that into a winning strategy is all the more difficult against a Golden State Warriors defense that has the pieces, experience, and discipline necessary to make the superstar's life rather difficult. If Jalen Brunson is able to thrive as a secondary playmaker and off-ball threat, the Mavericks' chances of making the NBA Finals for the first time since the Dirk Nowitzki era will skyrocket.
So far, Brunson's postseason results have been up-and-down, to say the least.
He thrived against the Utah Jazz, averaging 27.8 points, 4.8 rebounds, and 4.2 assists while shooting 48.4% from the field, 36.4% from beyond the rainbow, and 84.6% at the stripe. And though he had a 28-point showcase in Game 3 against the Phoenix Suns and closed the series out with 24 points on 11-of-19 shooting, he was also held in check for the first time, experiencing the occasional shooting struggles while deferring more touches to Doncic.
Brunson is already going to get puh-aid — yes, with all the emphasis — this offseason despite a lack of funds from the vast majority of potential suitors across the league, but strutting his stuff on the biggest stage yet will only increase the size of his inevitable bag.
Nos. 5-1: Jaylen Brown, Jayson Tatum, Stephen Curry, Luka Doncic, Jimmy Butler
5. Jaylen Brown, Boston Celtics: 16.21
4. Jayson Tatum, Boston Celtics: 18.95
3. Stephen Curry, Golden State Warriors: 20.46
2. Luka Doncic, Dallas Mavericks: 25.61
1. Jimmy Butler, Miami Heat: 25.73
Why feature Jaylen Brown here?
Well, Jimmy Butler's playoff bona fides have been on full display for the Miami Heat. Luka Doncic has made the full-fledged superstar turn while carrying the Dallas Mavericks past the No. 1 seed in the Western Conference. Stephen Curry is, well, Stephen Curry. Jayson Tatum is quite obviously the best player on the Boston Celtics and has played like it more often than not.
Brown, though, gives the Beantown residents the only one-two punch found within the top five of our rankings.
Though the 25-year-old hasn't made as many headlines for his postseason play, he's scored at least 18 points in 10 of his 11 appearances and has routinely put pressure on opposing defenses with his three-point shooting and ability to take bigger opponents off the bounce. If he can fill a similar role against a Miami Heat outfit with wing stoppers galore, he'll help generate easier looks for Tatum and the rest of the C's.
Brown lives in his own tier beneath the obvious leading figures for each of the four semifinalists but ahead of all the other supporting players. Is that enough to propel Boston to the Finals stage that has eluded it since 2010?
All stats, unless otherwise indicated, courtesy of Basketball Reference and NBA Math and accurate heading into games on May 17.
Like Sportscasting on Facebook. Follow us on Twitter @sportscasting19 and subscribe to our YouTube channel.