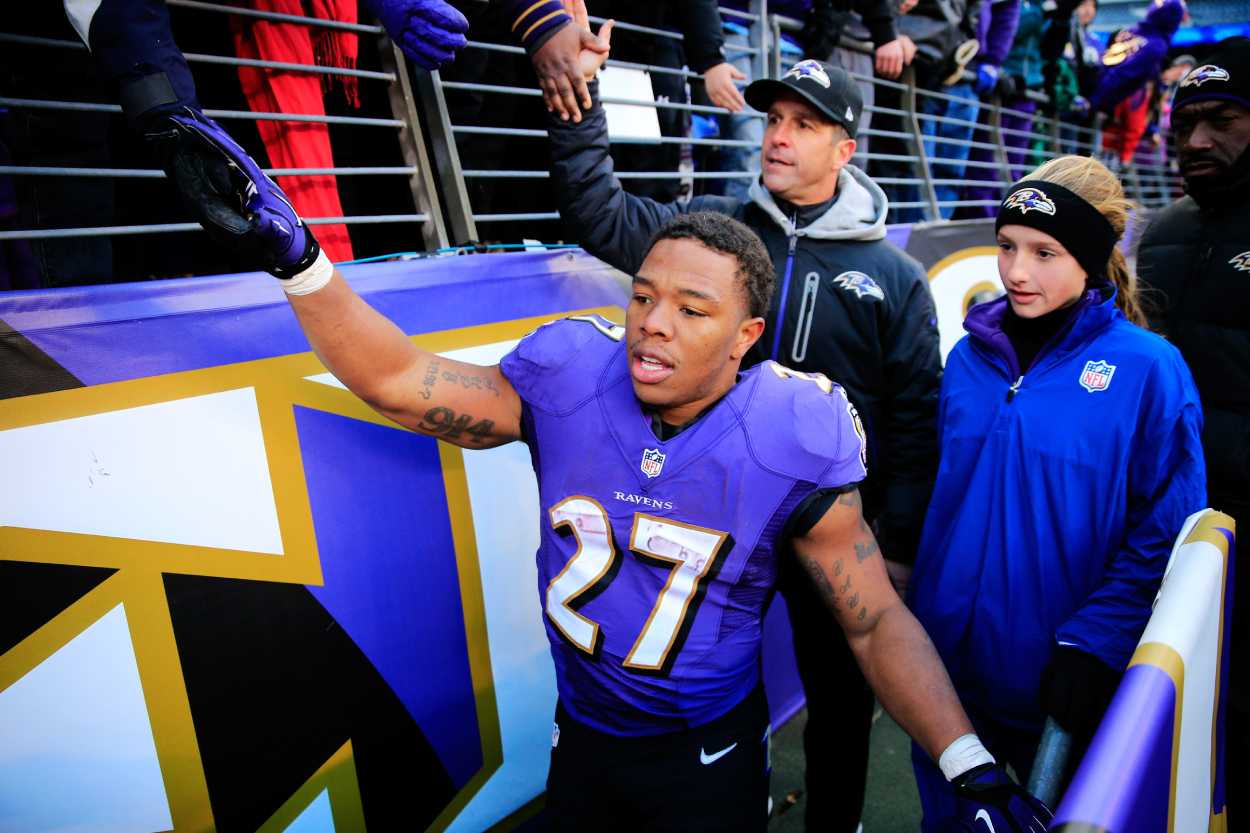 Ray Rice's Former Teammate Just Exposed Their Beef From Nearly 10 Years Ago
Ray Rice has not played in the NFL since the horrible altercation with his wife in 2014. However, his former Baltimore Ravens teammate, running back and former Heisman Trophy winner Ricky Williams, just exposed their beef from nearly 10 years ago.
Many NFL fans have bad memories of Ray Rice, the former running back for the Baltimore Ravens who hasn't played in the NFL since getting caught punching his soon-to-be wife on camera. It appears that it's not just fans who have negative memories of him, though. Ray Rice's former teammate, running back Ricky Williams, recently exposed the beef that the two of them had nearly 10 years ago.
Ray Rice and Ricky Williams played on the Baltimore Ravens in 2011
Ricky Williams had previously been a football superstar. He won a Heisman Trophy with the Texas Longhorns in 1998 and then became the No. 5 overall pick with the New Orleans Saints in 1999. Williams then had a great deal of success in his first few NFL seasons, running for 1,000 yards or more in every season from 2000 through 2003. He also led the NFL in rushing yards in 2002 with the Miami Dolphins, as he ran for 1,853.
Williams, though, retired for the 2004 season after failing a third drug test, according to Sports Illustrated. Williams then played in 2005 but received a suspension for the entire 2006 season after a fourth failed test. He then only played in one game in 2007.
Williams then ran for 659 yards in 2008 before running for over 1,100 yards again in 2009 with the Dolphins. He then played just one more year in Miami in 2010 before joining the Baltimore Ravens in 2011.
In 2011, Ray Rice had just come off consecutive seasons where he ran for over 1,200 yards. He then had a spectacular year during that 2011 season, as he ran for 1,364 yards and 12 touchdowns. Williams, on the other hand, added 444 rushing yards for the Ravens, and Baltimore went all the way to the AFC Championship Game before barely losing to the New England Patriots, 23-20.
Williams then ultimately retired for good after that season. He has since, though, revealed the issues that he had with Rice in 2011.
Ricky Williams exposed their beef nearly 10 years later
Ricky Williams recently appeared on Shannon Sharpe's Club Shay Shay, and he discussed his beef with Ray Rice.
"That year with the Ravens, it was nice; we were this close to going to the Super Bowl," Williams said on the March 2 episode. "I really loved that organization; I loved playing with Ed Reed and Ray Lewis. But, we got along on the outside, but I had some issues with Ray Rice a little bit."
He continued: "I was used to splitting time with (former Dolphins running back) Ronnie Brown. Me and Ronnie were tight. We competed with each other, and we wanted to see each other succeed. But with Ray, it felt like we were kind of competition. It was just game playing. It just didn't feel good, and it was kind of one of those things, if something doesn't feel good to me, I'm not going to keep coming back and doing it."
It's certainly interesting to hear what a former teammate had to say about Ray Rice. While Williams ended up retiring after that season, Rice just played for a couple more years.
Ray Rice played just two more seasons due to the altercation with his wife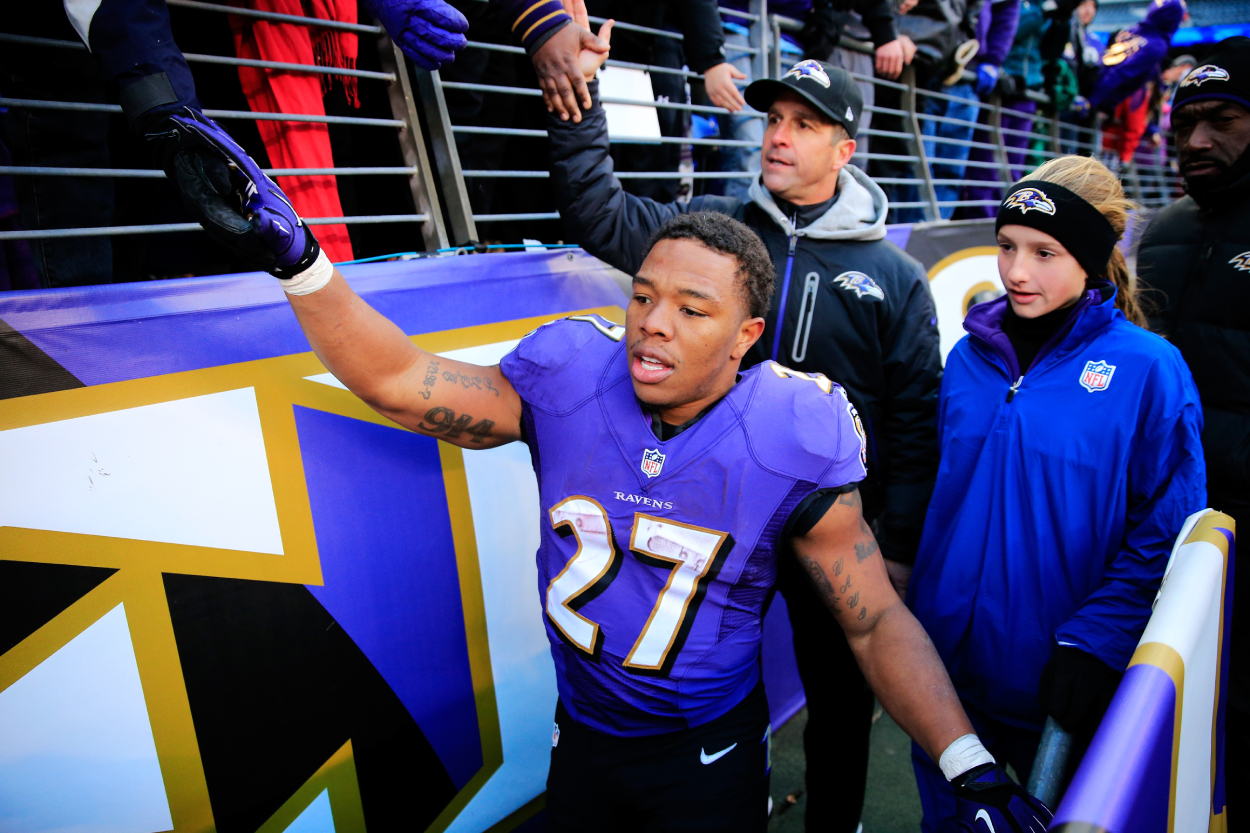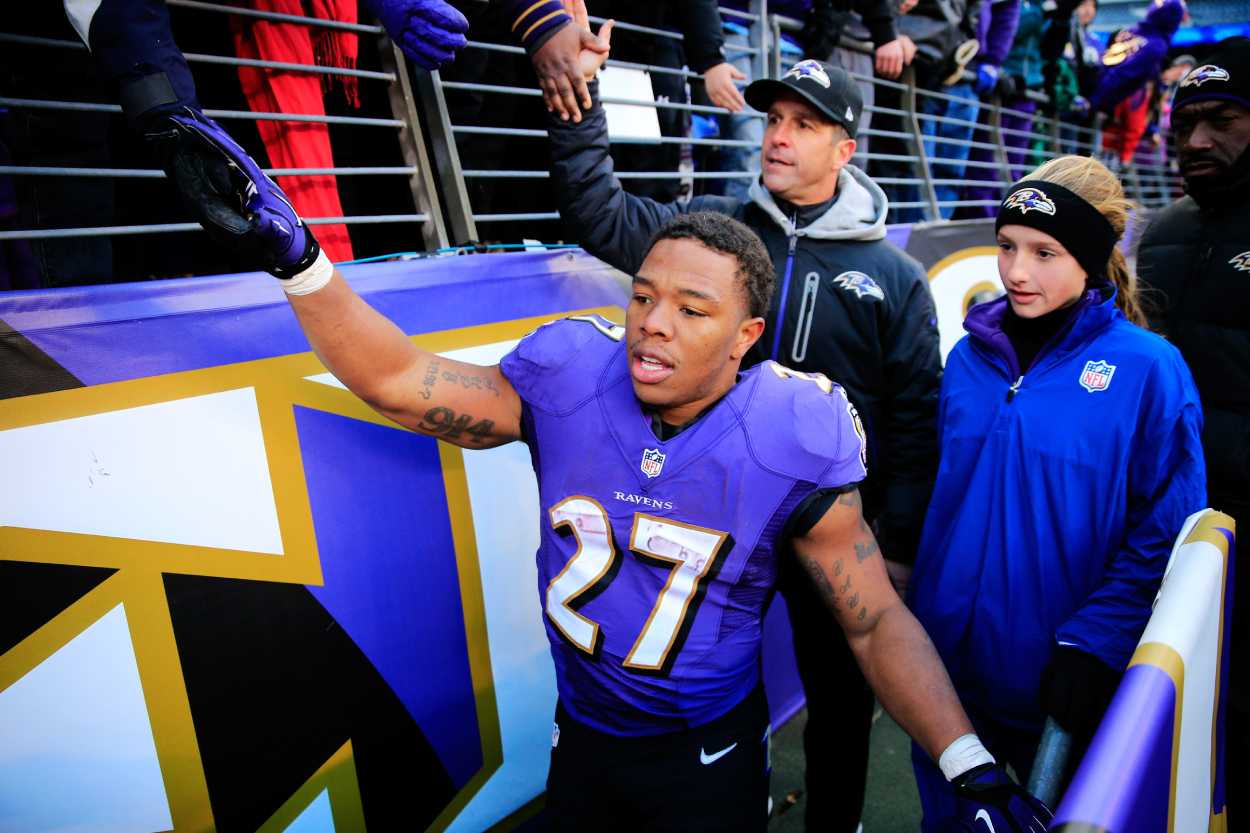 Rice received Pro Bowl honors in 2011 and then had another nice year in 2012. Rice earned his third Pro Bowl selection that year, as he ran for 1,143 yards and nine touchdowns. He then even won a Super Bowl with the Ravens that year, too.
However, in 2013, Rice only ran for 660 yards, the fewest since his rookie season. He also only gained a career-worst 3.1 yards per carry. Ray Rice then didn't play in 2014 after the Ravens released him on the same day that TMZ published a video of him punching his fiancee and soon-to-be wife Janay Palmer, per The Baltimore Sun.
Ray Rice ultimately finished his football career with 6,180 rushing yards and 37 rushing touchdowns. He has not played in the NFL since that 2013 season and has become a spokesperson against partner violence.
Stats courtesy of Pro Football Reference