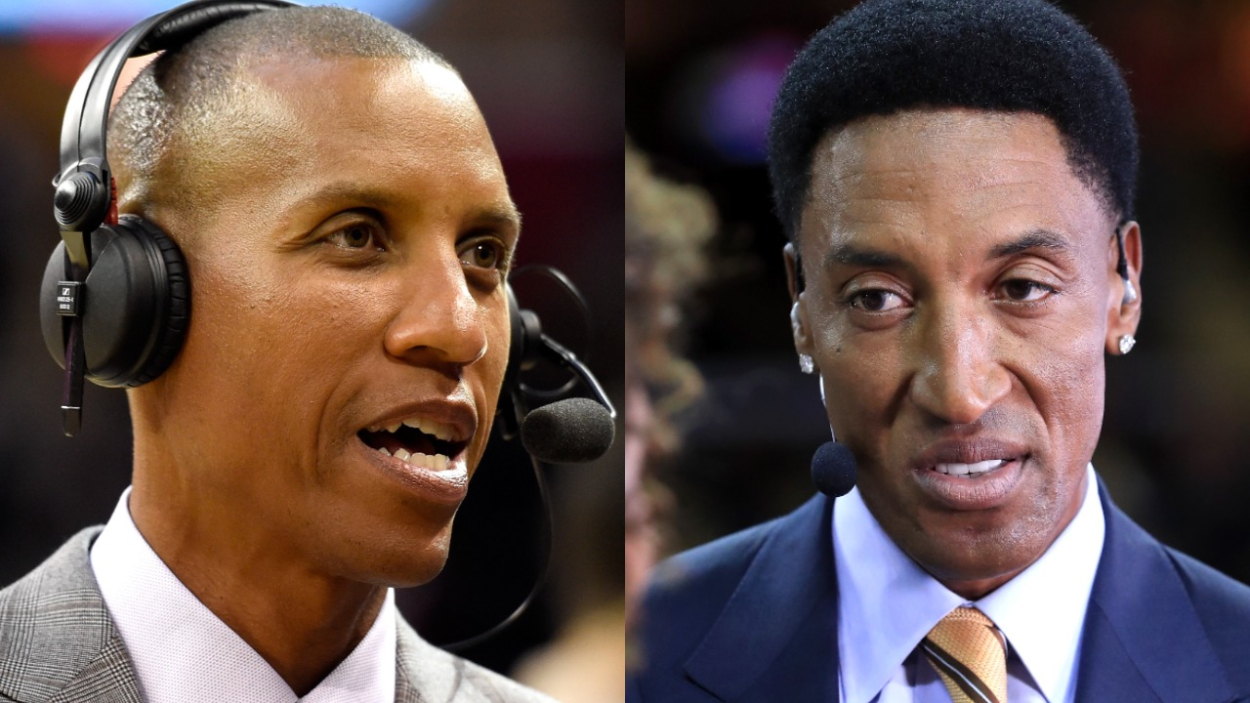 Reggie Miller Vehemently Disagrees With Scottie Pippen's Racism Claim About Phil Jackson: 'That, I Don't Roll With'
Six-time champ Scottie Pippen's recent comments about his former NBA coach, Phil Jackson, definitely made headlines this week. He claimed one of Jackson's past coaching decisions with the Chicago Bulls was racially motivated, and then he later doubled down. Pippen's fellow NBA legend, Reggie Miller, though, disagrees with the statements about Jackson.
NBA legend Scottie Pippen's recent media tour has resulted in him making several headlines throughout June. However, none of his comments have been as controversial as the ones he made about former Chicago Bulls head coach Phil Jackson. After calling one of Jackson's past coaching decisions a "racial move" in an interview with GQ, Pippen said he didn't have "a problem with" calling Jackson a racist while speaking to Dan Patrick.
One of Pippen's fellow NBA legends, though, vehemently disagreed with his claim: Reggie Miller.
Scottie Pippen said Phil Jackson's past NBA coaching decision was racially motivated
During Pippen's interview with GQ, he discussed the most infamous moment of his career. 
Tied 102-102 in Game 3 of the 1994 Eastern Conference semifinals, Pippen refused to enter the game against the New York Knicks with 1.8 seconds left. This was because instead of giving him the last shot — with Michael Jordan retired and playing baseball at the time — Jackson gave it to rookie Toni Kukoc.
Kukoc made the game-winner, but the Bulls lost the series in seven games. That moment, though, has been talked about more over the years than the series itself.
"I felt like it was an opportunity to give (Kukoc) a rise," Pippen said to GQ, per Sports Illustrated. "It was a racial move to give him a rise. After all I've been through with this organization, now you're gonna tell me to take the ball out and throw it to Toni Kukoc? You're insulting me."
He then doubled down on the claim that it was a "racial move" while talking to Patrick.
"Why would Toni, who was a rookie, get the last-second shot and you put me out of bounds? That's what I mean 'racial,'" Pippen stated on the June 28 episode, per SI.
Patrick then said: "By saying 'a racial move,' then you're calling Phil a racist," and Pippen replied, "I don't got a problem with that."
Reggie Miller doesn't think Phil Jackson's move was racially motivated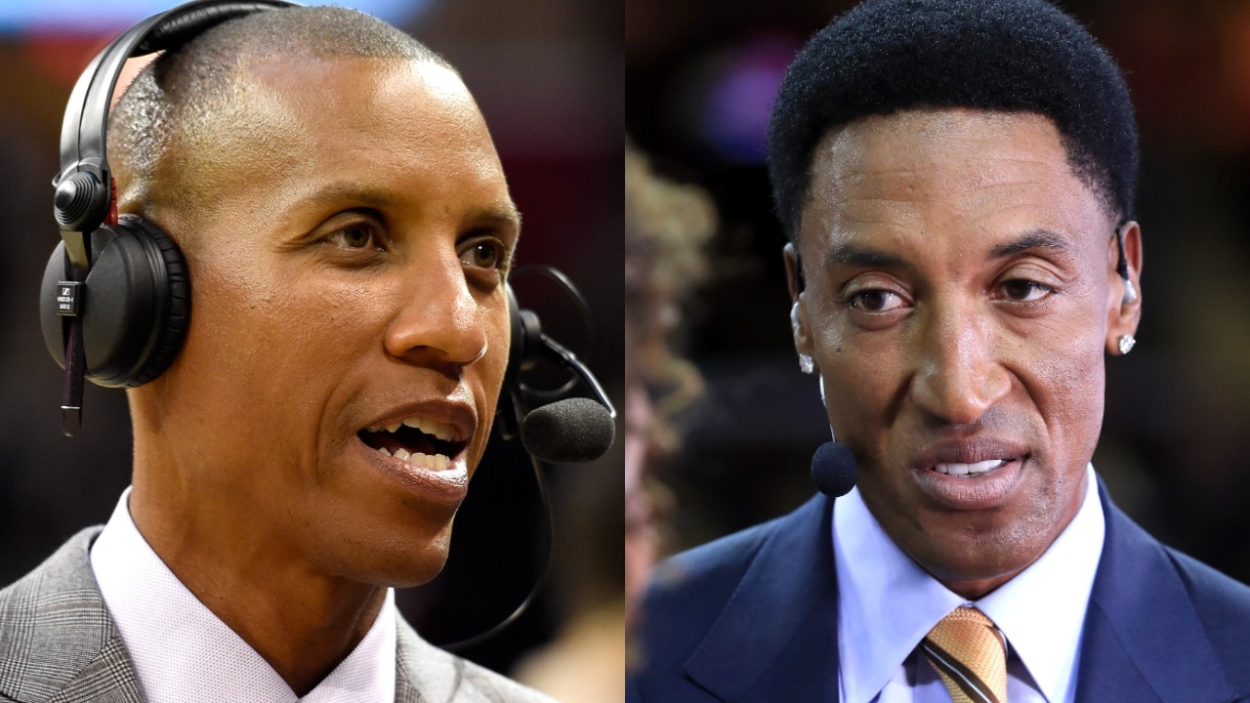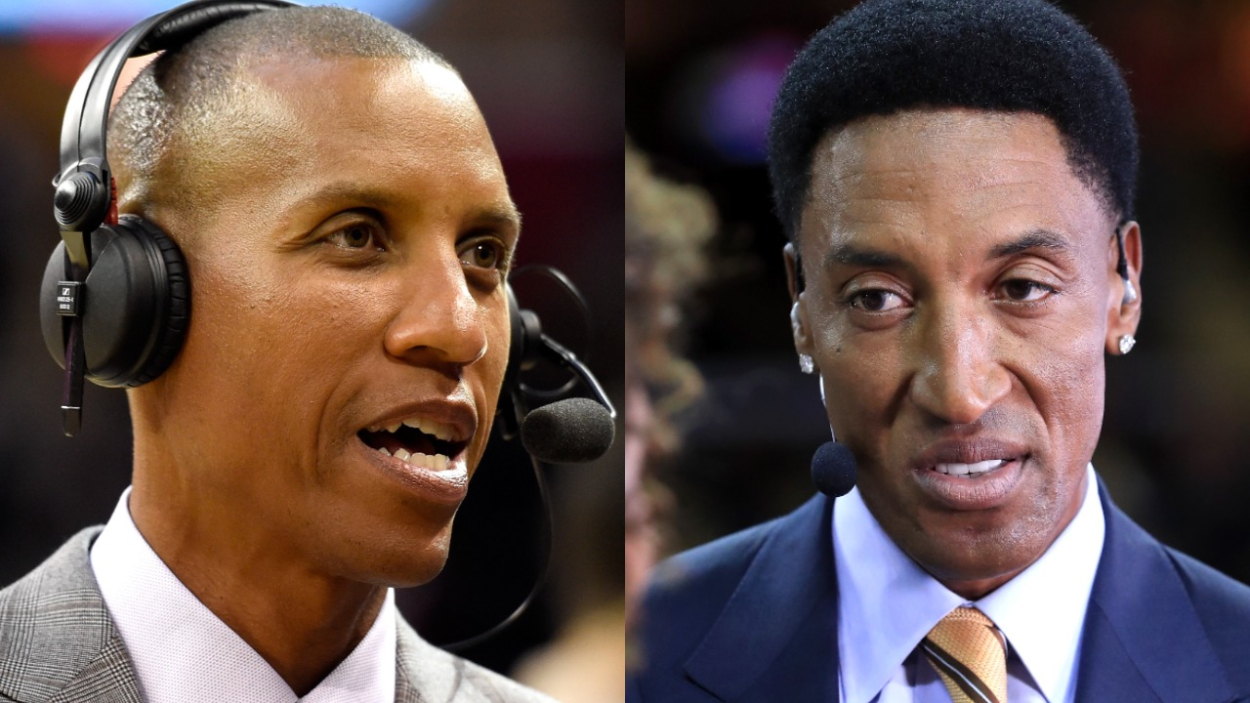 Although Reggie Miller did not play for the Bulls, Scottie Pippen's fellow NBA legend responded to the comments saying that Jackson's decision to give Kukoc the final shot was racially motivated.
"No, no," Miller said on the June 28 episode of the Dan Patrick Show. "See, I don't agree with that. No, no, no, no. There's plenty of times I've been a decoy on the Pacers team. There's just times when that has to be the case because everyone assumes and knows the ball's going to go to you. And sometimes, you have to be a decoy. The whole racial point, no, absolutely not. That, I don't roll with."
Miller made some strong points, and he may be right that Jackson's decision was not a racial move. But it's hard to know for sure because Miller wasn't in that locker room with the Bulls.
There could be things about Jackson we don't know because they have gone unreported. However, it's also possible that Pippen is still upset he didn't get the last shot. It would be helpful to hear from Jackson or one of Pippen's former Bulls teammates to have another insider's perspective, but we may never get one.
This probably won't be the last time we hear someone discuss Pippen's comments since they were pretty damning. But they were ultimately just one of many controversial statements he has made during his media tour.
Scottie Pippen has made several other controversial statements
The claims about Jackson aren't the only statements by Pippen to make the news lately.
After Kevin Durant and the Brooklyn Nets lost to the Milwaukee Bucks in the playoffs, Pippen said to Dan Le Batard that he thinks "we ultimately saw that [Durant] has to learn to be a better teammate, to use his talent to play winning basketball."
Pippen then stuck up for LeBron James in a James-Durant debate by tweeting at ESPN's Stephen A. Smith, "[LeBron] won a championship without any help." However, his tweet may not be entirely correct given that James won two titles with Dwyane Wade and Chris Bosh, one with Kyrie Irving and Kevin Love, and another with Anthony Davis.
Pippen also called Michael Jordan's decision to retire from the NBA and play baseball a "selfish" choice.
"It was a big decision, but it was a selfish decision," he said on the Dan Patrick Show. "It was kind of who Michael Jordan was, and that was a guy that believed that he can do anything on his own."
It's unclear why Pippen is saying all of these things right now, but it appears he has a lot to get off his chest. We all received MJ's side of the story in The Last Dance, and now we are getting Scottie's.
Like Sportscasting on Facebook. Follow us on Twitter @sportscasting19.