Robert Parish Once Eviscerated the Idea of NBA Teams Playing Zone Defense: 'I Think They're Just Giving Up'
As the classic sports cliche says, defense wins championships. While that might not be 100% true in practice, the Boston Celtics certainly had some capable defenders on the roster during their successful spell in the 1980s. Chief among them was Robert Parish.
Even in retirement, the big man still has opinions about how teams should take care of business on the defensive end of the floor. In Parish's mind, zone defense should be completely off the table.
Robert Parish knows a thing or two about NBA success
During junior high school, Parish started wearing the number 00 because he was the worst player on the basketball team. Over the course of his career, though, the big man grew into a living legend.
After making a name for himself at Centenary College, Parish entered the 1976 NBA draft and joined the Golden State Warriors as the eighth overall pick. Although the club was only a few seasons removed from a championship, on-court results had started to slip. In the summer of 1980, though, everything changed. The Chief packed his bags and, thanks to a trade, headed to Boston.
In Beantown, Parish teamed up with Larry Bird and Kevin McHale to lift the Celtics back to prominence. While Larry Legend may have stolen most of the headlines, the Chief was still a valuable contributor to three championship teams. He possessed a surprisingly soft shooting touch and, thanks to his size, length, and overall athleticism, had no problem doing some defensive heavy lifting.
On the whole, that skill set paid dividends. Parish spent 21 seasons in the NBA, averaging 14.5 points, 9.1 rebounds, and 1.5 blocks per contest and earning four championship rings along the way.
Calling out zone defense as 'giving up'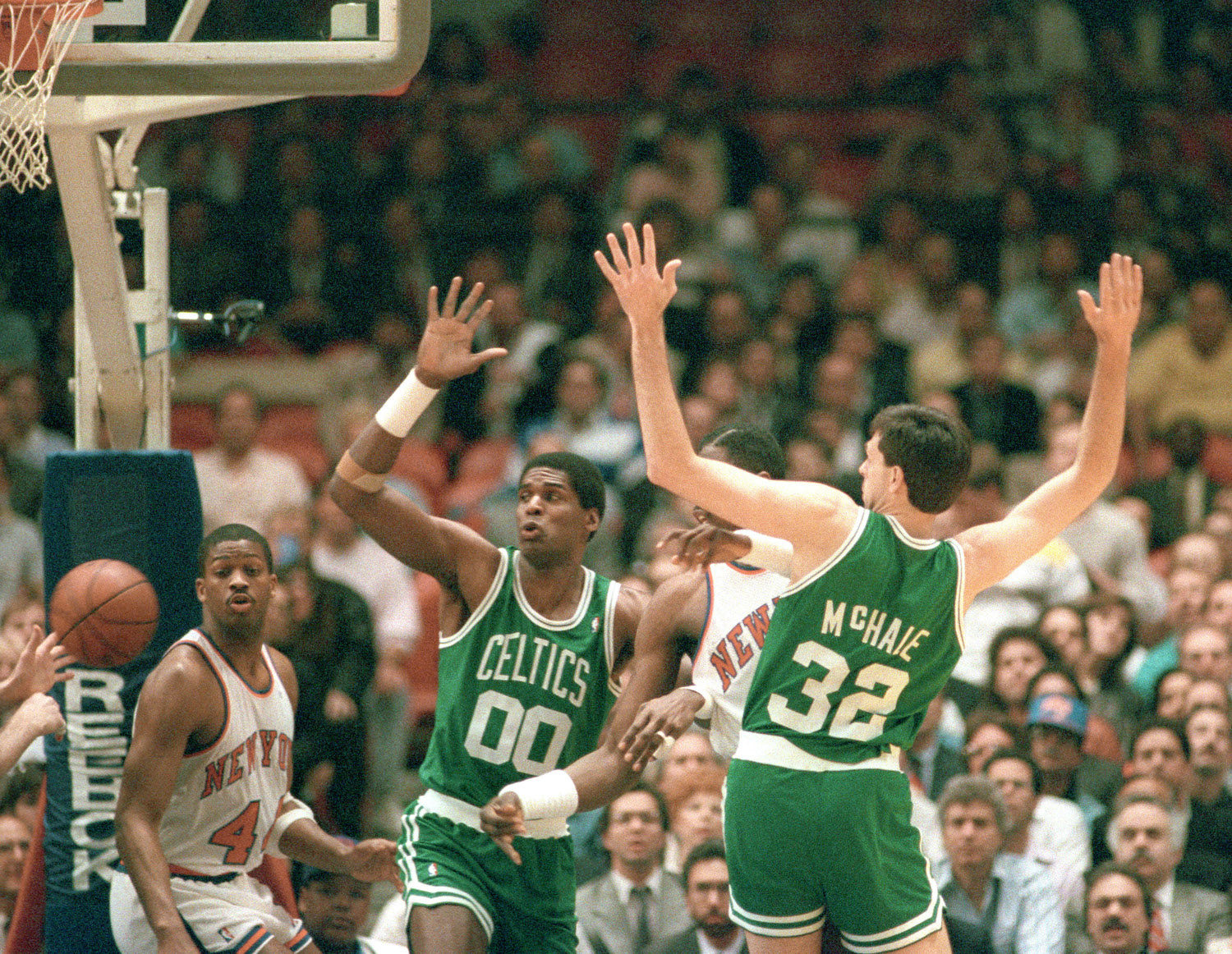 During Parish's day, man-to-man defense dominated the NBA scene; leaving your opponent for any reason other than a clear double-team was considered a violation of the illegal defense rule. While that policy was relaxed after the 2000-01 campaign, it seems like the Chief wasn't a fan of the change.
During a 2012 interview with NESN.com's Ben Watanabe, the former Boston big man explained that he was campaigning to land a gig as a TV analyst. When asked to opine on a current NBA issue, Parish turned his eye toward a certain defensive strategy.
I'll tell you one thing I do not like about today's game, and that's that zone defense. I don't think professionals should be playing a zone. I think they're just giving up, conceding, personally. When we played, there wasn't any thought to playing a zone. It was man-up, man-on-man, mano a mano. Of course, you can't stop anybody one-on-one at the pro level, so that's where your teammates come into play.

Robert Parish speaking in 2012
Unsurprisingly, The Chief went on to say that he favored man-to-man defense.
"I like man to man. Zone, to me, is admitting you have a deficiency in your defense," Parish continued. "You don't need talent to defend. Defense is mental, like rebounding. You've got to want to do it."
Robert Parish is no stranger to speaking his mind when it comes to basketball-related topics
While zone defense is legal in today's NBA, Parish's claims about man-to-man's superiority aren't that bizarre. Some teams use zone on occasion, but no one is reliant on the system full-time. Over the years, though, The Chief hasn't hesitated to share his opinion on some more controversial basketball topics.
Take, for example, the NBA's GOAT debate. While most fans would hand the crown to either Michael Jordan or LeBron James, Parish took it even more old school.
During a 2017 appearance on the In the Post with Elvin Hayes podcast, The Chief shouted out Wilt Chamberlain, Bill Russell, and Kareem Abdul-Jabbar when asked for his thoughts about the greatest player ever to hit the NBA hardwood. In regards to MJ, Parish raised some eyebrows by saying that Jordan had failed to beat any great teams en route to his six championships.
During a 2020 interview on the Cedric Maxwell Podcast, Parish revisited the topic and specifically picked Kareem over His Airness.
"I don't agree with [calling Jordan the GOAT]," The Chief explained. "Michael was great in his time, and you've got to give him credit for winning six championships in a row, two three-peats. You know I acknowledge that, and I respect that. But as good as Michael was, and he had exceptional talent, you know Kareem. That skyhook was unstoppable."
Say what you will about Robert Parish, but at least he's confident in his own opinions.
Stats courtesy of Basketball-Reference