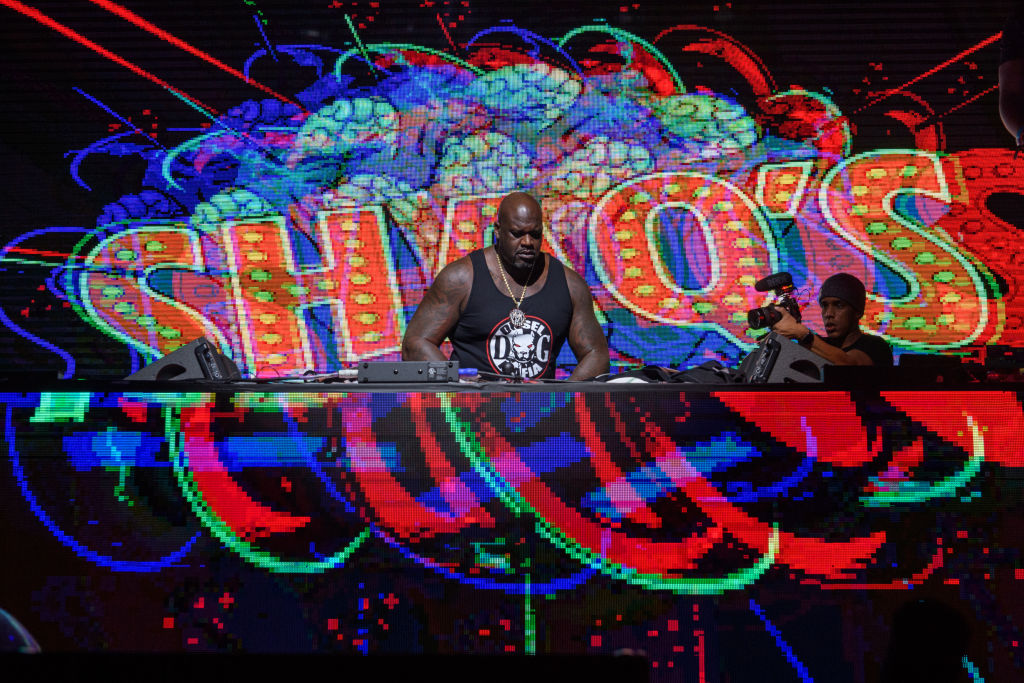 Shaquille O'Neal Earns Way Less Money Than You'd Think as a DJ
While it seems like everything Shaquille O'Neal touches turns to gold, the big man makes less than you'd imagine performing as a DJ.
While Shaquille O'Neal may have made his name as a basketball player, it seems like there's nothing that he can't do. The big man has tried his hand at rapping and acting; he's also a pitchman, a TV analyst, and an investor. Recently, Shaq has added another title to his resume: electronic music DJ.
Despite his star status, though, the Diesel isn't making a killing on the electronic music circuit. In fact, O'Neal earns way less from his work as a DJ than you might imagine.
Shaquille O'Neal's successful basketball career
These days, you'll see Shaquille O'Neal talking about basketball rather than hitting the hardwood. During his time in the NBA, however, he proved to one of the game's most dominant big men.
Shaq was already a force before reaching the pros, though. In high school he carried his team to a 68-1 record; during his time at LSU, he averaged 21.6 points and 13.5 rebounds per game and took home 1990-91 AP Player of the Year honors. That success made him a can't-miss prospect and the first overall pick of the 1992 NBA draft.
Despite taking a step up in completion, O'Neal didn't miss a beat. He averaged 23.4 points and 13.9 rebounds in 1992, cruising to the Rookie of the Year title; before long, he and Penny Hardaway had lifted the Magic to prominence. Shaq was already a star, but he would take things to the next level after leaving Florida.
In 1996, the big man famously headed west to team up with Kobe Bryant and the Los Angeles Lakers. While things weren't always happy behind the scenes, Shaq would win three championships in Hollywood; he also won three NBA Finals MVP awards and one league MVP.
After leaving California, O'Neal would win another ring in Miami before bouncing between Phoenix, Cleveland, and Boston. By the time he called it a career, the big man had played 19 professional seasons, averaging 23.7 points and 10.7 rebounds per game.
Dominating off the court, as well
During his playing career, Shaquille O'Neal made a name for himself as a larger-than-life success. That trend, however, wasn't confined to the basketball court.
Starting in the 1990s, Shaq seemed to be everywhere. He appeared on TV shows and starred in movies; he dropped rap albums and had his own video game. While some of those efforts flopped miserably, they helped the big man become the pop culture icon he is today.
O'Neal doesn't spend all his time goofing around, though; the big man was also building up his bank account. While he earned more than $286 million playing basketball, the center only spent a quarter of that income. The rest was set aside and used for a series of smart investments, which, combined with his countless endorsements, have helped the Big Aristotle's net worth swell to a massive $400 million.
Shaquille O'Neal doesn't earn a dime as a DJ
While Shaquille O'Neal has plenty of irons in the fire, he's recently started touring as a DJ. The big man might be touring the country and appearing at some major festivals, but he isn't in the game to make money. In fact, he doesn't earn a dime from his performances.
After retiring, Shaq attended the Tomorrowland music festival and was impressed by what he saw. He decided that he needed to be a part of it, independent of making a profit.
"So people ask me, why I'm doing it, not getting paid anything. I'm doing it for the sport of bass music," O'Neal explained in a 2019 interview. "I love seeing people jumping up and down. It's like a game seven. It's like down by one in Chicago against the Bulls. Michael [Jordan] comes out, you pump fake him, you jump in the air, you drive by them, you shoot a nice little jumper, you win the game, you beat the Bulls. Fans going crazy."
One of the keys to Shaq's business success has been making things as fun as possible. By that metric, he's making a killing as a DJ, even if he isn't earning a dime.