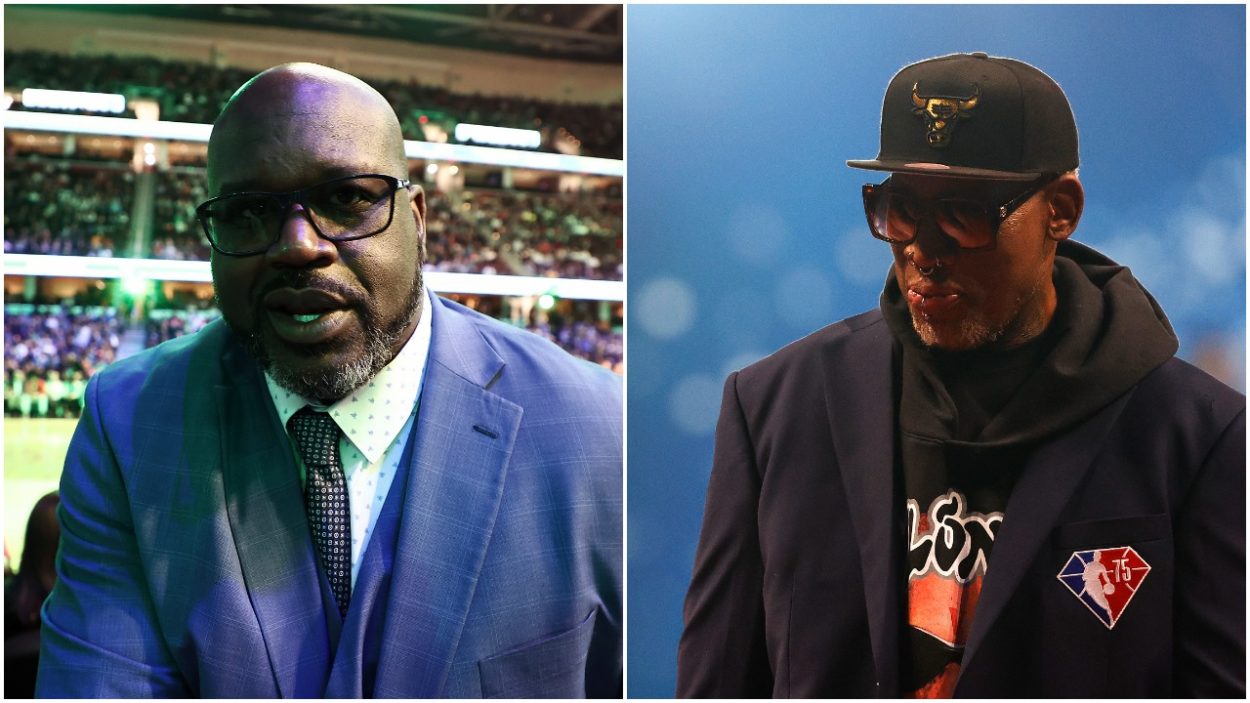 Shaquille O'Neal Rips Dennis Rodman's Behavior at NBA 75 Celebration
Shaquille O'Neal wasn't too pleased with how Dennis Rodman carried himself at the NBA 75 celebration during All-Star Weekend.
The NBA 75 celebration at All-Star Weekend in Cleveland allowed basketball legends past and present to come together and relive old times while cherishing the game's continued growth. Shaquille O'Neal believes Dennis Rodman should have treated the occasion with more reverence.
The Diesel showed a great deal of humility throughout the proceedings, thanking all the people who helped him during his Hall of Fame journey and displaying vulnerability on numerous occasions. On the other hand, Rodman felt obliged to adhere to his typical eccentric persona and otherness.
O'Neal thinks Rodman's actions conveyed a total lack of situational awareness.
Shaquille O'Neal and Dennis Rodman both made the NBA 75 Team
O'Neal and Rodman were easy choices for the NBA's 75th Anniversary Team.
Shaq is arguably the most dominant force in the league's history, and he believes he'd be just as effective in this era. He's a former MVP, a four-time champion, and a three-time Finals MVP who impacted the culture every bit as much as he moved the center position.
Everything about Rodman was less flashy. He didn't need to score to make his presence felt, asserting himself with his uncanny rebounding prowess and harassing everyone on the defensive end of the floor.
Both men shared an aptitude for talking trash and getting under their opponents' skin. The Diesel has a knack for being a prankster, while Rodzilla has always boasted certain bizarre eccentricities and a different way of life.
However, while Shaq acknowledged how much he loves to mess around, he indicated a sense of knowing time and place. O'Neal wishes Rodman understood as much.
O'Neal blasted Rodman for his behavior during NBA 75 celebration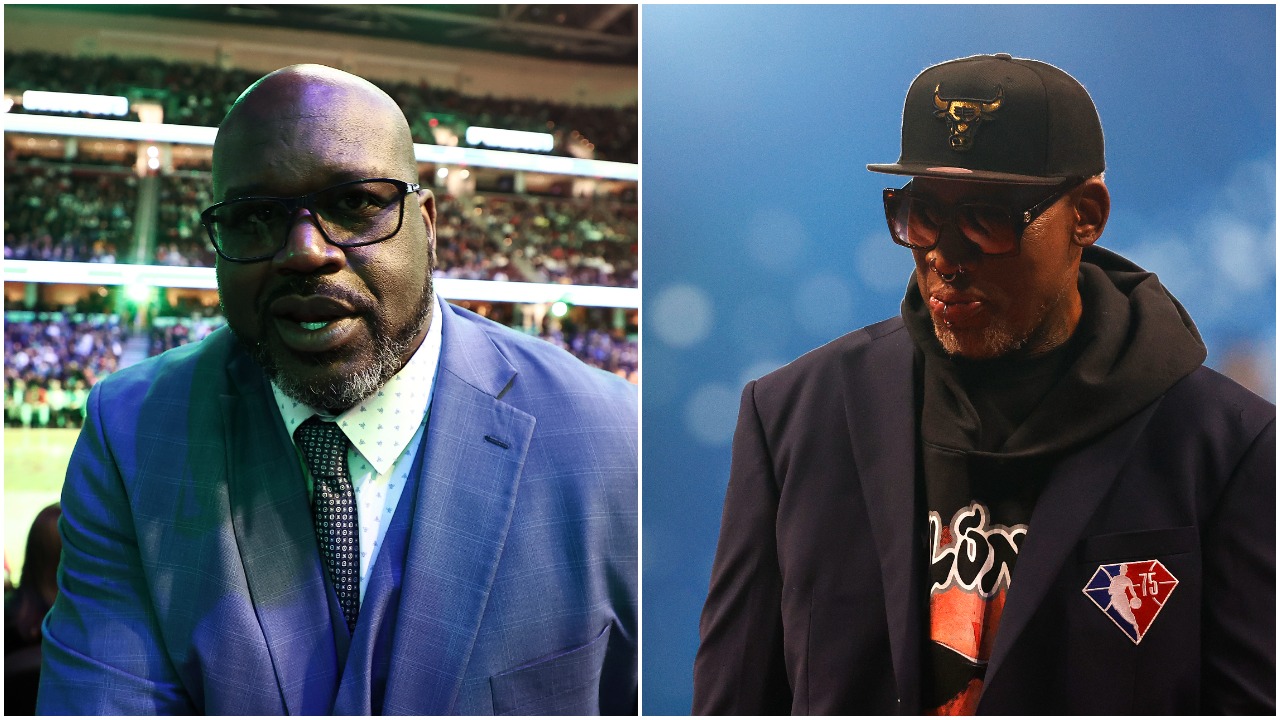 Shaquille O'Neal expressed dismay with how Dennis Rodman acted during All-Star Weekend.
Rodman came to the NBA 75 celebrations wearing a different jacket than the one the league commemorated to players selected to the 75th Anniversary Team. He also awkwardly joined Chris Paul, Carmelo Anthony, LeBron James, Ray Allen, Stephen Curry, and Dwyane Wade for a photo that was clearly meant for the more contemporary players.
O'Neal vented about Rodman's behavior during a recent episode of The Big Podcast with Shaq. He said (h/t Fadeaway World) he would never represent his family in such a rambunctious manner.
"My mother doesn't allow that. I represent Dr. Lucille O'Neal. I don't represent myself. I represent my momma and the other women in my life, Taahirah, Amirah, and Me'arah, I represent them. I'm going to be silly and do my stuff. But when it comes time to be professional, I will always be professional."

–Shaquille O'Neal on Dennis Rodman
This isn't the first time Shaq and Dennis the Menace have butted heads.
Rodman had an issue with the O'Neal-Kobe Bryant relationship during his brief time with the Los Angeles Lakers. That came a few years after The Big Aristotle nearly incited a brawl during a December 1996 matchup with the Chicago Bulls, an incident that featured Michael Jordan and Scottie Pippen dragging Rodman to the ground.
It's not exactly surprising that Shaq took special issue to Rodman's horseplay at All-Star Weekend. But all of it was on-brand for The Worm.
What else did Shaq expect?
Although some fellow NBA 75 members might feel similarly to Shaq, it's a bit strange for O'Neal or anyone else to expect anything different from Rodman.
The Worm has always been a rebel. Conventional wisdom suggests he was always going to act a bit Hollywood. After all, this is the same guy who went on a Las Vegas bender in the middle of the 1997-98 season and paraded with WCW during the 1998 NBA Finals.
O'Neal can gripe all he wants. Rodman was never going to stray from being his authentic self. It's not as if it sullied the celebrations, anyway.