Sony Michel Trade Triggers Sensitive Super Bowl Flashbacks From New Rams Teammate Aaron Donald
Sony Michel is joining the team he helped beat on the big stage. Michel accounted for the lone touchdown in the lowest-scoring Super Bowl ever when the New England Patriots defeated the Los Angeles Rams 13-3 in Super Bowl 53.
Michel rushed for 94 yards on 18 carries and a touchdown. The Patriots traded the running back to the Rams earlier this week, triggering some ugly flashbacks from Rams defensive star Aaron Donald.
Michel was 'surprised' when the Patriots traded him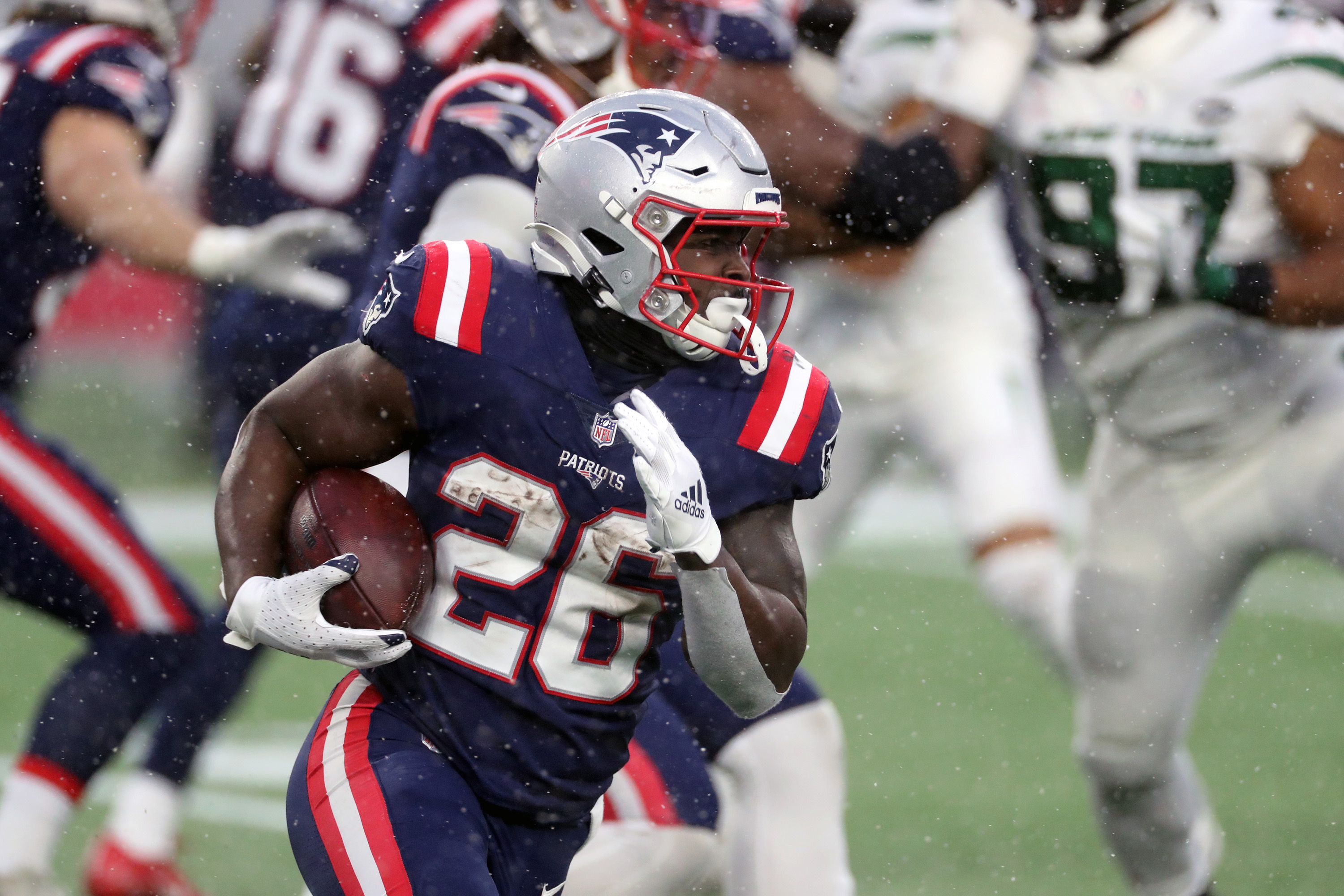 With the Patriots, Michel never quite lived up to expectations. New England selected him with its first pick in the 2018 NFL Draft. Michel was solid, not spectacular, in his first two years with the team. In his rookie season, he missed all of camp and the season opener with a knee injury. In 13 games, he rushed for 931 yards and six touchdowns.
Michel played all 16 games in his second year but managed just 3.7 yards per carry. He finished with 912 rushing yards and a career-high seven touchdowns. Injuries played a role in limiting Michel to nine games and 449 yards on the ground. Those injuries, combined with the emergence of Damien Harris, made Michel expendable.
Despite the so-so numbers for a first-round pick and the fact he was one of six running backs in New England vying for playing time, Michel was surprised at the trade.
"I was surprised," Michel said, according to ESPN. "I would assume that most people, when they're traded, they're surprised a little bit.
"Last two days kind of just been, the best way I can put it is football terminology, sudden change. It's like, something suddenly happens and you just got to get ready to kind of execute. Not much time could be wasted. Just kind of got to get up, get ready to go, and kind of get adjusted, acclimated with the new adjustment."
Sony Michel joins the team he beat in the Super Bowl as Aaron Donald prefers to remain silent on the matter
There weren't a whole lot of offensive stars in Super Bowl 53, which was one of the ugliest offensive performances in a title game in NFL history. Michel was one of the bright spots. His 2-yard touchdown run with seven minutes to play snapped a 3-3 tie and helped give New England a 10-3 lead. He finished with 94 yards and a 5.2 yards-per-carry average.
Julian Edelman was the offensive star, catching 10 passes for 141 yards. The Patriots wide receiver was named the game's MVP.
On the Rams' side, there was nothing to cheer about on offense. Defensively, they held Tom Brady without a touchdown in the first 53 minutes. Offensively, they couldn't capitalize.
Only Brandin Cooks put up good numbers, catching eight passes for 120 yards. Quarterback Jared Goff completed just 50% of his passes for 229 yards and an interception.
Michel's trade brought back flashbacks — or more like nightmares — of the game for those in Los Angeles. Rams' standout defensive tackle Aaron Donald was asked what he remembered most about his new teammate from that Super Bowl.
Donald smirked and said, "I don't want to talk about it."
Michel could make an immediate impact with the Rams
The Rams suffered a tough blow when their young running back Cam Akers went down with a ruptured Achilles in practice and was lost for the season. Darrell Henderson, set to replace Akers as the starter, has been nursing a sprained thumb. The Rams filled a need by acquiring Michel.
"It was an opportunity to acquire a really good player that's had a lot of success," Rams coach Sean McVay said. "We feel good about the running back situation, but some of the volatility of what Darrell has gone through, even just throughout the course of camp, wanted to make sure you got somebody else that's played in big-time games."
McVay said the plan is to have Michel ready to go by opening day.
"Everything I've heard about Sony and the way that he's wired mentally and just the way that he goes about his business, I do anticipate him being a quick study," McVay said. "The goal is to have him ready to go and be a big-time contributor on the 12th."