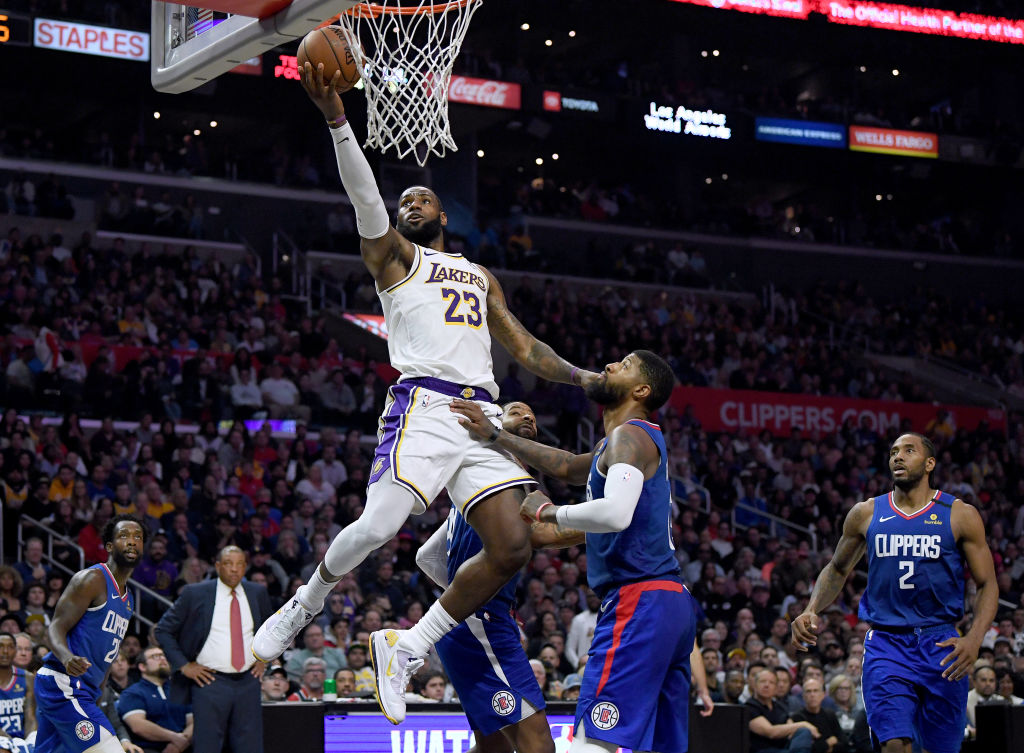 Stephen A. Smith Fears Lebron James Might Miss His 1 Chance to Win a Championship With the Lakers
According to Stephen A. Smith, LeBron James could miss his only chance to win a championship with the Los Angeles Lakers.
In a matter of weeks, the coronavirus pandemic brought the entire sports world to a halt. While that was obviously the right decision—public health is far more important than any game—there will be plenty of ramifications. League revenue will take a massive hit, and players will potentially miss out on career-changing opportunities. According to Stephen A. Smith, LeBron James could be one of those affected.
Before the season was suspended, James and his Lakers were one of the favorites to win the NBA title. Stephen A., however, thinks that LeBron needs to win this year; if he doesn't, he may miss his one opportunity to lift the Larry O'Brien Trophy as a Los Angeles Laker.
LeBron James and the Los Angles Lakers were championship contenders
While it might seem like an eternity ago, the NBA had finished roughly three-quarters of its 2019-20 season. In that time, LeBron James and his Los Angles Lakers proved that they were legitimate title contenders.
When the season was suspended, the Lakers sat atop the Western Conference with a 49-14 record; they were one of only four clubs to clinch a playoff berth. 538 had Los Angles pegged as championship favorite, giving LeBron's squad a 41 percent chance to make the finals and a 27 percent chance of taking home the title.
In their first season together, LeBron James and Anthony Davis formed a formidable one-two punch. The pair averaged 52.4 points, 17.3 rebounds, and 13.7 assists per outing before the season was put on hold; they also bought into Frank Vogel's defensive scheme, making an impact on both ends of the floor.
Stephen A. Smith thinks the Lakers' window could close soon
At this point, it's unclear if the NBA season will resume. According to Stephen A. Smith, though, the Los Angeles Lakers need to have their fingers crossed; if they can't win the title this season, LeBron James might not ever bring a championship to Hollywood.
"I think everyone would concede the fact that the Los Angeles Clippers, from top to bottom, led by coach Doc Rivers, is the most complete team in basketball," Smith explained on ESPN's First Take. "The thing about it is, even though Kawhi knows how to win, nobody else there, in terms of the Clippers organization, has really done it. So when you take that into consideration, the bottom line is this: if you're the Lakers, you have to roadblock that. If you succumb to the Clippers and the Clippers get over that hump this year, to me, they're only going to be better the year after, the year after, the year after."
"Assuming obviously a season takes place, a postseason takes place, which I believe it will," he concluded, "if LeBron and them lose this year, especially to the likes of the Clippers, I don't think LeBron will ever win a title in LA."
Is Stephen A. Smith right about LeBron James' title chances?
While it's unlikely that LeBron James' chance to win a title with the Los Angeles Lakers will magically evaporate after this season, Stephen A. Smith does have a point. It's tough to win a championship at the best of times; you don't want to give up a good chance to lift the Larry O'Brien Trophy if you can avoid it.
Without even bringing the Clippers into the equation, the Lakers are a quality team. At the same time, though, it's impossible to know what the future holds. Maybe next season, Anthony Davis will miss significant time due to injury; maybe some of the Lakers' role players won't perform to the same level they did this season. The list of things that could potentially derail a title challenge goes on and on.
Although Stephen A.'s claim doesn't seem 100% on the mark—even if the Clippers "learn to win," that knowledge won't matter if Kawhi Leonard and Paul George don't stay healthy, among other things—he does bring one crucial reality to the forefront. Like it or not, LeBron James is getting older. The forward only has so many kicks at the can left; independent of his own personal performances, he may never have this good of a shot at the title again.
At the end of the day, though, LeBron has proven that he can turn virtually any team into a contender. As long as he's on the roster, the Lakers will always have a shot at silverware. It might not always be easy, but we've seen what happens if you bet against King James.