Stephen Curry's Custom Bruce Lee Shoes Are Helping Atlanta's Shooting Victims
Stephen Curry has brought the Golden State Warriors back from rock bottom, restoring them to the NBA postseason after a one-year absence fueled by injuries. In his spare time, he's bringing help to families of the victims of a deadly shooting spree in Atlanta.
Stephen Curry and the Golden State Warriors are on the upswing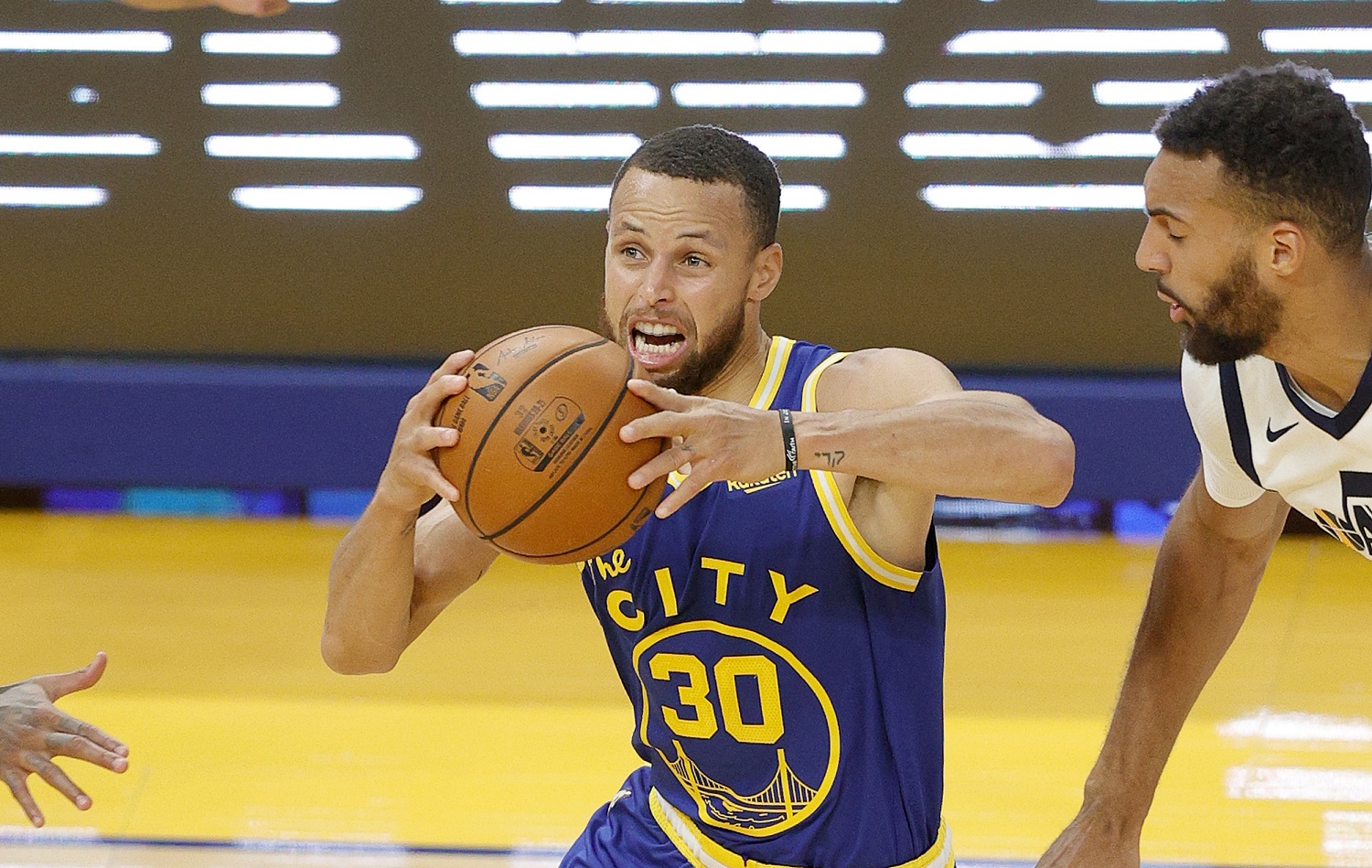 After five straight trips to the finals, including three titles, the Warriors had a disastrous 2019-20 NBA season. They went 15-50 with Curry and Klay Thompson shelved for virtually the entire season.
Thompson has missed his second straight season with injuries. Still, Golden State went on a five-game winning streak down the stretch to lock down the No. 8 seed in the Western Conference playoffs. Curry was the driving force, playing to his usual high standards.
He averaged a league-leading 31.8 points a game, shooting 42.1% on 3-pointers. Curry attempted a career-high 21.4 shots per game, but the high volume was justified. From April 1 to May 10, he shot 50.4% from the field and averaged 37.4 points to steer the Warriors to the play-in tournament.
Getting as far as even the conference semifinals would be a tall order for Curry and the Warriors. But they've moved past last season's disaster and can look forward to Thompson's return next fall. They can also feel good about what they saw from rookie James Wiseman before losing him in mid-April.
Curry paid tribute to Bruce Lee in a recent game
Curry's performance against the Atlanta Hawks on April 4 wasn't one of his better outings. Though he scored 37 points on 12-of-23 shooting, he turned the ball over eight times to match his season high. Atlanta wore Golden State down in the fourth quarter and pulled out a 117-111 victory.
That game at State Farm Arena in Atlanta may have been a washout for the Warriors, but it will prove to be a winner for the Atlanta community. That's because Curry teamed up with Asian Americans Advancing Justice – Atlanta in a fundraiser. He wore a pair of custom-made sneakers that night paying tribute to martial-arts movie legend Bruce Lee.
The special Under Armour Curry 8s were a nod to Lee's trademark black-and-yellow shoes. Uma Thurman wore a version in Kill Bill. They feature images of the Enter the Dragon star and his family, along with a quote from Lee: "Under the Heavens, we are one family."
The auction is picking up steam
After the game against the Hawks, Curry and the Bruce Lee Foundation arranged to put the special sneakers up for auction, with the proceeds earmarked to help families of the victims of a series of March 16 shootings in which a gunman killed eight people, six of them Asian women, at Atlanta-area spas.
"After all we have been through this past year, let alone in the history of our country, people still deal with unnecessary tragedy and are afraid for their lives. We have to do better," Curry said in a statement, according to the Sacramento Bee. "We have so many faithful Asian American fans that have supported me along this amazing journey. We represent them on the court, and I feel the love no matter where I go. 
"The shoes are a small way in which I can stand with this community, honor and support the victims of this tragedy, while also bringing awareness to Lee's timeless teachings."
Goldin Auctions is running the auction, which runs through May 22. As of May 16, the top bid was $16,000.
All stats courtesy of Basketball Reference.