A Surprising Turn of Events Should Make Baker Mayfield and the Cleveland Browns Even Scarier For Years to Come
The Cleveland Browns still have a ways to go before they can call their rebuild a success, but there's no doubt the franchise is heading in the right direction. With a rock-solid head coach, a confident quarterback, and a roster teaming with talent on both sides of the ball, the Browns absolutely have a chance to represent the AFC in Super Bowl 56.
Of course, their success hinges on the right arm of Baker Mayfield. And thanks to a surprising turn of events, he and the Browns should be even scarier for years to come.
Cleveland boasts one of the most impressive rosters in the NFL heading into the 2021 season
Although it took years of losing to get to this point, the Browns have assembled a championship-caliber roster that looks capable of making a legitimate run at the Lombardi Trophy in 2021. In fact, it's hard not to get excited about the possibilities of a Cleveland team that's stacked on both sides of the ball.
Mayfield headlines a star-studded offense that has no shortage of playmakers. While Odell Beckham Jr. and Jarvis Landry should dominate the majority of the targets, 2020 sixth-round pick Donovan Peoples-Jones and veteran Rashard Higgins also have the skills to make an impact in the passing game. Plus, the Browns have plenty of depth at tight end and running back, and their offensive line looks poised to control the trenches.
Meanwhile, Cleveland's defense features two No. 1 overall picks on the edge in Jadeveon Clowney and Myles Garrett. That duo has scary potential, and it's entirely possible that joining the Browns will bring out the best in Clowney, who hasn't exactly lived up to expectations in recent years.
The secondary also appears well-stocked heading into the 2021 season. With young playmakers at corner and safety —- including promising rookie first-round pick Greg Newsome II — the Browns should field one of the league's top passing defenses.
Between the strength of the roster and the dynamic duo of head coach Kevin Stefanski and general manager Andrew Berry, Cleveland fans should feel confident about what lies ahead. And in light of a recent development, the future looks even brighter for an uber-talented Browns team.
A surprising turn of events should make Baker Mayfield and the Browns even scarier moving forward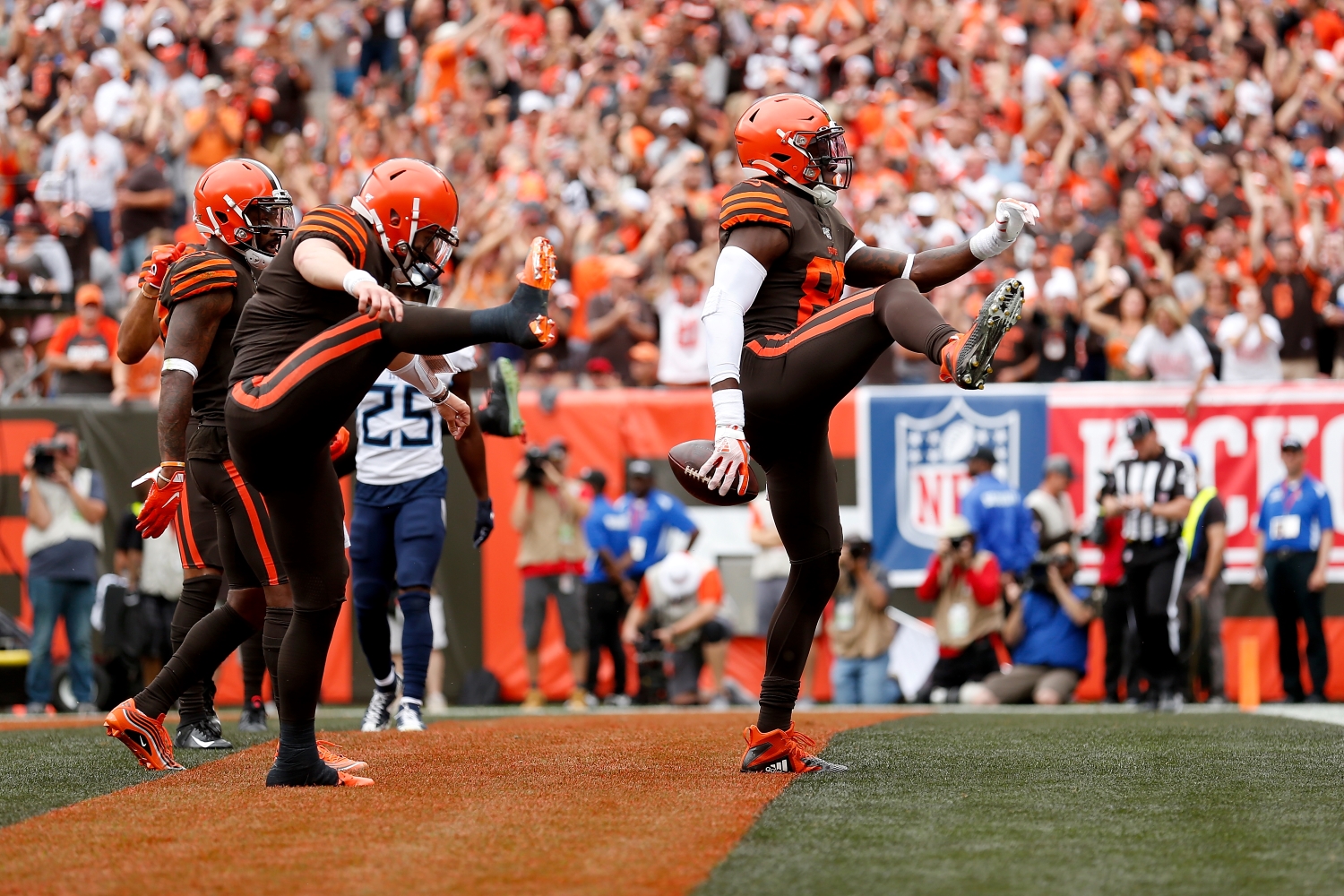 Things can change rather quickly in the NFL.
Thankfully for Mayfield, one of his teammates has reversed course about remaining in Cleveland. And if the Browns figure out a way to retain David Njoku's services for a reasonable price, they will be even more lethal on offense moving forward.
Last summer, the 2017 first-round pick made headlines by requesting a trade. Ultimately, the 6-foot-4, 246-pound tight end didn't get dealt, and he finished the 2020 season with 19 receptions for 213 yards and two touchdowns in 13 games (five starts).
Set to earn $6 million on the final year of his rookie deal, Njoku has gone from asking to get traded to making it clear he wants to. During his Aug. 20 media session, the 25-year-old told reporters he will instruct his agent to work toward a contract extension.
Although Njoku hasn't delivered on his first-round pedigree, he has rare athleticism for the position. He may never develop into a true star, but he certainly has the physical tools to make life difficult for linebackers and safeties. After all, the former University of Miami standout showcased his potential in 2018 by totaling 56/639/4 on a career-high 88 targets.
Njoku is part of a tight end group that also features Austin Hooper and promising second-year pro Harrison Bryant. Unlike his teammates, he brings speed and explosion to the table. If Njoku can put his injury issues behind him and play up to his capabilities, Mayfield and the Browns should have ample opportunities to put up big point totals for years to come.
Where do the Browns rank among the top teams in the AFC?
Should the Browns be considered a viable Super Bowl contender?
Absolutely.
But where exactly do they rank among the top teams in the AFC?
Answering that question is a bit more challenging.
Cleveland seems to have enough blue-chip players to go toe-to-toe with the Kansas City Chiefs. But it would be unfair to put the Browns above the team that's represented the AFC in the Super Bowl for two straight seasons.
However, an argument can be made that Mayfield and Co. deserve the No. 2 spot in the conference power rankings. The Buffalo Bills have a rock-solid roster, but they don't have quite the star power that Cleveland possesses. And even though Bill Belichick made massive upgrades this offseason, the New England Patriots have far too many question marks to be considered a better team than the Browns at this juncture.
Cleveland clearly has a good thing going. Considering the franchise's reputation for losing, it certainly has to feel good to know better days are ahead.
Only time will tell whether Baker Mayfield is the right man to lead the Browns to championship glory.
All statistics courtesy of Pro Football Reference. All contract data courtesy of Spotrac.