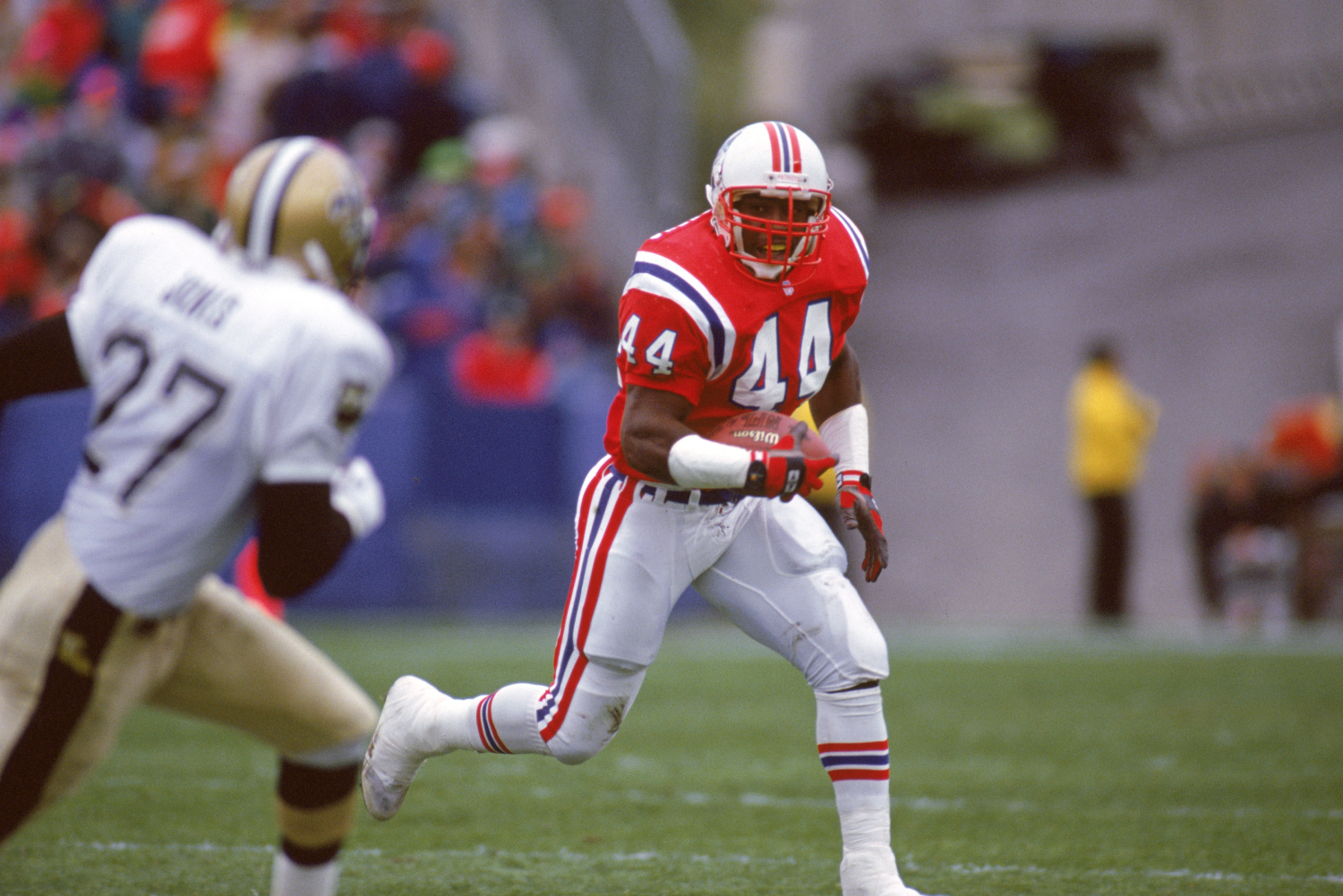 The Tragic Death of Former New England Patriots Running Back John Stephens
Former New England Patriots running back John Stephens was a star on and off the football field. He died tragically in a car accident in 2009.
John Stephens was more than just a talented running back. He was known for his production on the football field with the New England Patriots, but he was much more off it. Stephens was involved in extensive charity work in New England. He spent seven seasons in the NFL, playing for the Patriots, Green Bay Packers, and Kansas City Chiefs. Stephens' life tragically came to an end at the age of 43 when he lost control of his vehicle in a one-car accident in Louisiana on Sept. 1, 2009.
John Stephens' early years
John Stephens was a dominant running back in college and the NFL but didn't play the position in high school until his senior year. At Springhill High School in Louisiana, it took an injury to the team's starting tailback for Stephens to make the switch to running back. He was playing guard for Springhill before the injury.
According to Northwestern State, Stephens took full advantage of the opportunity by rushing for 1,984 yards and 28 touchdowns for the Lumberjacks. He showed he was a very versatile athlete in high school by winning the state championship in the shot put (60-0) and then running a 21.3 in the 200-meter dash.
After his one big year in high school, Stephens signed to play college football at Northwestern State University. There, he broke Joe Delaney's school record for rushing by 10 yards. Delaney went on to be the Offensive Rookie of the Year in 1981 with the Kansas City Chiefs. Delaney, too, died tragically at a young age when he drowned while attempting to save three children from drowning in 1983.
John Stephens made the Pro Bowl in his rookie season in the NFL
Despite having to undergo arthroscopic surgery on his knee that limited his time during his senior year at Northwestern State, John Stephens still broke Joe Delaney's record for career rushing attempts (653). The 6-foot-1, 220-pound Stephens was a workhorse and earned his way into the NFL
Stephens was drafted in the first round of the 1988 NFL draft by the New England Patriots. The Patriots selected him with the 17th overall pick. Stephens didn't disappoint as he played all 16 games, starting 14. He rushed for 1,168 yards and four touchdowns in his rookie season. He made his first and only Pro Bowl that year.
In 1989, he had another strong year, rushing for a career-high seven touchdowns. He missed two games that season and finished with 833 rushing yards. Stephens spent the first five seasons with the Patriots, rushing for 3,249 yards and 17 touchdowns. He finished his NFL career with one year with the Green Bay Packers and a year with the Kansas City Chiefs.
Stephens' tragic death won't erase his legacy
On Sept. 1, 2009, John Stephens apparently lost control of his truck on a Louisiana highway and was killed. He was 43. He will be remembered for his athletic success, along with his generosity and loyalty. Stephens' athletic ability was handed down to his children. His daughter, Sloane Stephens, won the 2017 U.S. Open women's singles title. His son, John Stephens Jr., is playing football as a wide receiver at TCU.
"John was a great friend who always stayed in touch with a lot of his teammates and other people from Northwestern State," said former NSU teammate Adrian Howard back in 2009, according to Northwestern State. "This is a very sad loss."
"I can't think of anyone more impressive as far as strength and speed and power," said Sam Goodwin, Stephens' coach at NSU, right after Stephens' death. "He could do anything he set his mind to do. He was one powerful human being,"