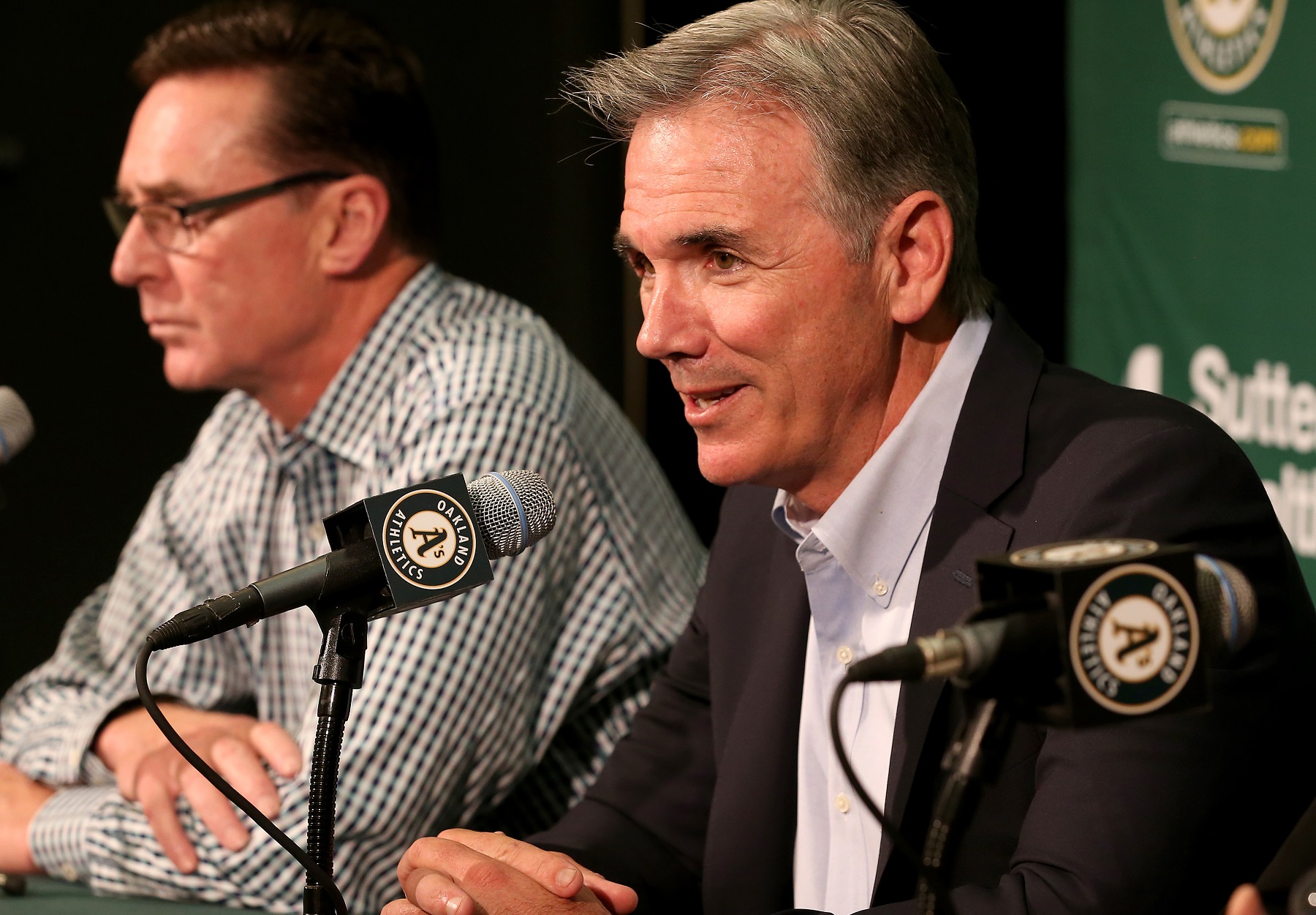 This Is How 'Moneyball' GM Billy Beane Should Spend His $500 Million
Billy Beane, the inspiration for the 'Moneyball' book and movie, is raising half a billion dollars to invest in the sports industry.
Billy Beane has pinched pennies every day of his career in the front office, which inspired a book and the movie Moneyball about the Oakland A's. Suddenly, however, Beane finds himself awash in cash and free to spend it in almost any way he desires.
'Moneyball' is a manual for winning more games with less money
If ever there were a baseball executive who knew how to squeeze a lot of victories out of a small payroll, it would be Billy Beane. Perennially hindered by a payroll budget in the bottom quarter of the majors, Beane has constructed Oakland A's teams that have finished at .500 or better in 14 of 22 seasons.
The secret to Beane's success has been the use of analytics. It's the art of unearthing hitters and pitchers whose real value on the field exceeds their statistics. Michael Lewis' 2003 book "Moneyball: The Art of Winning an Unfair Game" was the first time many sports fans heard about the level of sophistication being used by some teams. Lewis detailed how Billy Beane built the 2002 Oakland A's, managed by Art Howe, into a champion-caliber team.
The book became a 2011 movie starring Brad Pitt as Beane and Philip Seymour Hoffman as manager Art Howe, with Jonah Hill portraying the assistant GM skilled in SABRmetrics.
Investors are entrusting Billy Beane with $500 million
As if his day job as executive VP of baseball operations for a Major League Baseball team during the COVID-19 pandemic didn't give him enough to do, Billy Beane now helps run an investment fund. RedBall Acquisition Corp., a so-called "blank check firm," has issued its initial public offering with a goal of raising $500 million. The stock began trading on the New York Stock Exchange at $10 a share on Aug. 14.
Beane and former Goldman Sachs executive Gerry Cardinale are the co-chairmen. Cardinale is deeply connected to the sports world, having helped launch both the Legends Hospitality Management firm co-owned by Jerry Jones and the Steinbrenner family, and the YES Network.
The Wall Street Journal reports that raising the full $500 million could allow RedBall to pursue up to $2 billion of acquisitions. The company's management intends to identify sports franchises, media organizations, and data analytics businesses that are worth an investment.
What will Billy Beane be looking to buy?
Even if the new RedBall Acquisition Corp. can leverage $500 million into $2 billion of buying power, going after majority ownership of NFL, NBA, or MLB teams would be close to impossible. Aside from many franchises being valued at multiples of what RedBall is worth, the major American sports leagues require private ownership.
However, international soccer franchises are a different matter. The Glazer family, which owns the NFL's Tampa Bay Buccaneers, bought Manchester United and sold stock in the team. Its market cap is $2.5 billion.
Fenway Sports Group, run by Boston Red Sox owner John Henry, possesses title and deed to the Liverpool franchise in the English Premier League. (By the way, Henry once unsuccessfully attempted to hire Billy Beane away from the Oakland A's.)
In that context, it is interesting to note that the RedBall board of directors includes Richard Scudamore, the former executive chairman of the English Premier League.
One possible play for RedBall would be to identify a team in the English Football League Championship division. A cash infusion allowing the team to acquire a few key players could lead to promotion to the English Premier League and an immense revenue stream.