NBA
Tiger Woods and LeBron James Are Both Big Fans of Each Other
Tiger Woods and LeBron James are two of the most legendary athletes of all-time. Woods is one of the best two golfers to ever golf, and James is one of the best two hoopers to ever hoop. With them both being incredible athletes, they are both also big fans of each other.
Tiger Woods has been an amazing golfer
RELATED: Tiger Woods and Phil Mickelson Could Both Make a Lot More Money If They Wanted to
For my entire life, Tiger Woods has been a great golfer. Yeah, I might be pretty young as I was born in 1996, and he turned pro in 1996, but that still says a lot about how he has been able to sustain his success over a very long period of time. 
In his career, Woods has 82 PGA Tour wins, according to PGATour.com. He also has 31 second-place finishes. What really makes Woods great, though, is the number of majors he has won. Woods has won 15 majors, which is second all-time to only the great Jack Nicklaus, who has 18, according to the PGA.
Many people questioned if Woods would ever win a major again. He went 11 years without winning one, according to the PGA. However, Woods' win in the 2019 Masters Tournament snapped that drought.
LeBron James is one of the greatest basketball players ever
RELATED: LeBron James Is Being Forced to Pay the Lakers a Massive Amount of Money
Since coming into the NBA out of high school in 2003, LeBron James has been one of the greatest basketball players to ever play in the NBA. 
After scoring 20.9 points per game to go with 5.9 assists and 5.5 rebounds in his rookie season, James averaged 27.2 points per game, 7.2 assists, and 7.4 rebounds in his second season. After his rookie season, James has not averaged under 25 points per game or under six rebounds or six assists in a season again in his career. He has also earned an All-Star selection in every season but his rookie season.
Here are some more of James' career accomplishments. 
16-time NBA All-Star
Four-time NBA MVP
Three-time NBA champion
Three-time NBA Finals MVP
27.1 career points-per-game average (fourth all-time)
34,087 career points (third all-time)
9,298 career assists (eighth all-time)
This year before the NBA suspended its season, James and the Los Angeles Lakers had the best record in the Western Conference at 49-14. He was averaging 25.7 points per game to go with 7.9 rebounds and a league-leading 10.6 assists. 
James and Woods are big fans of each other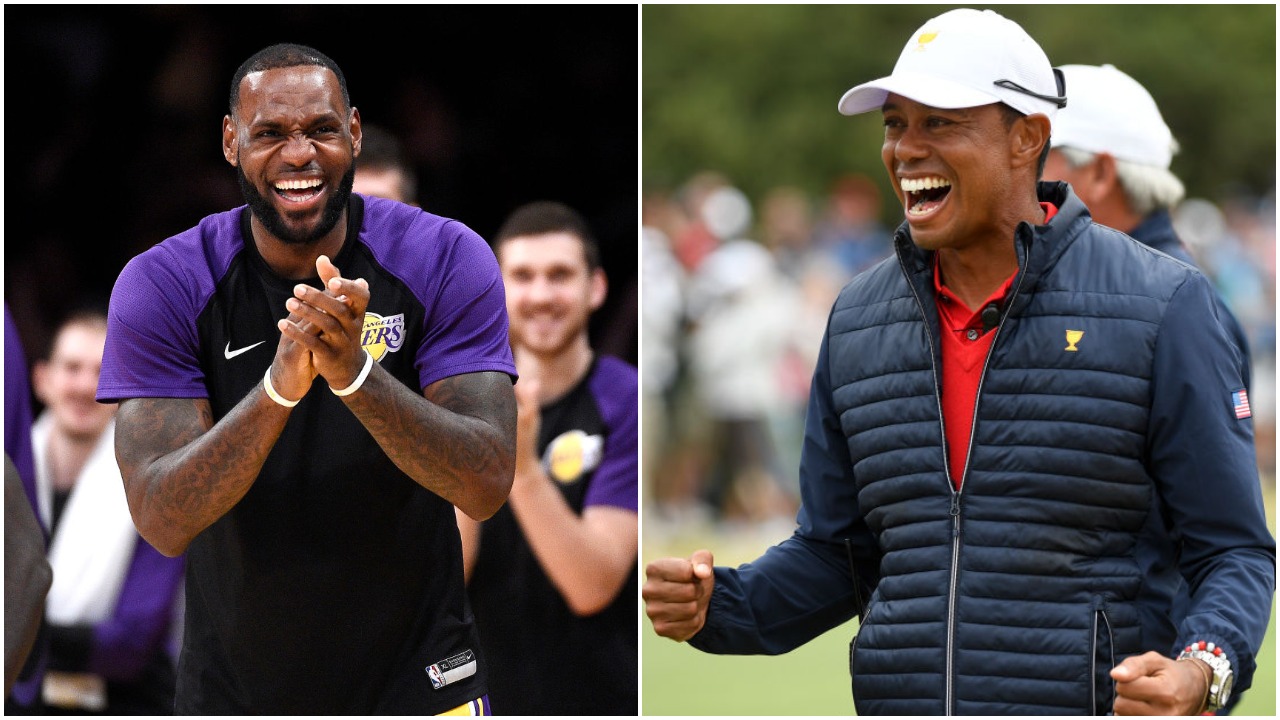 RELATED: LeBron James Spent His First Nike Check the Only Way a Teenager Would
Greatness respects greatness, and that is the case with LeBron James and Tiger Woods. LeBron James went to four straight NBA Finals from 2011 through 2018. Woods was asked about what makes James so great back in 2018 during James and the Cleveland Cavaliers' playoff run. What he had to say was pretty great.
"To dominate something is one thing," Woods said, according to For The Win. "Every player out here can have one good week and blow away the field. OK, great. Now, can you do it for month? Can you do it for a year? Now, do it for a decade. Do it for a decade-plus. Then start separating what is truly great, and in our sport, there has been a few guys that have had runs that have lasted for well over a decade and into two. And that's what separates greatness."

Tiger Woods
He also went on to say this, according to For The Win, "What LeBron has done for what, 15 seasons now, is just remarkable. Because it's that type of longevity and to be able to be up for that long a period of time, and to be able to adjust as well because we all know as we age, we're not going to be as athletic as we used to be. And so you have to do it different ways. And to be fluid and adjust and still be that talented and that good."
Additionally, for James, when Woods won the remarkable (what almost seemed impossible) 15th major in 2019 at the Masters Tournament, he made sure to recognize Woods' greatness.
Tiger Woods and LeBron James are two of the greatest athletes ever. As both of them have millions of fans, they also have fans in each other.