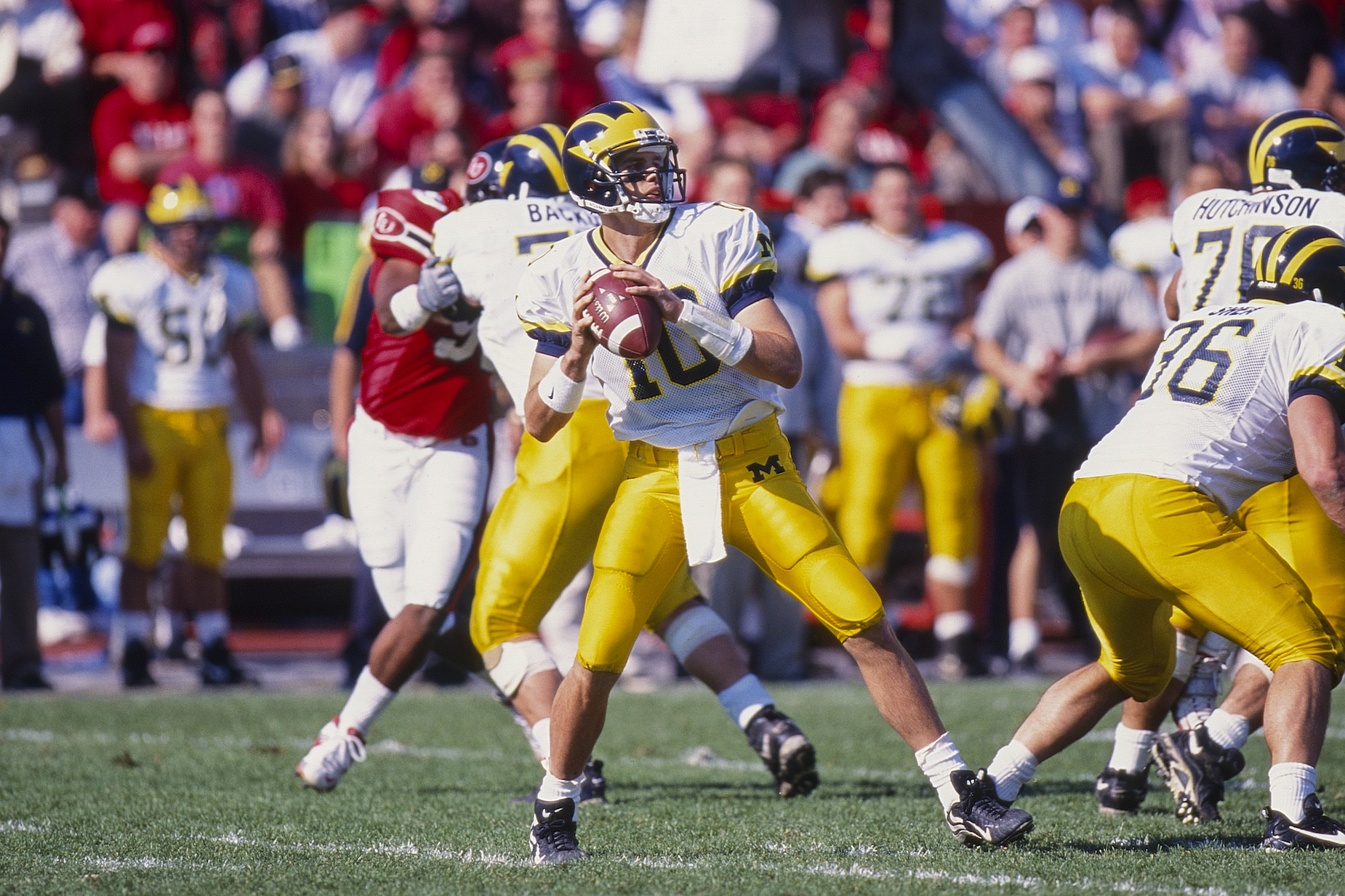 Tom Brady Had a Weird, College Dream That Was Both Simple and Incredibly Wasteful: 'I Love New Socks'
These days, Tom Brady's massive net worth means he can buy virtually anything he wants. In college, though, he just wanted some new socks.
These days, Tom Brady is one of the most famous men ever to set foot on the football field. During his time on the gridiron, the quarterback has won plenty of championships and, unsurprisingly, built up a sizable net worth. During his time at the University of Michigan, though, things were a bit simpler.
In college, Tom Brady didn't seem like a star quarterback; if nothing else, no one would have predicted that he'd win seven Super Bowl titles. In fact, the quarterback himself had a pretty simple plan for what he'd do if he ever struck it rich: buy some new socks.
Tom Brady didn't seem like a star in college
Under normal circumstances, college football is where future NFL stars show their stuff and prove that they're elite athletes. Tom Brady, however, did things a bit differently.
Growing up, Brady played both baseball and football; his skills on the diamond were actually enough to make him a Montreal Expos draft pick. The teenager chose to stay on the gridiron, though, and headed to Michigan to play his college football.
With the Wolverines, things didn't get off to the easiest start. Brady barely saw any action during his first two seasons on campus; he began his college career as the seventh quarterback on the depth chart and, at one point, even considered transferring. Eventually, though, he got his shot.
Brady took over the starting job as a junior and, barring some time in a platoon system, retained the role during his senior years. While his counting numbers didn't blow anyone away—TB12 threw for 4,644 yards and 30 touchdowns during those two campaigns—he did show the knack for winning big games that would become his NFL trademark.
A college dream involving countless pairs of fresh socks
During college, Tom Brady's net worth was nothing to write home about. That financial reality didn't stop him and his teammates from dreaming about what they'd do if they ever struck it rich.
In a 2012 collection of Tom Brady anecdotes, ESPN's Elizabeth Merrill explained that Brady and Michigan teammate Aaron Shea used to share their future plans. While Shea "wanted a Hummer and a Ferrari," Brady did things a bit differently.
'If I hit it real big,' Shea recalls Brady telling him, 'I want to be able to wake up, put a pair of socks on, and at the end of the day, I throw 'em away.' I'm like, 'That's all you want?' And he goes, 'Yeah, that's what I want. I love new socks.'

Adam Shea, as told to ESPN's Elizabeth Merrill
In hindsight, throwing out a pair of socks every day sounds incredibly wasteful. If nothing else, though, Brady had apparently already learned the value of taking care of his feet.
Tom Brady's net worth now allows him to buy all the socks he could ever want
Coming out of college, Tom Brady's dream of new socks probably seemed like little more than a far-off fantasy. These days, though, things are quite a bit different.
Although he joined the Patriots as an unheralded, sixth-round pick, Brady developed into a legendary NFL star. He took over the starting job in 2001, won a Super Bowl that season, and never looked back. TB12 now has seven Super Bowl rings, a boatload of individual honors, and is still going strong at age 43.
Unsurprisingly, Tom Brady's net worth has grown alongside his NFL resume. Today, the quarterback's fortune is estimated at $200 million; that means he can buy all the socks he wants. Wearing a fresh pair every single day might not be the wisest investment, but, if anyone can pull it off it's Tom Brady.
Stats courtesy of Sports-Reference