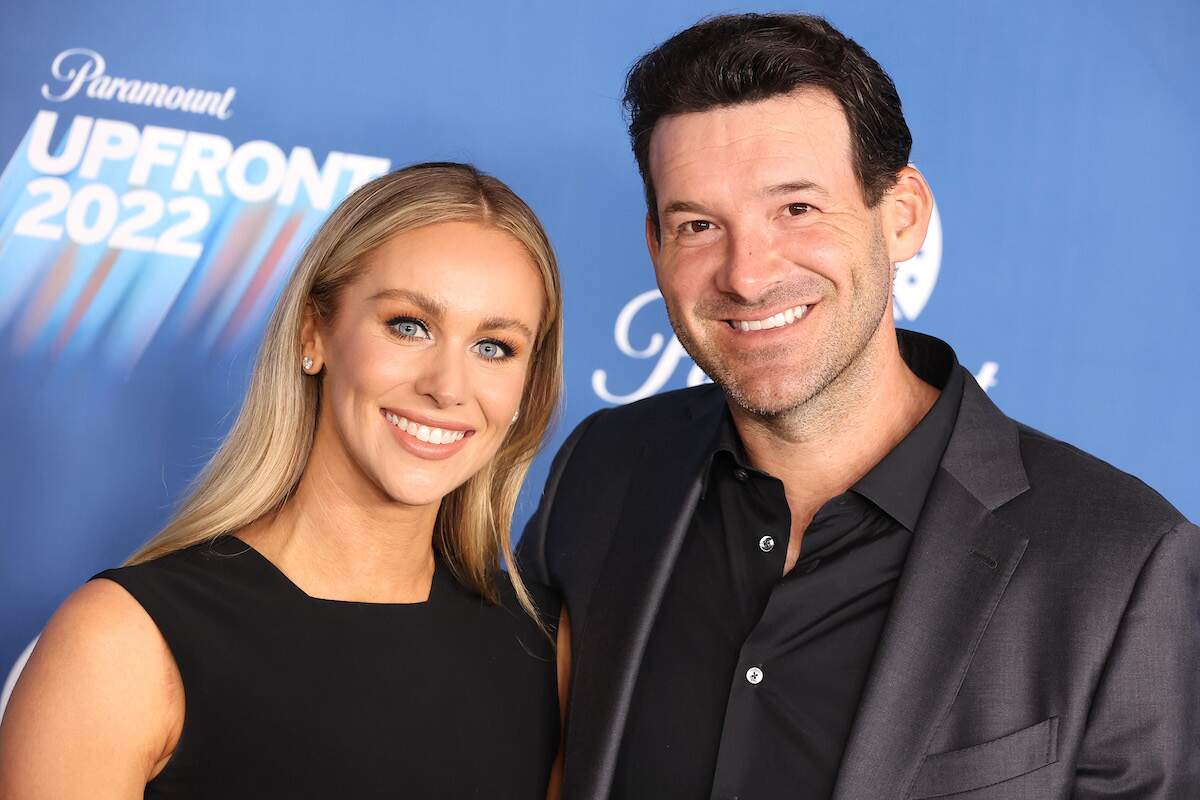 Tony Romo Wife: Who Is Candice Crawford and How Long Have They Been Married?
Tony Romo met his now-wife Candice Crawford during a media interview. Now, the couple has three kids and a happy home.
Tony Romo spent 14 years in the NFL, quarterbacking "America's Team" to four postseason appearances. The retired Dallas Cowboys star pivoted from football to broadcasting when he retired after the 2016 NFL season. Now, the CBS analyst spends a lot more time with his family, including his wife of over a decade, Candice Crawford.
Tony Romo wife
Romo first met his future wife, Candice Crawford, in 2009. At the time, the 2008 Miss Missouri USA winner was an intern who interviewed NFL players. Crawford met Romo during an interview, and he asked her out for a dinner and movie date.
Romo made plans to pick up her at her home. But she had reservations and worried her parents, who were Cowboy fans, would embarrass her. Chace Crawford, Candice's brother, recalls the ordeal as an awkward moment where Candice tried to hide her parents to prevent them from meeting Romo. 
Romo and Candice got engaged in 2010. The couple married in 2011 at Arlington Hall in Dallas in front of approximately 600 people. Tony and Candice have been married for 12 years now. They have three kids: Hawkins (b. 2012), Rivers (b. 2014), and Jones (b. 2017).
Tony Romo stats
Romo went undrafted in the 2003 NFL Draft and joined the Cowboys' training camp afterward, signing as a rookie free agent. It took a while before he gained the trust of head coach Bill Parcells. In his first three years in the NFL, Romo didn't play a single game for the Cowboys. He made his debut during his fourth year in the seventh game of the season.
When Romo eventually settled into his quarterback role, he averaged 30 touchdowns and 4,305 yards between 2011 and 2013. During this period, the Cowboys were genuine title contenders but eventually lost out due to their awful defense.
The Cowboys' defense was ranked in the bottom position in 2013. Their offense was spectacular. Romo was clearly not to blame for the team's shortcomings. 
The 2014 season was the most defining season for Romo based on stats. He averaged a total of 247 yards per game with a 113.2 passer rating, 7.8% touchdown percentage, and 69.9% completion percentage.
Romo's impressive performance didn't go unnoticed. The quarterback received some MVP votes in 2014. This was Romo's last season with the Cowboys before getting injured in the next two seasons, ultimately leading to his retirement.
CBS Tony Romo
After retiring from the NFL, Romo began his broadcasting career with CBS. He was exceptional in his debut, earning rave reviews for his ability to analyze and predict plays. Romo's reputation grew in his first few months as an analyst. He impressed fans with his ability to analyze offensive and defensive patterns.
Romo's sensational analysis skills earned him a 10-year contract with CBS, worth approximately $180 million. It was considered the biggest contract ever given to an NFL color analyst before Tom Brady signed a 10-year, $375 million contract with FOX. 
Tony Romo net worth
Currently, Tony Romo's net worth stands at approximately $70 million. He earned more money in NFL history than any other undrafted player, with a total salary of $127,422,458. Romo also raked in tens of millions in endorsements during his football career.
Romo has engaged in many philanthropic activities, such as donating $125 million to the American Century Championship, donating $1 million to the Evans' Urban Initiative, and engaging in a mentorship program with students from Cedar Hill High School.
During his free time, Romo likes to spend time with Candice and his kids, including regular movie nights. He also likes taking summer vacations with his family and friends. Each year, the entire family, including the couple's parents, participates in the celebrity golf tournament organized by American Century Investment.
Stats courtesy of Pro-Football-Reference