The Top 5 Pro Bowl Vote-Getters Include a Surprising MVP Candidate, a Pair of 49ers, and Shockingly Not a Single QB
Pro Bowl voting by fans counts for one-third of the voting that earns a player a spot in football's All-Star game. While this is usually a popularity contest between the league's best and most beloved quarterbacks, the ballot results in 2021 turned out quite different. With the top signal-callers all struggling at times this season, several unexpected players grabbed the top five spots in the 2021 fan vote.
Indianapolis Colts RB and MVP candidate Jonathan Taylor is the top fan vote-getter for the Pro Bowl
The No. 1 Pro Bowl fan vote-getter is Indianapolis Colts running back Jonathan Taylor.
The NFL's leading rusher deserves the first spot on this tally sheet, and he may be on his way to the top of another QB-dominated list: the NFL MVP Award voting.
A non-quarterback hasn't taken home the MVP trophy since the Minnesota Vikings superstar Adrian Peterson won it in 2012.
Ten seasons ago, Peterson led the league in rushing (2,097), rush yards per game (131.1), and yards from scrimmage (2,314) while scoring 13 total touchdowns. Today, with three games left to play, Taylor is No. 1 in rushing yards (1,518), rush attempts (270), yards from scrimmage (1,854), and total touchdowns (19). He also has the longest run from scrimmage this year with his 83-yard scamper vs. the Houston Texans in Week 6.
If Taylor does win the MVP to go with his 265,370 fan votes, he will join LaDainian Tomlinson, Shaun Alexander, Marshall Faulk, and Terrell Davis as the only RBs to win the prestigious award in the last 25 years.  
San Francisco 49ers fans showed up big-time and made two lesser-known teammates top vote-getters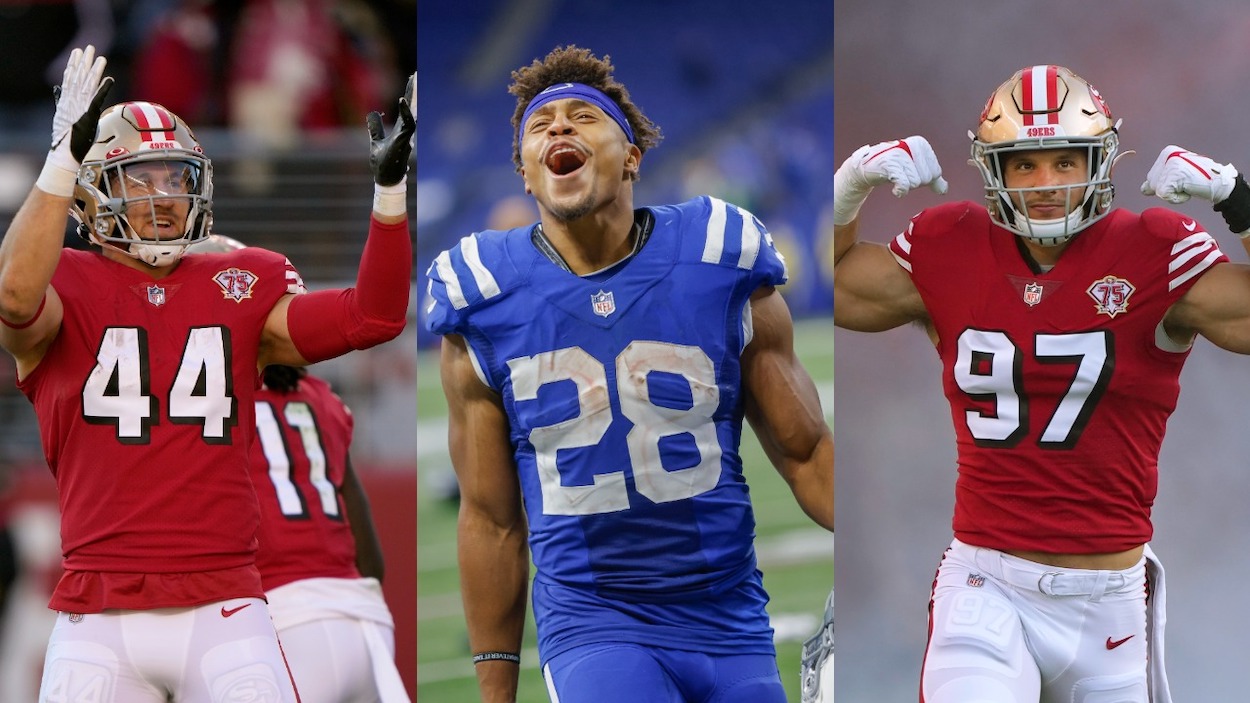 NFL Pro Bowl fan voting isn't always about who the best players are. It's often about which fan base shows up and stuffs the ballot box. That's what the San Francisco 49ers fans seem to have done in 2021.
When fans show up like this for their players, you also get a read on who these people — the ones who watch every down of every game — think the team's best and most important players are.
In San Francisco, the national media and the average football fans focus on the glamor offensive positions. Wide receiver Deebo Samuel and tight end George Kittle are the star players that people know best.
The 49ers' fans didn't vote en masse for these stars, though. They voted for pass-rusher Nick Bosa and fullback Kyle Juszczyk.
Bosa is having a great year, leading a defense that's given up the seventh-least amount of yards (4,505) in the NFL. He leads the league in tackles for loss (18) and is tied for third in sacks with 15.0.
As a FB, Juszczyk doesn't have a lot of splashy stats. He's rushed eight times for 22 yards and a TD and caught 25 balls for 242 yards and a TD. However, he's led the way for the league's seventh-ranked rushing attack that features five players (Elijah Mitchell, Samuel, Jeff Wilson, Trey Sermon, Trey Lance) with over 100 rushing yards on the season.
For these reasons, 264,687 fans voted for Bosa, and 244,714 fans voted for Juszczyk, making them the No. 2 and No. 4 top fan vote-getters, respectively.
Travis Kelce and Trevon Diggs round out a top five 
Rounding out the top five in Pro Bowl voting are Kansas City Chiefs TE Travis Kelce and Dallas Cowboys CB Trevon Diggs.
Kelce is the most famous player on this list with the most impressive pedigree. He's long been considered the best in the league at his position and has six Pro Bowl appearances and three All-Pro nods to back it up.
This season is no exception for the former Cincinnati Bearcat. He is the No. 1 TE in receiving yards (1,066), No. 2 in receptions (83), and tied for fourth in TDs (7).
Diggs, the brother of the Buffalo Bills star WR, has taken the NFL by storm in his second season out of Alabama. He had seven interceptions in his first six games this season and now leads the league in that category with 10. He is also No. 1 in INT return yards (142) and pick-sixes (2).
There are no QBs in the top five NFL fan Pro Bowl vote-getters
The fascinating part of the fan Pro Bowl voting is that there are no QBs in the top 5.
Most years, QB excellence dominates the season's storylines. However, in 2021, that's not the case. QB injuries, inconsistency, and controversy have received more ink this year than in the past.
Looking at last year's Pro Bowl squad, all of the QBs have knocks on them this season.
Patrick Mahomes and Josh Allen have both been wildly inconsistent this season, and their teams have suffered unconscionable losses because of it. Also, Kyler Murray and Russel Wilson have both missed multiple games due to injury in 2021.
The other two 2020 Pro Bowl QBs were Deshaun Watson and Aaron Rodgers.
Watson has sat out the entire season with legal troubles, and Rodgers lied about his vaccination status and subsequently missed a game when he contracted COVID-19.
It hasn't been a banner year for QBs, to say the least, and the Pro Bowl voting reflects that.
All stats courtesy of Pro Football Reference