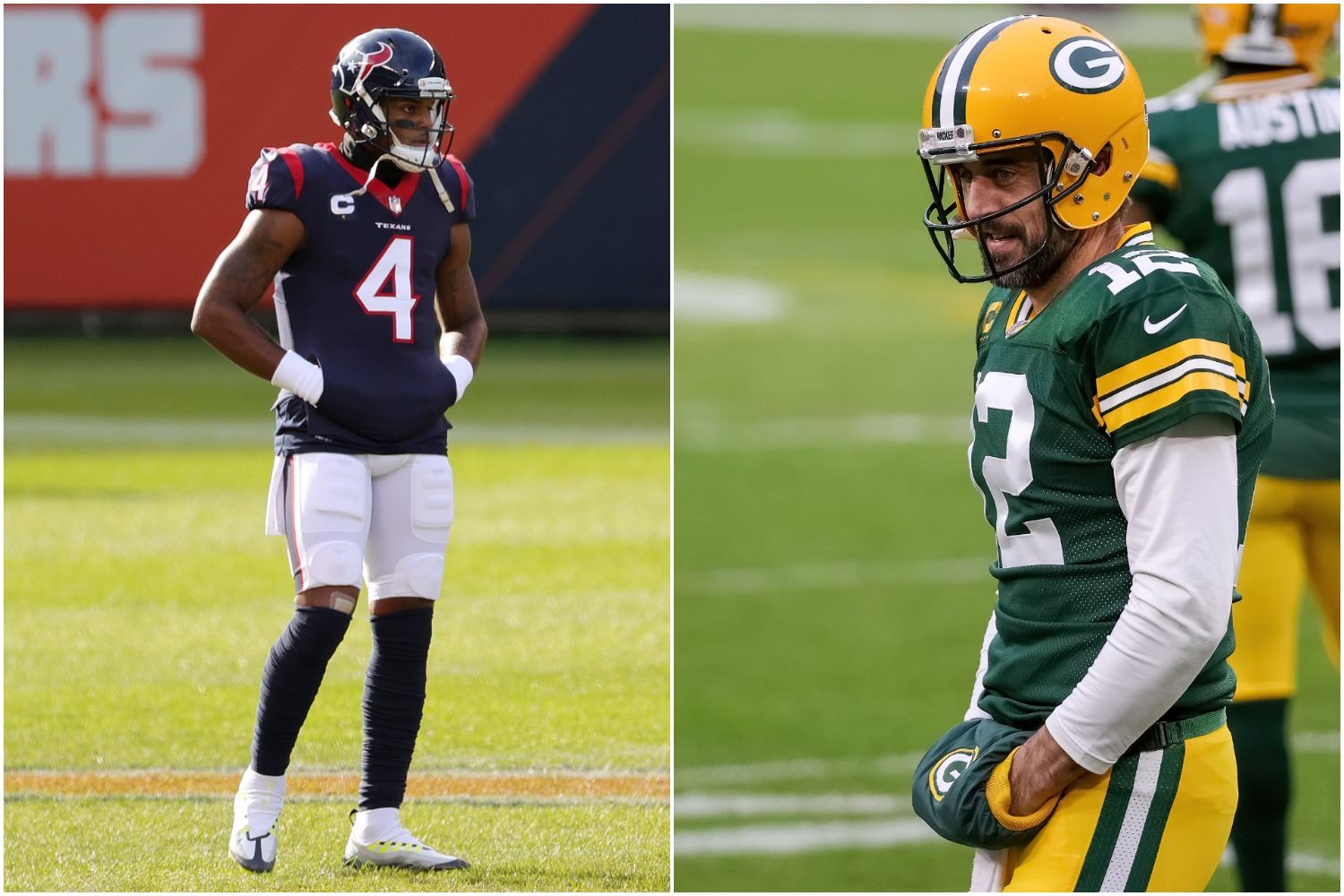 Trading Aaron Rodgers and Deshaun Watson is About to Become Much Easier for the Packers and Texans
Could the Packers and Texans trade their starting quarterbacks? With the calendar now turned to June, it's much easier to trade Aaron Rodgers and Deshaun Watson.
Could Aaron Rodgers and Deshaun Watson both get what they want this summer?
Although the Green Bay Packers and the Houston Texans have refused to trade their franchise quarterbacks this offseason, they could change their minds over the ensuing months. After all, it's about to become much easier for both teams to execute deals involving two of the NFL's biggest stars.
The future of the quarterback position hangs in the balance for the Packers and the Texans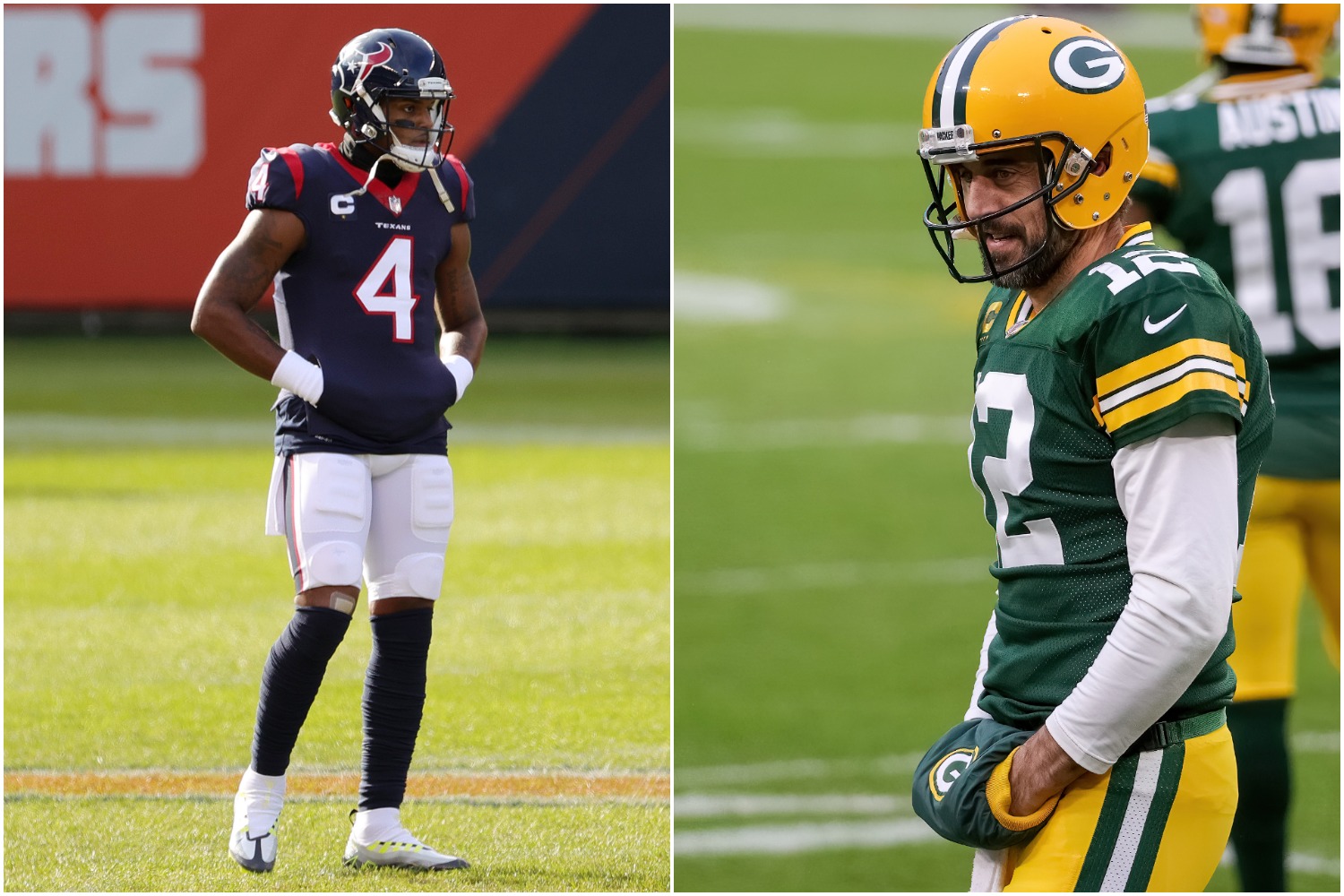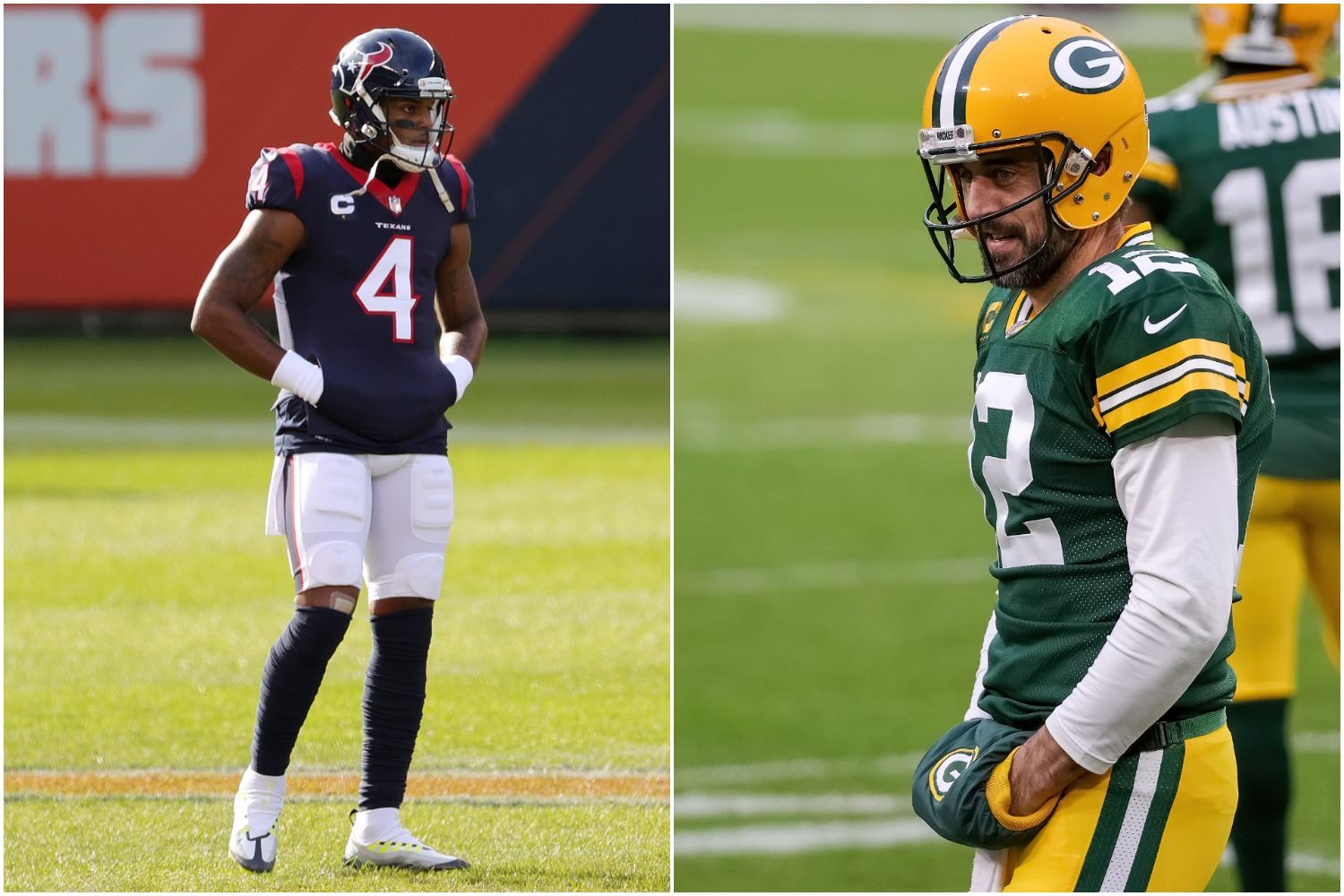 After watching the Packers draft his potential replacement last April, Rodgers put together arguably the finest season of his career. However, the three-time NFL MVP apparently has no desire to win the award again as Green Bay's starting quarterback. His displeasure with the front office reached a breaking point this spring, and the ongoing power struggle between Rodgers and the Packers has dominated headlines for months.
Although he's been absent from the offseason program for the first time in his career, the Packers haven't pulled the trigger on a deal involving one of the league's all-time greats. In fact, general manager Brian Gutekunst has remained firm that Green Bay will not trade Rodgers. But the longer the future Hall of Famer remains away from the team, the likelihood of Jordan Love starting in Week 1 only goes up.
The Packers aren't the only franchise dealing with a quarterback dilemma, either. In Houston, the future of the most important position in sports also hangs in the balance.
Like Rodgers, Watson desires a fresh start. His situation, though, appears much more complicated.
With the 25-year-old facing 22 civil lawsuits over alleged sexual misconduct, NFL teams don't have a clear picture of what Watson's future holds. Until his legal matters get resolved, it's almost impossible to predict what Houston will do with its most talented player.
Trading Aaron Rodgers and Deshaun Watson is about to become much easier for both teams
Timing matters.
That couldn't be more true in the NFL. And when it comes down to trading Rodgers and Watson, the calendar matters a lot for the Packers and the Texans.
Luckily for the two franchises, time is about to be on their side.
Per NFL rules, teams can split salary cap hits over two seasons if a player gets released or traded after June 1. Considering Rodgers and Watson are two of the five highest-paid quarterbacks in the league in terms of average annual salary, trading them would result in significant dead money for their respective teams. But as Charles Robinson of Yahoo Sports pointed out, if the Packers trade Rodgers after June 1, they can split his $31.55 million dead-cap hit across the next two seasons. He would count $14.352 million against the cap in 2021 and $17.198 million in 2022.
Meanwhile, a post-June 1 Watson trade would result in a $5.4 million cap charge in 2021 and $16.2 million in 2022. Dealing him would obviously make Houston a worse team, but the franchise would have more money to spend next offseason. Removing Watson's $35 million base salary from their books would result in a net gain of nearly $19 million in cap space for the 2022 season.
What does the future hold for two of the NFL's biggest stars?
Will Rodgers and the Packers reach a resolution to keep their relationship going a little while longer? Or does he really want to start from scratch with another NFL team?
On one hand, it makes no sense for him to want out of Green Bay. He's surrounded by a strong supporting cast that includes Davante Adams, Robert Tonyan, and Aaron Jones. And the Packers have enough talent on defense to make a legitimate Super Bowl run. Why not make all the drama go away by signing a new contract and going back to work?
On the other hand, perhaps Rodgers really has had enough. Considering he's only hoisted the Lombardi Trophy once during his career, maybe the Packers' latest playoff loss (combined with the decisions made by the front office) ended his hopes of winning another title in Green Bay.
Still, that doesn't mean Gutekunst has to trade Rodgers. After all, the Packers can let him sit out or retire and get some of their money back.
As for Watson?
Figuring out what his NFL future looks like is difficult due to his ongoing legal situation. Ultimately, though, it seems like he's played his final down with the Texans. It might be only a matter of time before Houston decides to deal the three-time Pro Bowler to a team willing to part ways with multiple draft picks and players.
So while a trade might not be imminent, don't be surprised if Watson gets moved at some point.
In other words: Texans fans better hope third-round pick Davis Mills works out.