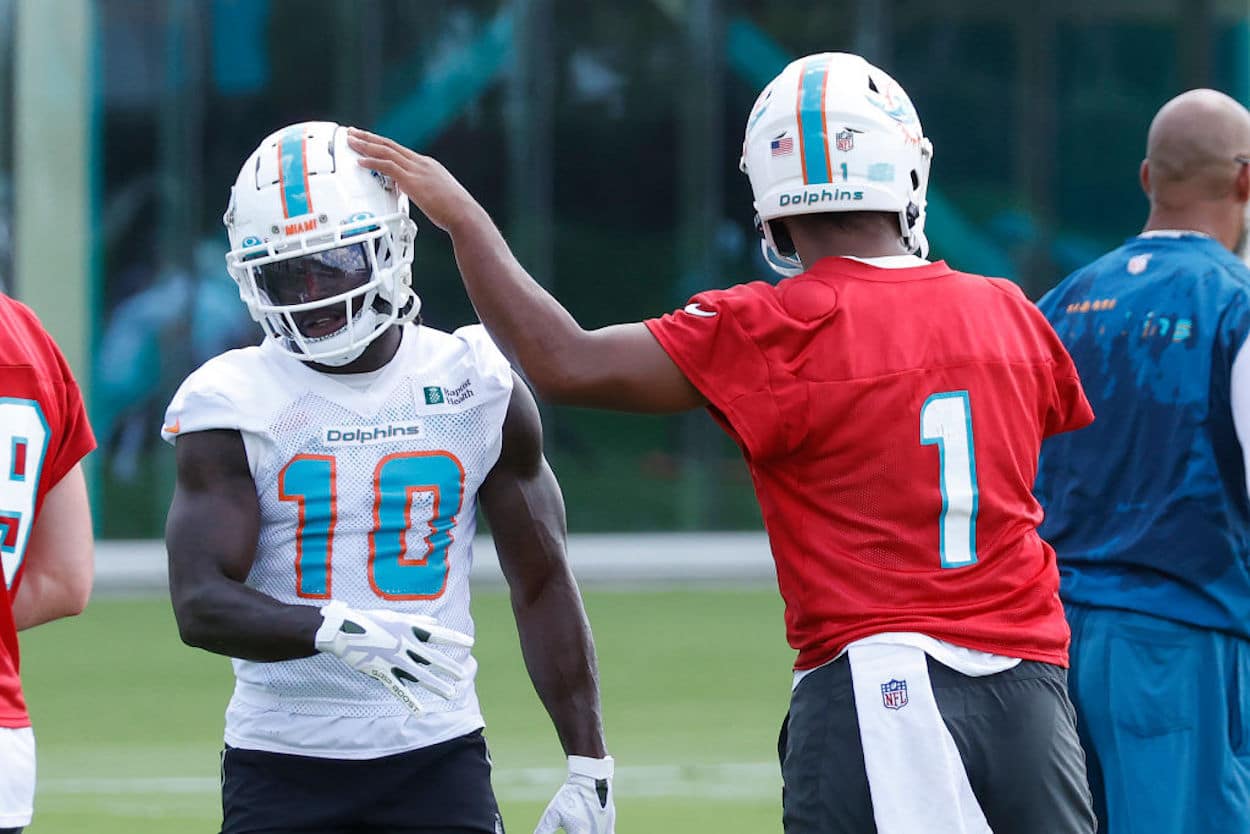 Tyreek Hill's Bizarre Dennis Rodman-Carmen Electra Prediction Doesn't Suggest a Happy Marriage With the Miami Dolphins
Tyreek Hill is yet to play a game for the Miami Dophins, but his comments have already heaped the pressure on his new team.
Like many NFL wide receivers, Tyreek Hill doesn't seem to be short of confidence. After leaving Kansas City for the Miami Dolphins, the Cheetah launched his own podcast and kicked things off by making some questionable claims about his time in Arrowhead.
Those comments weren't a one-off, though. While Hill has had additional guests on his podcast and discussed different topics, he isn't afraid to make a bold claim along the way. Take, for example, what he said to Tua Tagovailoa.
On a recent episode of It Needed to Be Said, the receiver had a questionable comparison for his burgeoning relationship with Tua: Dennis Rodman and Carmen Electra.
Tyreek Hill clearly missed the part of 'The Last Dance' that discussed Dennis Rodman and Carmen Electra
In the world of sports, there are plenty of dynamic duos. Tyreek Hill, however, clearly needs to break out the record book and study some history.
On a recent episode of his podcast, Hill sat down with Tua Tagovailoa. The two discussed the early days of their relationship and what the upcoming season could hold.
"All we're going to say is if you put certain people in certain situations, they're going to succeed," Hill said (h/t Al.com). "That's me, that's Tua, that's anybody that plays in a professional football league. If your organization believe in you, then they'll set you up for certain success, and they definitely believe in this young man right here. I'm excited for the season, man."
That all sounds pretty ordinary, right? Well, Hill promptly took things to a weird place.
"Fans, you know what they should expect," he continued. "They should expect the Dennis Rodman and the Carmen Electra connection, dog."
Setting aside the fact that Electra and Rodman were romantic partners rather than teammates, that's probably not the best comparison for Hill to use. The pair had a famously less-than-ideal relationship and divorced after less than a year.
If that's how his time in Miami pans out, Dolphins fans probably won't be too pleased.
Beyond the jokes, Hill keeps heaping pressure onto the Miami Dolphins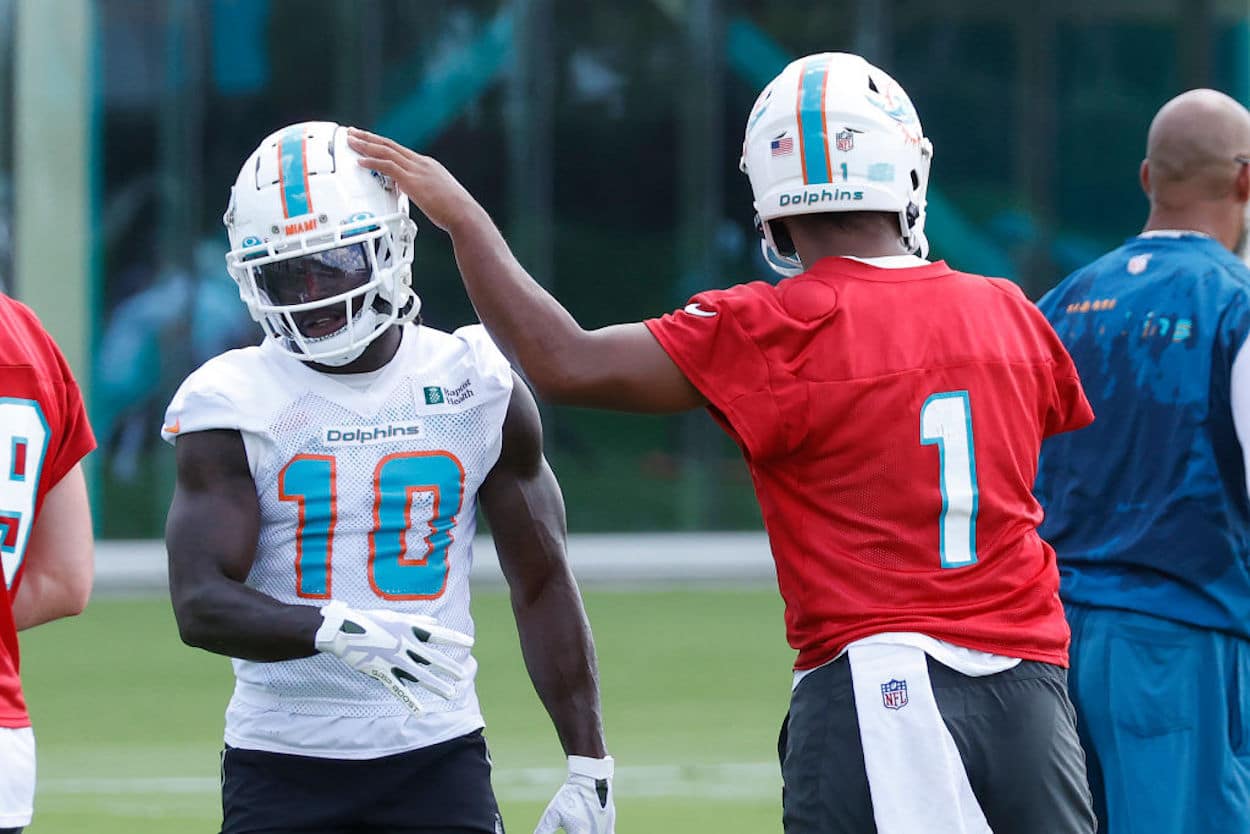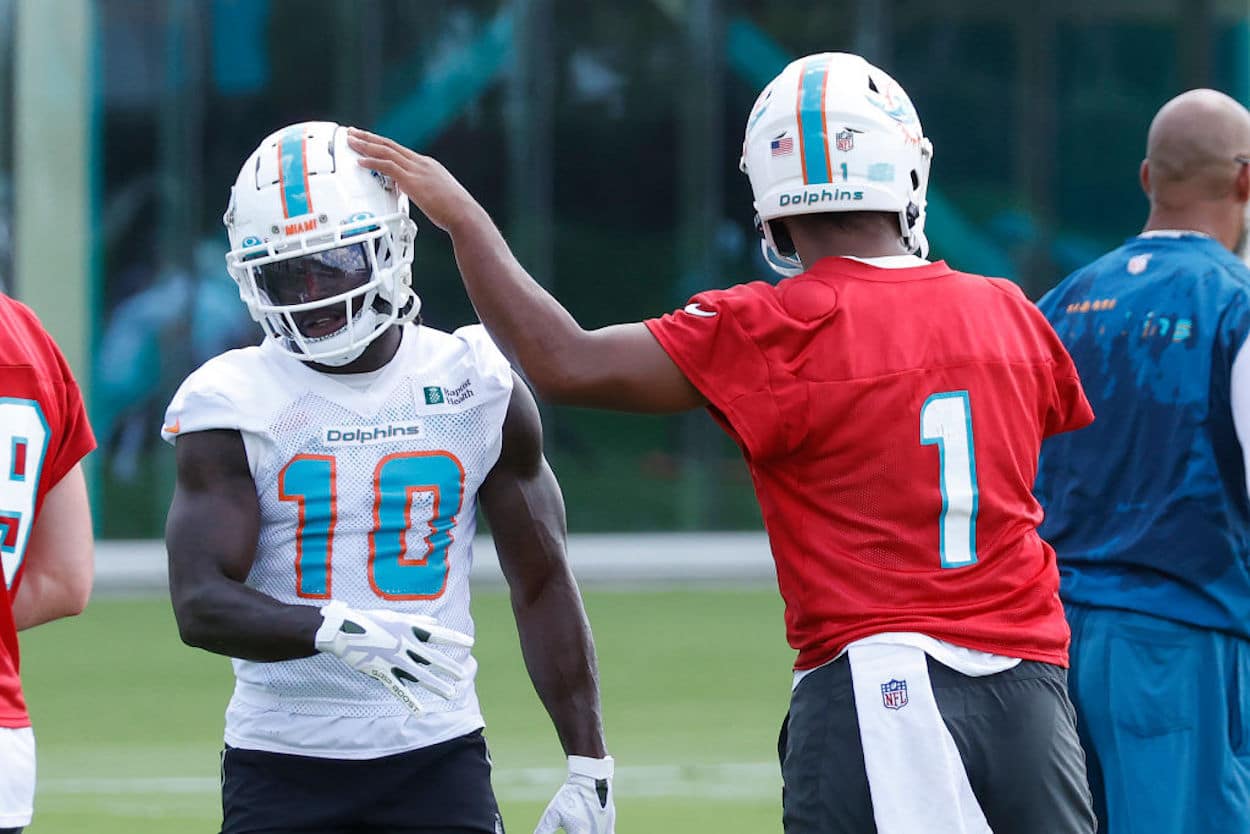 Obviously, one faulty comparison isn't going to spell doom for Tyreek Hill and the Miami Dolphins. His comments, however, are starting to form something of a pattern that could suggest trouble is brewing.
As mentioned above, Hill used his first podcast to take some shots at the Kansas City Chiefs and suggest that he didn't see enough of the ball. While that's a fairly standard claim for a wide receiver to make, it ignores the fact that Mahomes targeted the Cheetah a career-high 159 times in 2021.
Those comments put a good amount of pressure on Tagovailoa, who's already on the hot seat. Not only does he have to run the offense and prove he's the man moving forward, but he has to target his star receiver at least 10 times per contest. That's doable but also sets up an unrealistic expectation and makes Tua the one accountable for any failings.
The Rodman-Electra comments (which Tagovailoa did suggest should be Rodman and Jordan) will have a similar effect. If you're making claims of that magnitude before playing a single game, it suggests some unreasonable expectations. What happens if the Dolphins finish the season a game above .500 and Hill posts middling numbers? Will he be pouting on the sidelines and pushing for a new offensive system? If things go poorly enough, could he even advocate for a new quarterback?
Who knows, maybe mentioning Carmen Electra was a Freudian slip to suggest that things will come crashing down after a single season. At this point, we'll just have to wait and see.
Like Sportscasting on Facebook. Follow us on Twitter @sportscasting19 and subscribe to our YouTube channel.