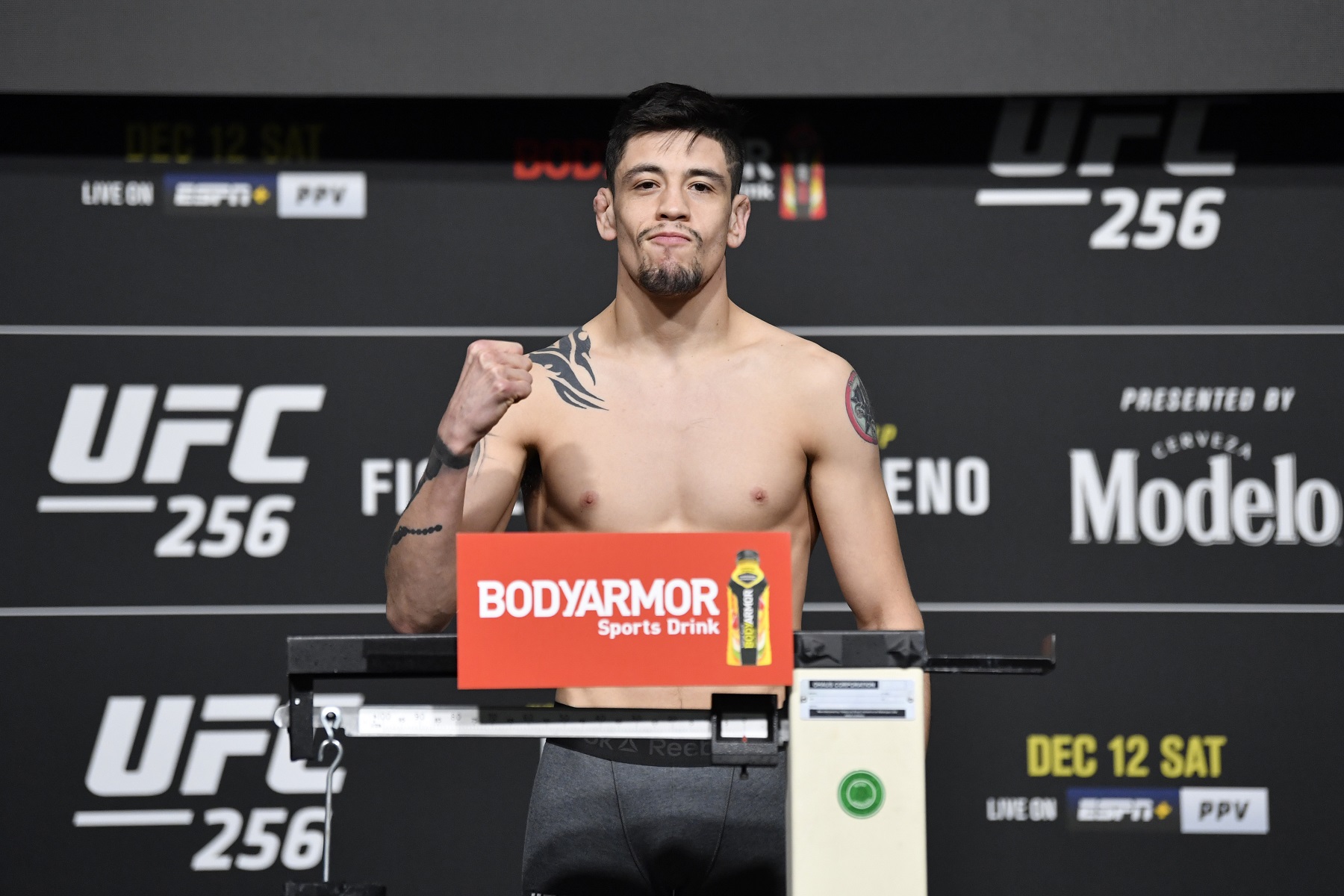 UFC 256 Flyweight Brandon Moreno Was Raised To Treat People Like Punching Bags
Deiveson Figueiredo and Brandon Moreno are meeting for the flyweight championship at UFC 256 three weeks after each fought most recently.
Given how quickly he's dispatched recent opponents, it's not as though Deiveson Figueiredo has needed much recovery time between UFC appearances. However, agreeing to defend his flyweight title against Brandon Moreno at UFC 256 just three weeks after his most recent appearance in the octagon puts him at more risk than usual.
Figueiredo certainly doesn't want to let his guard down and give his opponent a free shot. Moreno may not be a knockout artist, but his whole life has involved pounding on defenseless targets.
UFC 256 has two interesting fights topping the card
UFC 256 in Las Vegas is the wrap-up to the pay-per-view schedule for the year with an interesting pair of clashes at the top of the card, saving the night after three other planned features had to be scrapped by shortly before Thanksgiving.
The co-main event is a lightweight battle that could shake up the rankings to start 2021. Third-ranked contender Tony Ferguson is coming off a loss to Justin Gaethje as he steps into the octagon against No. 7 Charles Oliveira. Each is a veteran of more than 30 MMA fights that typically don't end by judges decision.
The finale to the night pairs Deiveson Figueiredo, defending his flyweight championship, against Brandon Moreno, the No. 1 contender. Interestingly, both fought at UFC 255 just three weeks ago.
Moreno stopped No. 6 contender Brandon Royval with one second left in the first round to remain unbeaten in his last five fights and improve to 18-5-1. Figueiredo headlined UFC 255, where he submitted Alex Perez via guillotine choke 1:57 into the fight. He is riding a five-fight winning streak and hasn't gone deeper than 1:54 into the second round in his last four fights.
Figueiredo will be making his second defense of the belt he earned with a submission of Joseph Benavidez in July.
Brandon Moreno has fought his way back
Brandon Moreno, 27, has had a strange path to his shot at the flyweight championship at UFC 256. Making his debut in his native Mexico, Moreno built a modest 6-3 record before catching on with the World Fighting Federation. There, he captured the vacant flyweight title in just his second outing, then successfully defended three times in 14 months.
Moreno earned a spot in The Ultimate Fighter but made his UFC debut before the series concluded its season. Moreno won his first two UFC fights before losing decisions in his next two, resulting in him being dropped from the roster in late 2018.
That setback landed Moreno in the Legacy Fighting Alliance for one fight before Dana White brought him back to the UFC, where he has since gone 3-0-1. Beating Jussier Formiga by unanimous decision on March 14, 2020, landed Moreno a new contract.
Moreno's next fight was supposed to be at UFC 255 against Alex Perez, but Perez became the injury replacement for a title fight against Deiveson Figueiredo. Moreno instead faced Brandon Royval.
Figueiredo and Moreno won their fights in quick fashion, making it possible for them to make quick turnarounds in UFC 256 after three expected main events fell through.
Brandon Moreno grew up making piñatas
UFC fans might casually suggest after a particularly brutal bout that one fighter beat another like he was a piñata. That hits close to home for flyweight contender Brandon Moreno.
Moreno's family made and sold piñatas in his hometown of Tijuana, Mexico.
"That's how we made ends meet," Moreno told ESPN. "I can say making piñatas made my dream possible."
He began building and painting the papier-maché creations during the day as a young boy. Beginning at age 12, he worked or attended school during the day and trained at a gym at night.
"I was tired of being a chubby kid," he said, "so my mom wanted me to have an after-school activity. She spotted a flyer, called to enroll me and I've been there ever since."
Like Sportscasting on Facebook. Follow us on Twitter @sportscasting19.