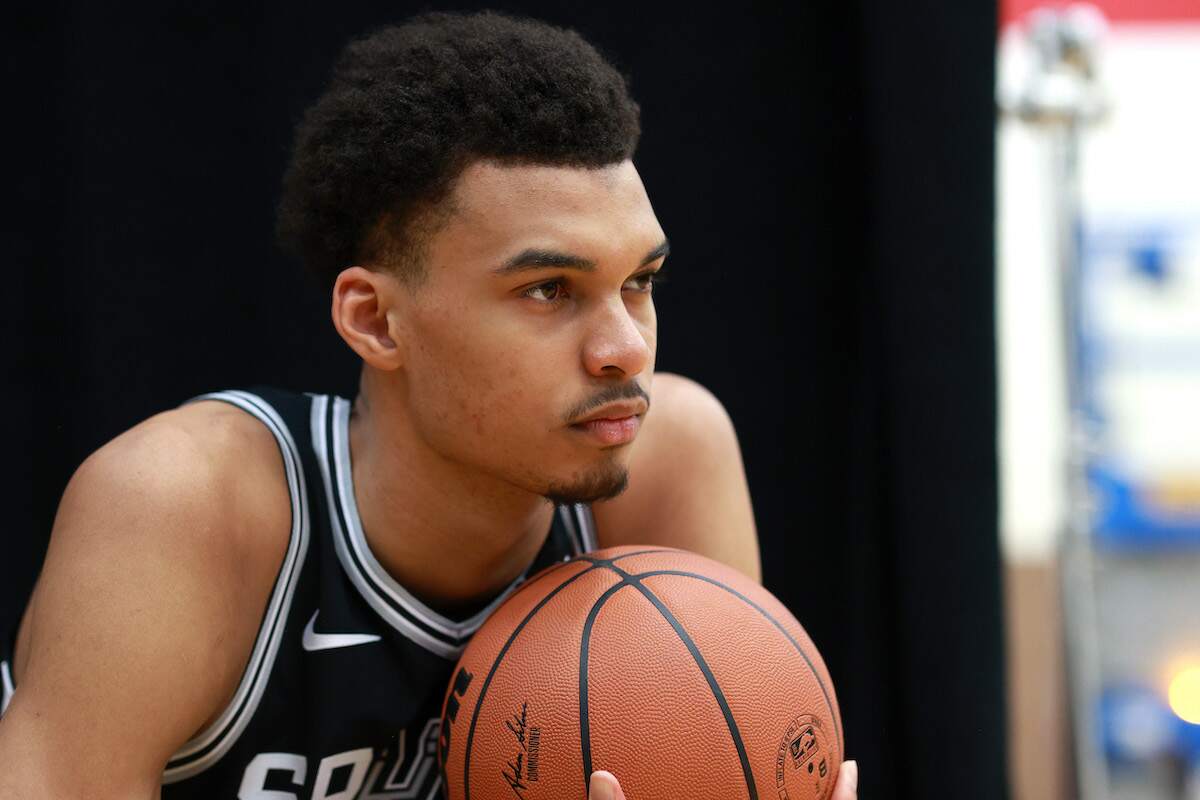 Victor Wembanyama Says He Was Born to Be 'Original' as He Sets a Unique Goal for His NBA Career
Victor Wembanyama's rise from his humble beginnings in France to the first overall pick of the NBA draft illustrates a part of his mentality.
Few NBA players are as unique as the league's superstars right now, but many dream of getting to that position one day.
The first overall pick in the 2023 NBA Draft, Victor Wembanyama appears to already be in that superstar position simply due to his physique and mentality. Here's a look at Wembanyama and the unique goal he set for his NBA career.
Victor Wembanyama parents and athletic background
AP News interviewed Wemby, and it's clear he comes from an athletic and competitive background. His father, Felix, is a 6-foot-5 former triple-jump track athlete. His mom, Elodie, is a 6-foot-2 former basketball player and youth basketball coach. Similarly, Elodie's parents were both basketball players.
Elodie's love of basketball seems to have taken hold of the rest of the family since Wemby has two siblings, Eve and Oscar. They're both basketball players as well. The Wembanyama family settled in Le Chesnay, which is near Paris. As a kid, Wemby went with his mom when she was coaching youth basketball teams. It didn't take long before his height and basketball skills drew the attention of French teams.
When he was seven years old, he joined Entente Le Chesnay Versailles. Then he joined Nanterre 92 and went through the process of climbing up the European youth basketball system. He eventually joined ASVEL, a professional EuroLeague team. But he decided to switch to Metropolitans 92 before declaring for the NBA draft and being picked by the San Antonio Spurs.
Victor Wembanyama highlights how he wants to be a wholly original and unique player
Wemby's rise from his humble beginnings in France to the first overall pick of the NBA draft illustrates a part of his mentality. As he told AP News, "I've always tried to do (something) different. I'm not even talking about sports, whatever. Any field, I'm always trying to be original, something original, something one of one, something that's never been done before. And this is really how it worked in my life."
As such, he doesn't want to be like other NBA superstars, he wants to be his own unique player. He thinks he was born with that mentality, and certainly, his parents' competitive history may explain that. He goes on to further explain he wants to "be like something you've never seen." This was a bold claim for him to make since he was 19 years old and hadn't played a minute in the NBA at the time.
However, that boldness likely comes from the competitive mentality he's had all his life. In fact, at the end of the interview, he said the draft order wouldn't really matter, but despite that, he "can't accept not to be No. 1." He simply has a winning mentality that will hopefully be helpful in maintaining a long, winning career in the NBA.
Why Victor Wembanyama may have an incredible NBA career
His mentality is not why he was drafted first overall by the Spurs though. Wemby has been described as a "unicorn" since he is such a unique player on paper and in practice. With shoes on, he's 7-foot-5 tall, which is massive even for the NBA.
His wingspan is nearly 8 feet long, and combined with his defensive mindset, he looks like he'll be incredible on defense. What pushes him over the edge, though, is how his offense looks. He's fast on his feet, he shoots well, and he handles the ball well. That could allow him to be a generational talent both offensively and defensively.