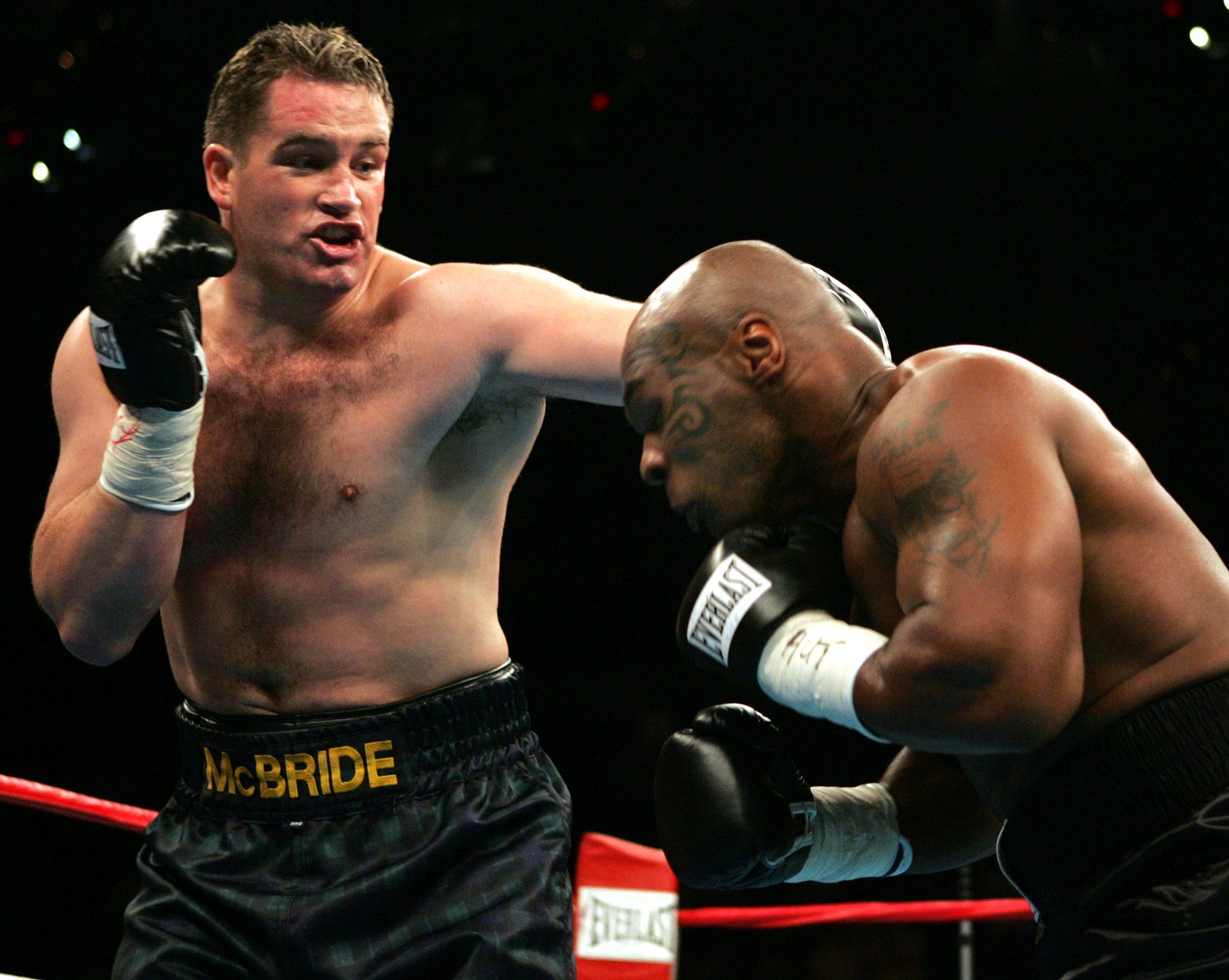 What Happened to Kevin McBride, the Man Who Retired Mike Tyson in 2005?
A look back on the career of former heavyweight boxer Kevin McBride and where the man who retired Mike Tyson in 2005 is today.
Kevin McBride will forever be remembered most as the man who retired Mike Tyson back in 2005. Sure, he was an accomplished amateur fighter and represented his home country of Ireland at the 1992 Olympic Games in Barcelona and had 45 other professional fights over the course of a 20-year career but outside of Andrew Golota, McBride really never fought anyone of note, at least not to the casual fan anyway. No, he'll always be the answer to the trivia question, "Who was Mike Tyson's last official opponent?"
And we say last "official" opponent because of Tyson's exhibition bouts with Corey Sanders the year after he lost to McBride and his exhibition bout with Roy Jones Jr.
So what happened to Kevin McBride after his famous fight with Iron Mike and where is he today?
Kevin McBride retired Mike Tyson in 2005
On June 11, 2005, Kevin McBride made the most of the biggest opportunity of his career when he defeated Mike Tyson at the MCI Center in Washington, D.C. But let's get real here. McBride didn't so much win the fight as it was more that Tyson lost it. Iron Mike really never even showed up. Sure, he was physically there but he was in horrible shape and he was mentally checked out before the bell ever rang. He admittedly only took the fight to get a quick paycheck and it certainly showed. But a win is a win and Kevin McBride got one that night.
McBride was a relative unknown to fight fans coming into the bout despite having 37 pro fights under his belt before meeting Mike Tyson. It's just that he hadn't fought anyone that most people had ever heard of. Nevertheless, he came into the fight with an impressive 32-4-1 record and was simply thrilled to be in the ring with the man he idolized growing up. The $150,000 check didn't hurt either. In contrast, Tyson collected $5 million.
For the first two rounds of the fight, McBride was able to keep Tyson away using his advantages in height and reach, and as the fight went on, he used his 40-pound weight advantage to lean on Tyson, which clearly wore Iron Mike out.
McBride landed several shots on Tyson in the fifth and the former champion got so frustrated in the sixth that he tried to break McBride's arm during a tie-up. Tyson then headbutted McBride, which cost him two points, and then hit the canvas at the end of the round when McBride shoved him, which was ruled a slip and not a knockdown. And that was the last official round of Mike Tyson's career.
Tyson refused to come out of his corner for the seventh round, giving Kevin McBride the biggest win of his career.
He lost six of his last seven fights
For Kevin McBride, that would be the pinnacle of his career. 10 months after his win over Mike Tyson, McBride scored a TKO victory over Byron Polley but the losses began piling up after that.
In October 2006, McBride was knocked down three times within two rounds by Mike Mollo, which caused the referee to stop the fight. Almost exactly one year later, the ref stepped in and stopped his bout with Andrew Golota in the sixth round as McBride had suffered a bad cut under his left eye. He wouldn't fight again for nearly three years.
In July 2010, Kevin McBride returned to the ring and suffered a defeat at the hands of 205-pound Zack Page, losing all eight rounds. Three months later, he competed in the Prizefighter Tournament in London and won his three-round quarterfinal bout over Franklin Egobi before dropping his semifinal bout, also a three-rounder, to Matt Skelton.
In April 2011, he lost via unanimous decision to Tomasz Adamek and was knocked out in the fourth round of the final fight of his career by Mariusz Wach three months later.
Where is Kevin McBride now?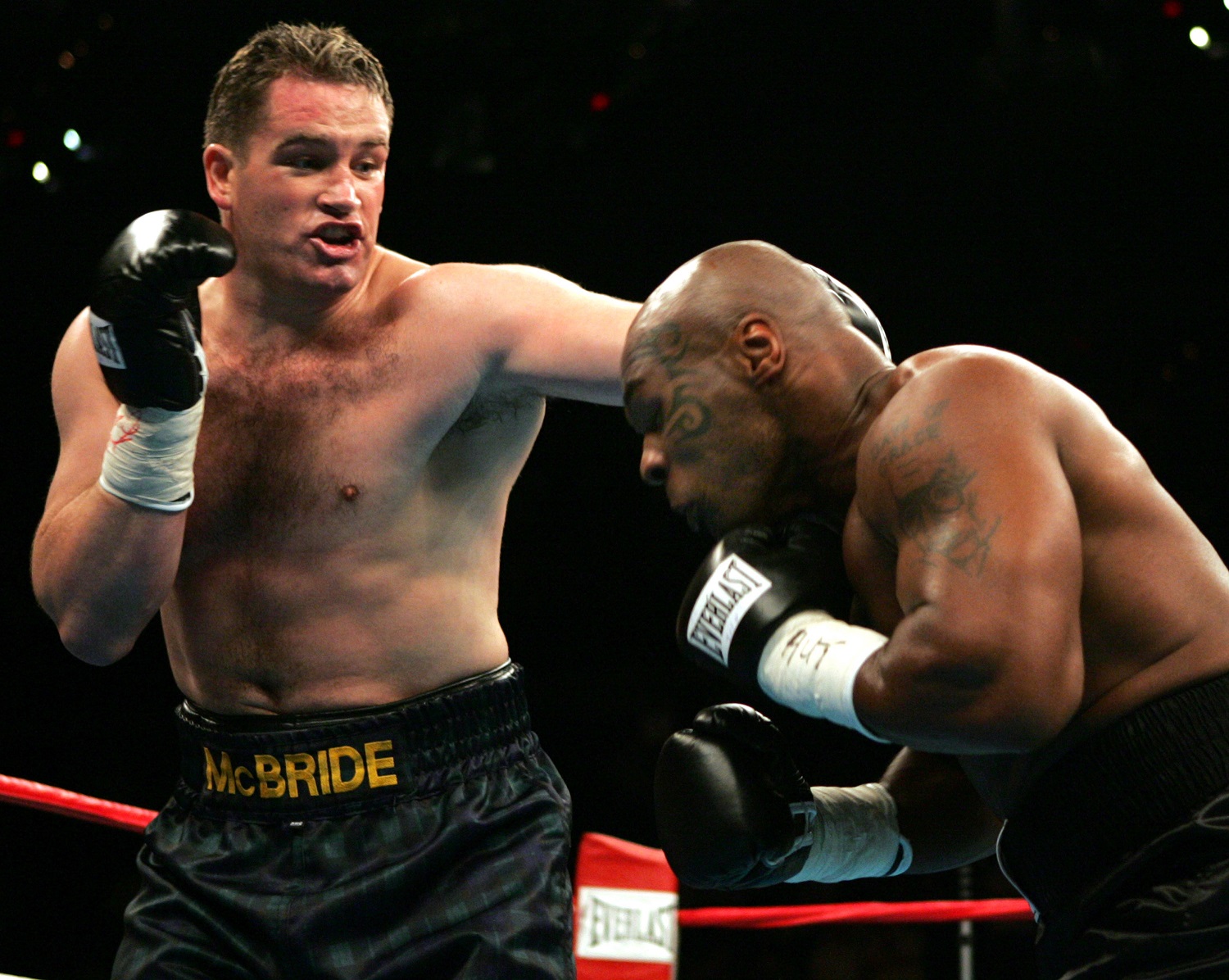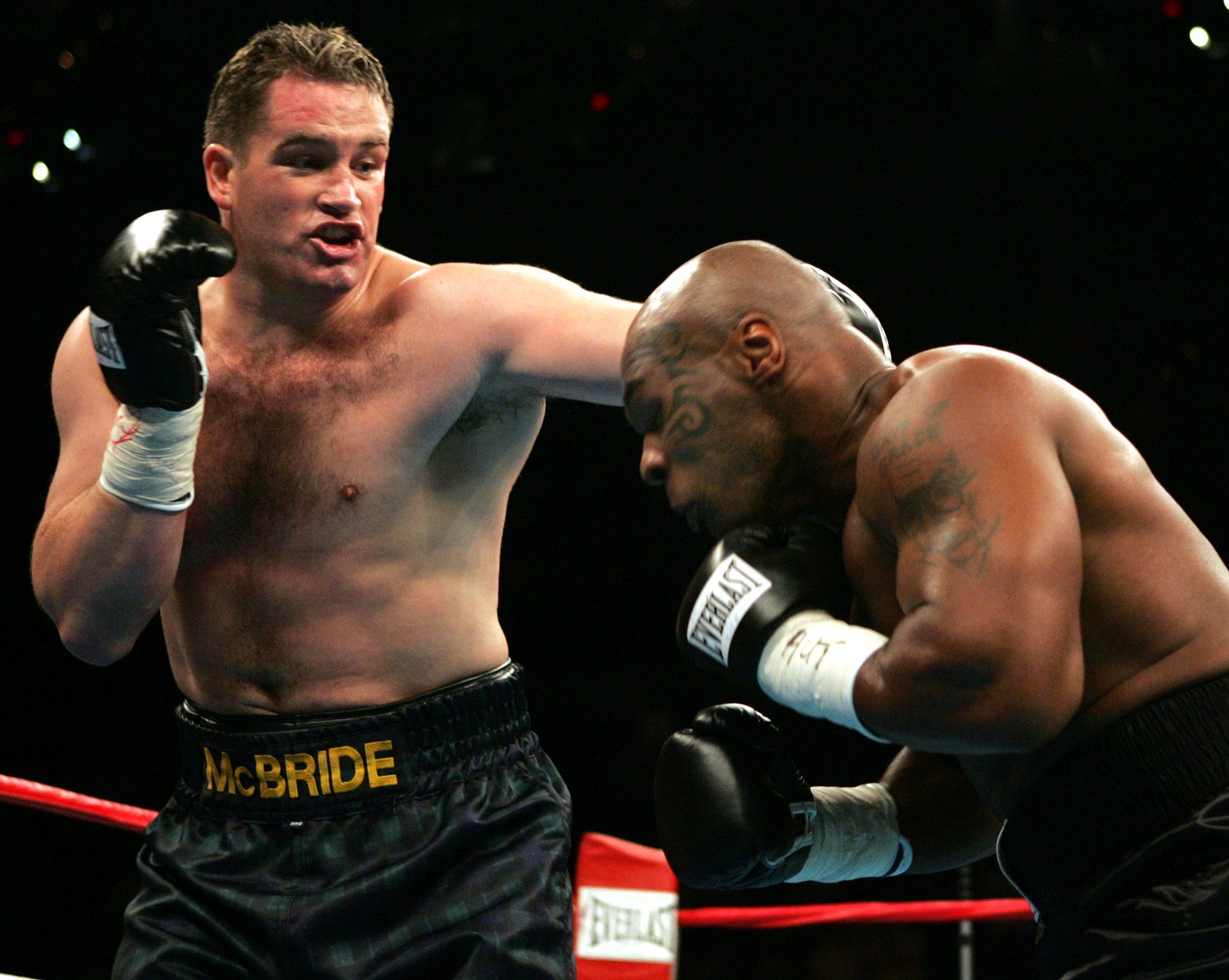 So where is Kevin McBride today?
Nobody had heard much from the man who retired Mike Tyson in the years since he himself left boxing but as the Tyson comeback talk began to ramp up, McBride, now 47 years old, resurfaced and actually threw his name out there as a possible opponent for Iron Mike.
McBride, who is married and has two children, a son and a daughter, has been working for Hoarty Brendan Tree & Landscaping in Brighton, Massachusetts, as a laborer, primarily doing heavy lifting. He told TMZ Sports that he would love to get in the ring with Tyson again and that he could use the money to help put his kids through college.
"Nobody can rule out anything in this world because that's life. It would be explosive to fight Mike Tyson again and I'm sure Mike would love to rectify his loss and I would just love to jump in the ring again with him."

Kevin McBride
With Mike Tyson possibly looking for more fights, perhaps Kevin McBride will someday step back into the ring with the man he once retired. After all, his boss at the tree company did say that he'd give him time off to train if that fight ever took place.