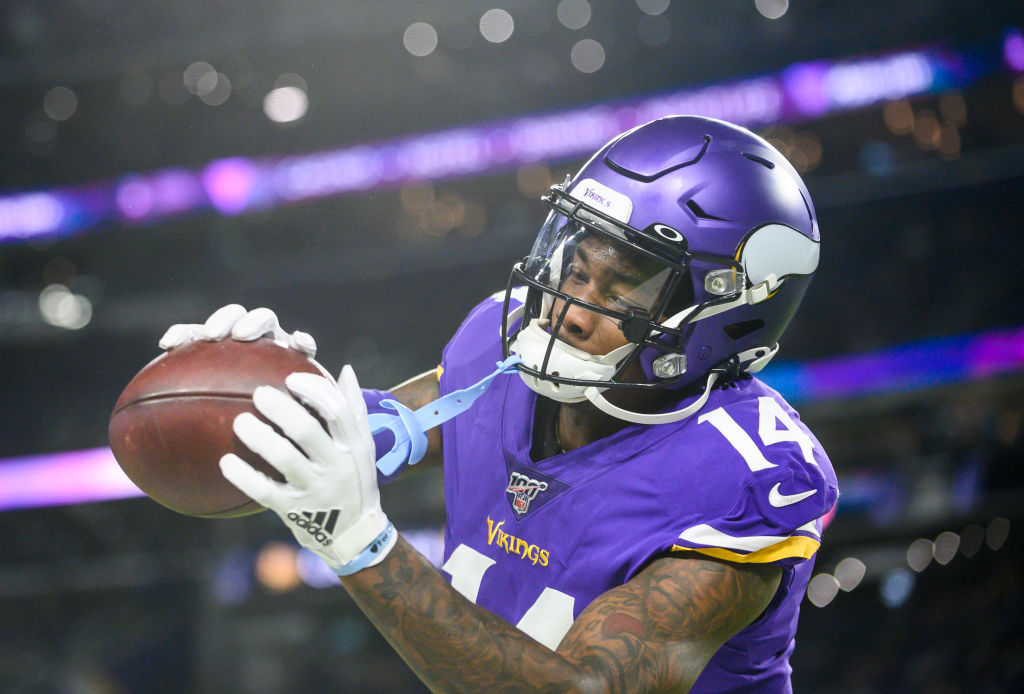 What Is Stefon Diggs Really Telling the Vikings Online?
Minnesota Vikings wide receiver Stefon Diggs mysteriously removed several photos from his Instagram account this week.
Stefon Diggs' marriage with the Minnesota Vikings remains intact because of the $72 million pre-nuptial agreement he signed with the team last year, but the talented wide receiver is letting the world know once again the honeymoon is over.
Diggs hasn't announced publicly that he wants out of the NFL organization. Instead, he has gone the increasingly popular route of making his feelings known through subtle signals on social media.
There are photos missing from Stefon Diggs' Instagram account
The 764,000 people following Stefon Diggs on Instagram probably don't visit to check his tastes in fashion, but that's pretty much all that's left after Diggs deleted all the photos showing him in Minnesota Vikings gear.
Combined with somewhat cryptic postings on Twitter – "Life is too short man" – it's clear Diggs is delivering a message, though it's anyone's guess whether the message is that he really wants out of Minnesota.
There's no such thing as having too many wide receivers in this pass-happy era of the NFL, but the 31 other NFL teams shouldn't be dialing up coach Mike Zimmer and GM Rick Spielman yet. Diggs is just one year into a five-year, $72 million contract extension with the NFC North runners-up.
That's in line with the going rate for highly productive wideouts and at the same time too large a chunk of money for teams pushing up near the salary cap unless they have a highly paid receiver of their own that they're willing to jettison.
Stefon Diggs has been unhappy with the Vikings before
Stefon Diggs caught 63 passes for 1,130 yards in 15 games last season for the Minnesota Vikings, but it was one week in particular that attracted the most attention around the NFL.
For reasons still not entirely clear, Diggs skipped two days of work leading up to an early-season game. Upon returning he offered reporters a half-hearted excuse that he had been battling a cold.
Observers might have given him a pass had he mumbled something about flu symptoms. But people around the team were skeptical enough that the Vikings fined Diggs $200,000. The incident resulted in inquiries from other teams as to whether Diggs might be available, but team officials dismissed the speculation.
Productivity could have been at the heart of Diggs' issue. He was targeted just 23 times in the first five games, resulting in 16 catches for 253 yards. Coming on the heels of a 2018 season in which he caught a career-best 102 balls, Diggs must have wondered about his role as coach Mike Zimmer tinkered with the offense to incorporate more running plays for Dalvin Cook.
The numbers picked up immediately with three straight seven-catch days averaging 151 yards and a three-touchdown day against the Philadelphia Eagles.
What are the chances the Vikings get rid of Diggs?
The occasional tantrum by a wide receiver ceased qualifying as news in the NFL years ago, so the Minnesota Vikings are not likely to be worried that whatever issue exists in Stefon Diggs' mind can't be handled. Even if there's friction with management, Diggs isn't regarded as a problem in the locker room.
Though the 63 catches for the 2019 season were a career low in his four years as a full-time starter, the 26-year-old receiver stretched defenses like never before by averaging 17.9 yards per reception.
That and an average of 78 catches a season the last four years are too valuable to sacrifice unless the Vikings receive an outrageous offer and also feel confident that Adam Thielen is ready to resume a full workload.