Who Has Won the Most Olympic Gold Medals of All Time?
While every athlete dreams of winning championships with their domestic team, there's something special about chasing a gold medal at the Olympics. Whether it boils down to national pride, historical significance, or the fact that you're (theoretically) competing against the best of the best from around the world, just about everyone wants to earn their place on the podium.
Given the top prize's status in both sports and popular culture — things as mundane as flour are labeled as "gold medal" to denote quality — it's unsurprising that winning multiple medals can earn an athlete a place in Olympic lore. But who sits atop the heap with the most gold medals of all time?
Olympic winners didn't always get gold medals
Given the Olympics' association with Ancient Greece, it's easy to assume that the athletes of old earned medals like their modern counterparts. While that might be interesting to imagine, it wasn't the case.
During the original Olympics, the top prize up for grabs was actually a crown of olive leaves rather than any precious metals. According to The Histories of Herodotus, "glory of achievement" rather than any monetary rewards was regarded as the true prize.
When the modern games kicked off in 1896, medals replaced plant-based prizes, but the conventional gold, silver, and bronze format wasn't yet present. As documented by Time, winners received silver, runners-up claimed bronze, and third place didn't receive a medal at all. Then, in 1900, trophies or other prizes replaced the medals.
In 1904, though, the gold medal as we now know it was born. While things have evolved over the years — each Olympic Games adopts a slightly different aesthetic, and pure gold has given way to gold-covered silver — the sentiment is still the same. The world sends its best athletes to compete and the top three claim a prize to commemorate their accomplishments.
Michael Phelps holds the all-time record for the most Olympic gold medals won by a single athlete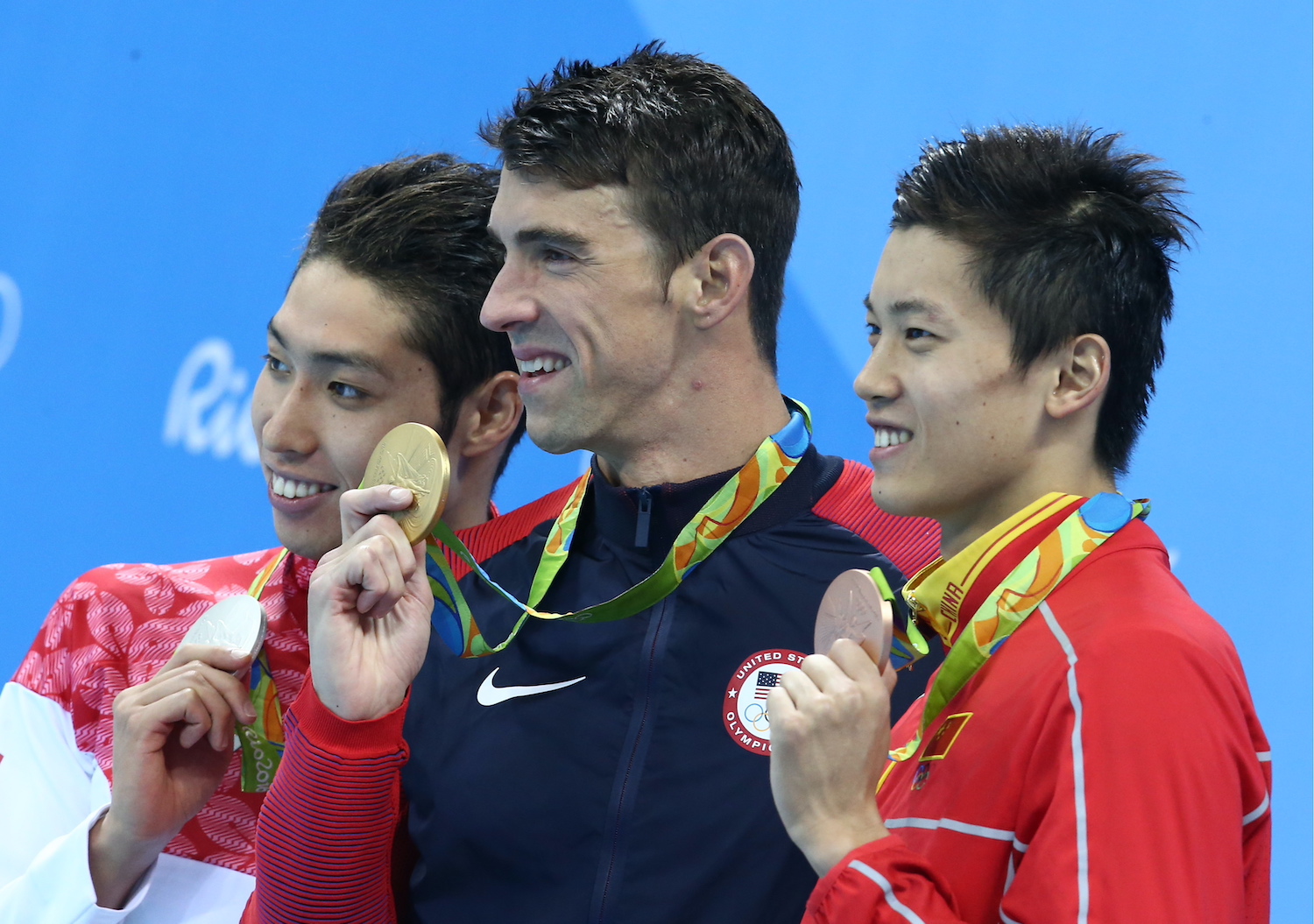 Given the quality of competition at the Olympics, winning a single medal is an impressive accomplishment. Winning multiple golds, however, is a true feat and, during his time in the pool, Michael Phelps did just that.
From 2004 through 2016, the American swimmer claimed an unprecedented 23 gold medals, giving him the top spot in the all-time Olympic power ranking. For reference, his closest competition, Soviet gymnast Larisa Latynina, sits in second place with nine golds.
To further underscore his overall dominance, Phelps' 23 gold medals would have made him the all-time winningest Olympic athlete even if he never earned another place on the podium. Again, Latynina sits in second place with 18 medals (nine gold, five silver, and four bronze), while the American swimmer has 28 total prizes to his name (23 gold, three silver, and two bronze).
Whoever wins an Olympic medal in 2020 will claim a unique prize
Given the effort that goes into winning a single Olympic medal, virtually every athlete will treasure their prize as a unique piece of sporting history. Those who reach the podium at the 2020 Games, however, will have an especially unique memory placed around their necks.
In addition to serving as a reminder of the Coronavirus pandemic — the 2020 Olympics are, of course, now taking place in 2021 — this summer's medals will be made from recycled materials. As reported by the BBC, "the Tokyo organising committee aims to produce their 5,000 medals with gold, silver, and bronze retrieved from electronic waste." That means the gold that ends up around an athlete's neck could have previously been inside of a cell phone, digital camera, or countless other devices.
 At this point, it remains to be seen who will claim gold medals during the 2020 Olympics. No matter who comes out on top, though, they won't be coming anywhere near Michael Phelps' all-time records.
Stats courtesy of Olympedia.