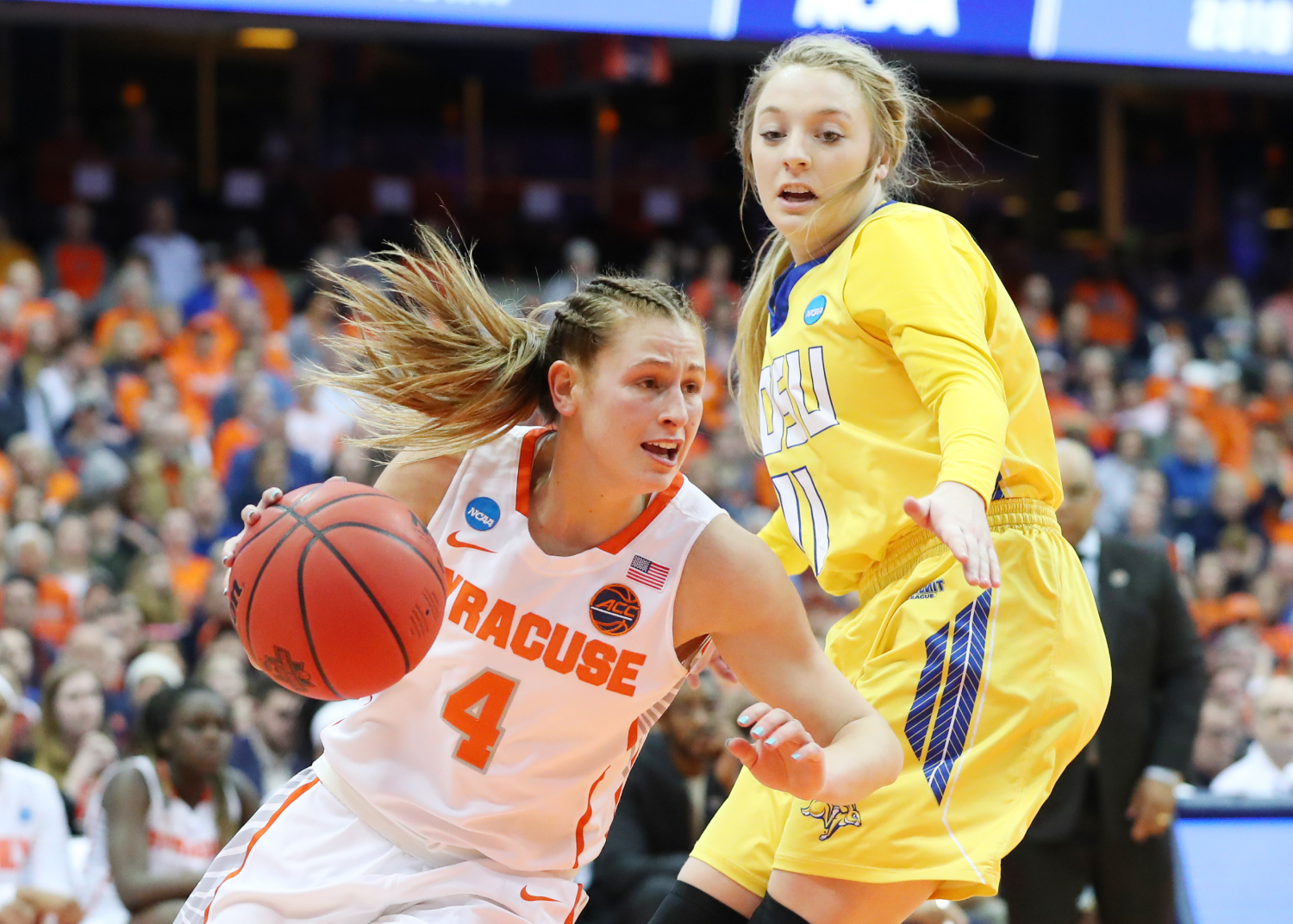 Who Is Tiana Mangakahia and Why Is She the True Star at Syracuse?
Who is Tiana Mangakahia and why is she the true star for the Syracuse women's basketball team?
Tiana Mangakahia is the all-time leader in assists for the Syracuse University women's basketball team. When she made her first pass to Amaya Finklea-Guity for a layup Sunday, it may have been the best and most satisfying assist of her life. She didn't set the record then, but she was back playing college basketball.
Who is Tiana Mangakahia?
Tiana Mangakahia grew up in Brisbane, Australia, with her five brothers. Mangakahia was quite the athlete and her toughness, likely from playing against her brothers, showed on the basketball court. She loved the game and was as competitive as they come.
According to ESPN, when she was nine years old, she was asked to move up and play on the U12 team. Her mother jumped in and shot that idea down, saying she was too young. While most players relished the opportunity to play up a level, Mangakahia said staying put may have been beneficial. "I think that actually helped me so much, because you never know," Mangakahia said. "What if I played (up) and just sat on the bench the whole time? I probably would've not enjoyed basketball."
Mangakahia eventually went on to play for Australia's U17 ad U19 national teams and it was there that Syracuse University coach Quentin Hillsman saw her play. Hillsman was an assistant with the Netherlands team. When Hillsman became the coach at Syracuse, he reached out to Mangakahia to ask her to play for him and she quickly accepted.
Mangakahia becomes a Syracuse star
In her second season at Syracuse University, Tiana Mangakahia became a star. She led the Orange to their highest-seeding ever when they were No. 3 in the NCAA tourney. Mangakahia averaged 16.9 points and 8.4 assists during that sophomore year. After two years at Syracuse, Mangakahia was already the school's career leader in assists.
In 2019, Mangakahia discovered a lump in her breast while showering. In June, she was diagnosed with breast cancer, invasive ductal carcinoma to be exact. She had been prepping to play for Australia in the Olympics after having made the preliminary squad.
Mangakahia underwent extensive chemotherapy. She lost her hair, but never lost her hope. The ponytail was gone, but her smile wasn't. She pushed through. "I embraced it. I made myself know that my looks don't mean anything and that it's all about my personality," she said.
Mangakahia undergoes double mastectomy, returns to basketball
Tiana Mangakahia underwent a double mastectomy. She was scared, but knew it had to be done. She was told that her lymph nodes were clear and that she was cancer-free after the procedure. "I'm so glad that I was finished with that part of my life and I can dream again," she said to ESPN.
Her dream was realized when she made her way back onto the court Sunday in a game against Stony Brook. It had been 615 days since she last played with her Syracuse teammates and she made an impact on the first play of the game with one of her three assists. Mangakahia finished with 16 points, seven rebounds, and three assists in 36 minutes. She was back.
"I was very emotional and I couldn't believe this day was here," Mangakahia said after the game. "I'm just so grateful that she has the opportunity to play again," Syracuse coach Quentin Hillsman said in his post-game press conference. "Some people lose their life and she's here and playing for us. I'm very thankful and grateful."