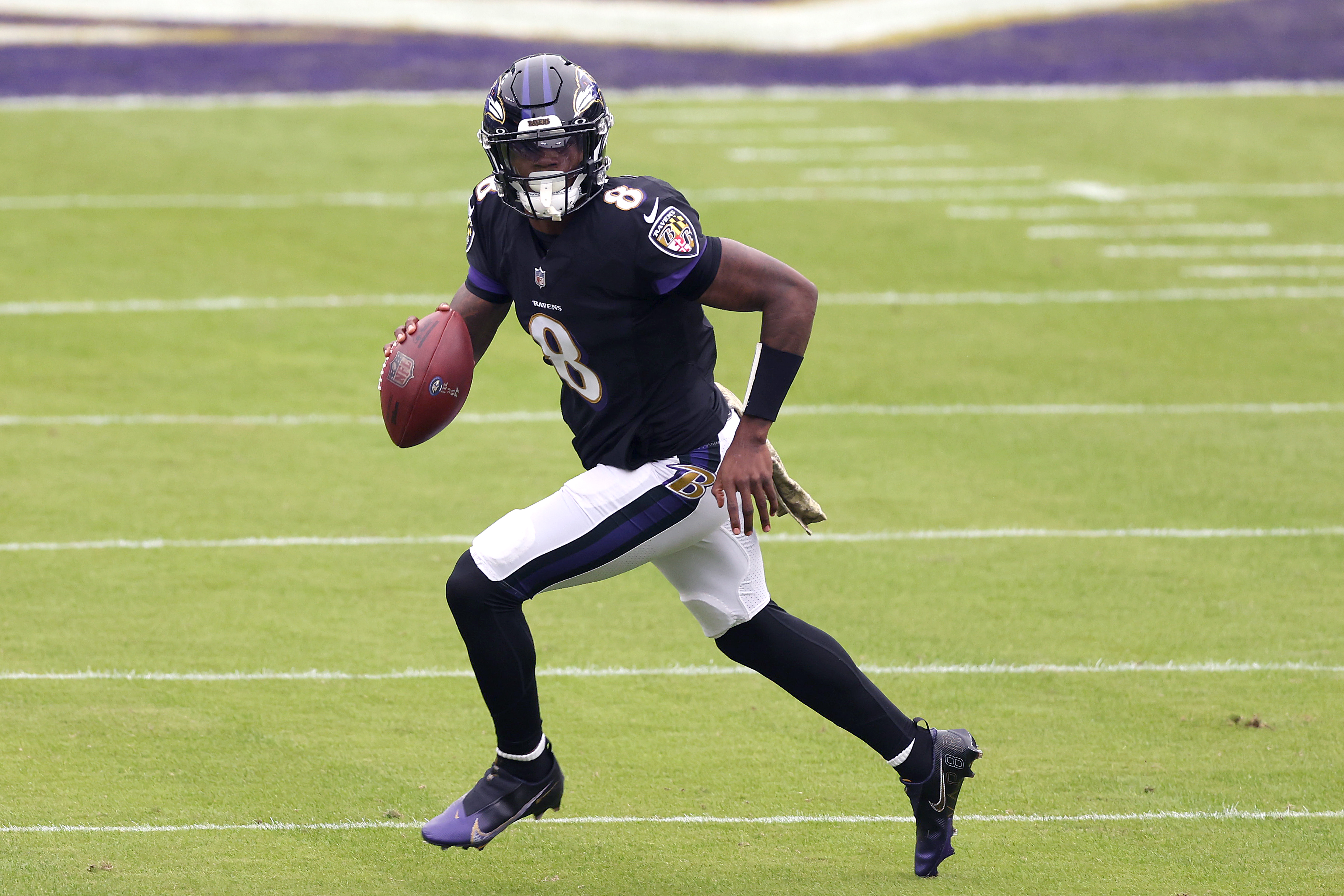 Why Isn't Baltimore Ravens Quarterback Lamar Jackson Playing Against the Steelers?
After almost a week's delay, the Baltimore Ravens are finally set to meet the Pittsburgh Steelers. Lamar Jackson, however, won't be in action.
Unless you're a football purist who doesn't care for running quarterbacks, Lamar Jackson is must-see TV. During his relatively brief time with the Baltimore Ravens, the young signal-callers has established himself as one of the NFL's most exciting players. On Wednesday afternoon, however, the show will have to go on without him.
After almost a week of delays, the Baltimore Ravens and Pittsburgh Steelers will finally be taking the field for their Thanksgiving Day game. When the game kicks off, though, Lamar Jackson won't be anywhere near the gridiron.
The Pittsburgh Steelers and Baltimore Ravens are finally playing their Thanksgiving Day game
On Thanksgiving, the Pittsburgh Steelers and the Baltimore Ravens were supposed to wrap up a day of football and family festivities. That game, though, never kicked off.
In the days leading up to the game, the Ravens suffered an internal COVID-19 outbreak. As positive test results continued to pile up, the NFL was forced to call an audible; the schedule was changed, and the teams were slated to take the field on Sunday afternoon.
The issues, as we now know, didn't end there. On Sunday, the game was shifted to Tuesday night; that still wasn't enough time for the Ravens to prepare, however, so things were pushed back another day to Wednesday, December 2.
In a final twist, kickoff had to be pushed up to 3:40 Eastern Time due to the Rockefeller Center Christmas Tree lighting ceremony. Only in 2020 could an NFL game get postponed three different times and be played on a Wednesday afternoon to accommodate a massive Norway Spruce.
Why isn't Lamar Jackson playing against the Pittsburgh Steelers?
While he hasn't quite lived up to the standards he set for himself last season, Lamar Jackson is still one of the NFL's most dynamic players. Unfortunately for the Baltimore Ravens, he won't be on the field for their divisional matchup against the Pittsburgh Steelers.
On Thanksgiving, news broke that Jackson had tested positive for COVID-19. "According to a source, the Ravens believe Jackson was infected Sunday at M&T Bank Stadium, where the Ravens lost to the Tennessee Titans 30-24 in overtime and tested positive only on Thursday," ESPN's Jamison Hensley reported. "Jackson took snaps from center Patrick Mekari, who tested positive on Wednesday. Jackson's game-day locker is close to those of running backs J.K. Dobbins and Mark Ingram II, both of whom tested positive Sunday night."
Under the NFL's current protocols, Jackson will have to self-quarantine for at least 10 days. That means he'll miss Wednesday's date with the Steelers; he would theoretically be able to return for Week 13's meeting with the Dallas Cowboys, assuming all goes well.
The Ravens issues go beyond Lamar Jackson, though
It goes without saying that playing the undefeated Pittsburgh Steelers without Lamar Jackson will be a struggle. The Baltimore Ravens' problems, though, don't end there.
According to the Sporting News, the Ravens had 16 players on the COVID list as of Tuesday afternoon. Beyond Jackson's absence, which means Robert Griffin III will take charge of the offense, virtually every position group is missing at least one player.
Even if Mark Ingram and J.K. Dobbins are eligible to play—if they receive a clean bill of health on Wednesday, they'll be able to hit the field—the Ravens will simply be shorthanded. On offense, Wide receiver Willie Snead and tight end Mark Andrews will be out of action; their line will also be down at least three players, which isn't ideal against a strong Steelers pass rush. Baltimore's defense will also be missing some key contributors, just to make matters even worse.
2020 has been full of unique challenges for everyone around the world. Purely from a sporting perspective, though, the Baltimore Ravens will have their work cut out for them on Wednesday afternoon.