William Byron Is Now in as Much Payback Danger as Ross Chastain
William Byron, much like Ross Chastain, has to navigate some extra hurdles as he chases the Cup Series title.
William Byron led 42 laps and notched his fourth straight top-10 finish Sunday at Texas Motor Speedway, but he may have also surprisingly joined Ross Chastain atop the list of drivers who should be wary of payback at some point in the final six races of the NASCAR year.
William Byron has not had many dust-ups to start his career
William Byron showed up in the NASCAR Cup Series with the famed No. 24 car for Hendrick Motorsports at 20 years old in 2018. He was a soft-spoken rookie who tallied only four top-10s and finished 23rd in the points standings a year after he won the Xfinity Series championship for JR Motorsports.
He did not make much noise on or off the track, although he slowly improved year by year. Byron won five pole awards but no races in his sophomore season of 2019, although he did reach the NASCAR Playoffs for the first time. He then broke through with a dramatic win in the 2020 regular-season finale at Daytona International Speedway to reach the playoffs for a second straight year.
He qualified for the playoffs early in 2021 with a win at Homestead-Miami Speedway in the third race of the season and became a true contender throughout the season. He finished with a career-high 12 top-5s and 20 top-10s, and he ended the season with a career-best 10th-place spot in the points standings.
Byron took his performance to another level yet again in 2022 with two wins in the first eight races. He was third in the points standings and in the lead with two laps to go on May 8 at Darlington Raceway when the direction of his season — and perhaps his career — changed.
Joey Logano and Denny Hamlin are both now upset with Byron
Back in that May race, Joey Logano pushed him up the track in Turn 3 and drove on to victory while William Byron stumbled to the finish line with a damaged car in 13th. Logano was upset with how Byron had raced him on an earlier restart, but Byron forcefully expressed his displeasure after the race.
"He's just an idiot," Byron said of Logano (h/t ForTheWin). "He does this stuff all the time. I've seen it with other guys. … He's just a moron. He can't win a race, so he does it that way. So I don't know. … It was close racing on the restart. We were faster than him. Obviously, at the end, [my] right rear started to go away, and, yeah, he didn't even make it a contest."
Logano responded with a threat.
"Honestly, if he wants to keep going back and forth, I'll keep swinging," Logano said, per NBC Sports. "I don't think that's a good play for him in the long run."
Byron hasn't even had much of a chance to do anything significant because he managed only one top-10 finish the rest of the regular season. The playoffs, however, have told a different story. He's put together four consecutive strong races, and he was in position to fight for a win again Sunday at Texas.
Byron and Denny Hamlin were racing side-by-side for second place on Lap 262 of 334 when Hamlin ran Byron up the track and into the outside wall — quite similar to what he did to Chastain back in July at Pocono Raceway.
The difference is Chastain wrecked out of the race from the Pocono incident, while Byron continued behind Hamlin until the yellow flag flew on Lap 269. He then drove into the back of Hamlin's No. 11 car after the caution period began and sent it spinning through the infield grass.
NASCAR officials did not penalize Byron for the retaliation, but Hamlin said over the team radio that he would deliver the penalty himself if he was able to drive back to reach the No. 24 car.
That didn't happen later in the race, but Hamlin said he will "just add it to the list of guys when I get a chance. They're going to get it."
Byron and Chastain are both now in precarious positions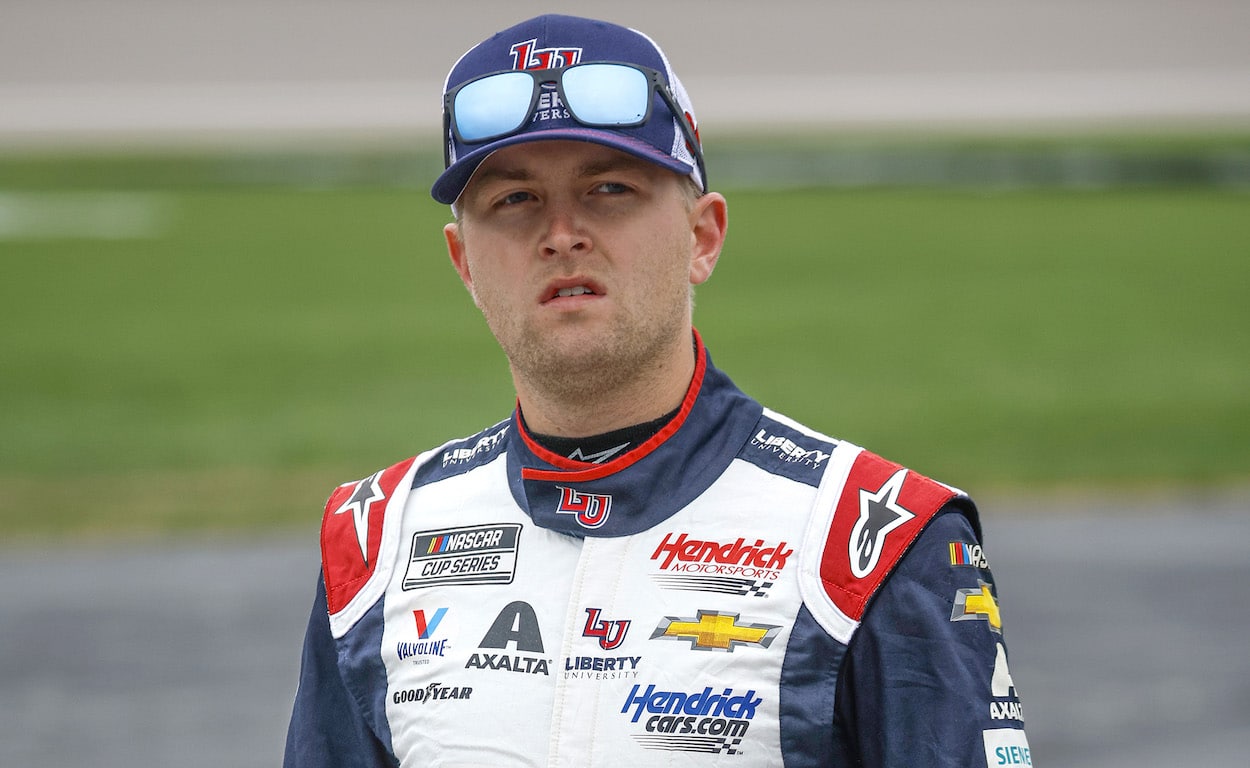 Ross Chastain has likely been on that list for much of the season. He first ran Denny Hamlin into the Turn 1 wall on June 5 at World Wide Technology Raceway near St. Louis, and he had a run-in with Chase Elliott later in the race soon after a restart. Chastain then spun Hamlin again a month later at Atlanta Motor Speedway.
Hamlin might not consider the Pocono incident with Chastain enough payback, so more could be coming Chastain's way if Hamlin has a chance to disrupt his championship push with only six races left in the season.
Chastain has been on a few different drivers' payback lists for much of the season, but now Byron might be in just as precarious a position. He has two of the top veterans in the sport in Joey Logano and Hamlin upset with him, and both figure to be strong contenders for the title through the remainder of the playoffs.
Byron and Chastain might be two of the favorites to reach the Championship 4, as well, but they are almost certainly going to have to navigate potential payback from earlier in the season to get there.
All stats courtesy of DriverAverages.com and Racing Reference.
Like Sportscasting on Facebook. Follow us on Twitter @sportscasting19 and subscribe to our YouTube channel.