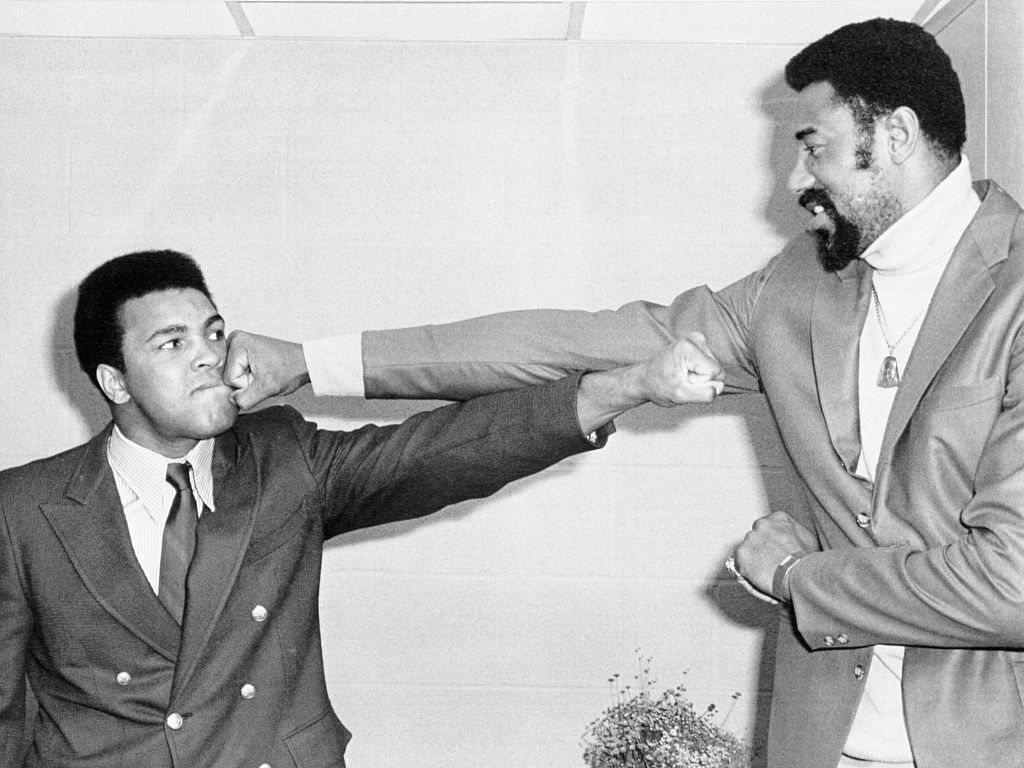 Wilt Chamberlain Once Challenged Muhammad Ali to a Boxing Match
NBA Hall of Famer Wilt Chamberlain once challenged legendary boxer Muhammad Ali to a match during the prime of his career.
Throughout his 21-year boxing career, Muhammad Ali never lacked confidence in his abilities. He didn't back down from a challenge, even when his opponents came from surprising places. This included Hall of Fame NBA player Wilt Chamberlain, who wanted to get a piece of the all-time boxing great in the prime of his career.
Muhammad Ali and Wilt Chamberlain nearly fought in 1967
In March 1967, the two appeared on Howard Cosell's show on ABC to talk about a potential fight. Ali denied signing the deal then, as he pointed out that he wanted to fight a few people first before he would agree to a match.
What factored into that path, for the time being, was Ali's manager, Herbert Muhammad, who elected to pass on the deal. However, the talk was further delayed for just over three years, from March 1967 to October 1970, due to Ali's refusal to be drafted into the military. That saw his boxing license in every U.S. state get denied and his passport stripped. Finally, in 1971, things were overturned so he could return to the ring.
Once Ali was able to resume his boxing career, the dialogue started up once again, centered on the two potentially working out a fight.
Ali and Chamberlain almost came to a deal in 1971
Ali was never one to back down from trash-talking anyone. That was the case regarding future Hall of Famer Wilt Chamberlain in 1971. The 35-year-old had already retired from the NBA after 13 seasons with multiple records to his name and a YEAR NBA Championship.
Meanwhile, Ali was in the prime of his career at age 29, holding a 31-0 record with 25 knockouts. However, he'd recently suffered the first loss of his career against Joe Frazier at Madison Square Garden for the heavyweight title. Former Cleveland Browns great Jim Brown set up the match, which would take place at Madison Square Garden.
ABC scheduled a special segment for both Ali and Chamberlain to promote the fight after the former finally agreed to the NBA star's challenge after a significant upgrade in the money they'd receive. On the day of the press conference, Ali waited for his opponent. But things fell apart after a pre-conference meeting.
Why didn't the Ali-Chamberlain fight happen?
Various reports came out from both sides regarding why it didn't happen.
The situation initially saw Ali turn down the fight. But once it garnered enough financial backing, he pushed to go forth with the bout. There was dialogue that his loss to Frazier hurt the situation as he no longer had the heavyweight championship to put on the line.
However, Chamberlain's attorneys' official reasoning for withdrawing from the fight was that the after-tax money he would receive was only $500,000. This made the money from that bout too small for the future Hall of Famer to deem worthwhile.
Plenty of chatter occurred regarding the situation. Ali expressed that he was up for the bout, but things simply didn't transpire as fans hoped for. It's simply one of those situations of what could have been.