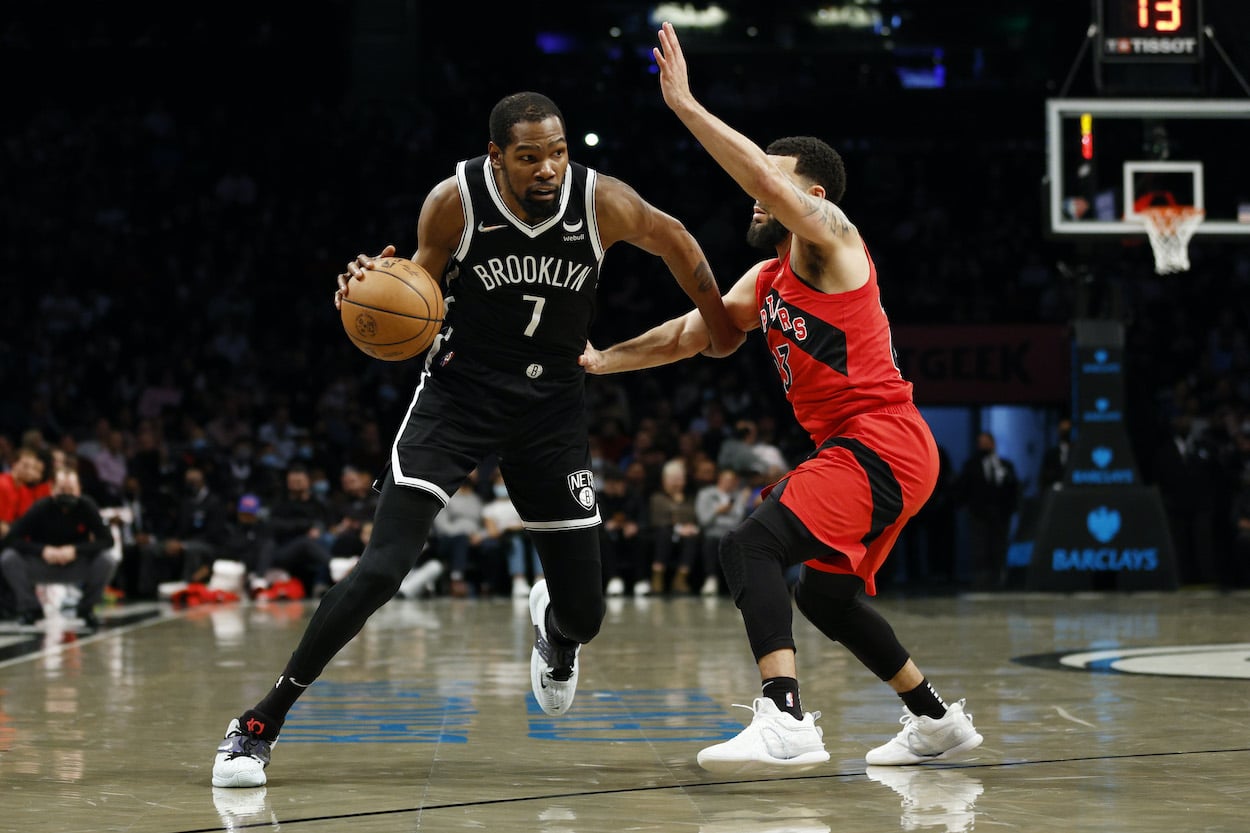 Woj Reports 1 Surprise Eastern Conference Team is 'Lurking' as a Kevin Durant Trade Destination
A Kevin Durant trade seems inevitable, but Woj reports that he might end up with an Eastern Conference team that you're not thinking of.
ESPN insider Adrian Wojnarowski is as (if not more) plugged-in than any other NBA media member. While most league observers are talking about the Miami Heat, Phoenix Suns, and Chicago Bulls as potential Kevin Durant trade destinations for the Brooklyn Nets star, Woj reports that a sleeper team is "lurking" in the process: The Toronto Raptors.
Several of the top Kevin Durant trade destinations don't make sense for all involved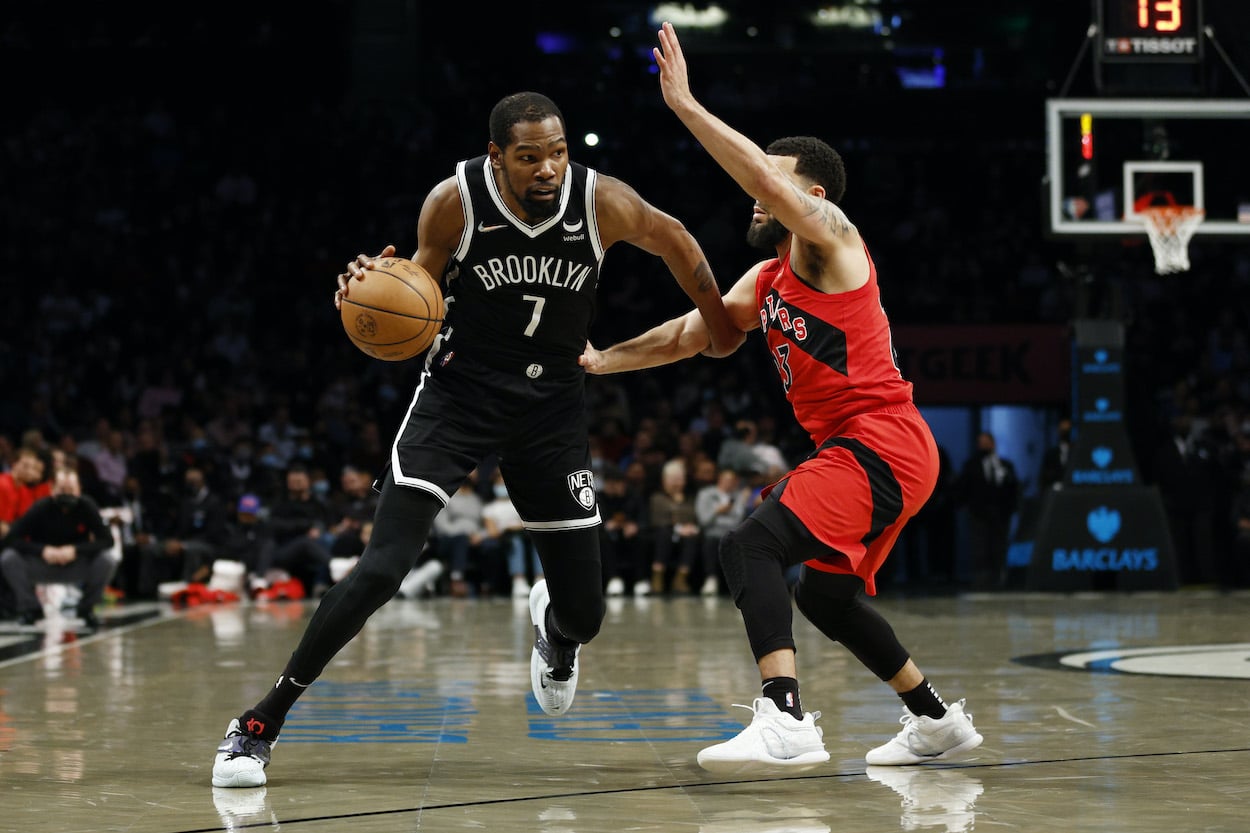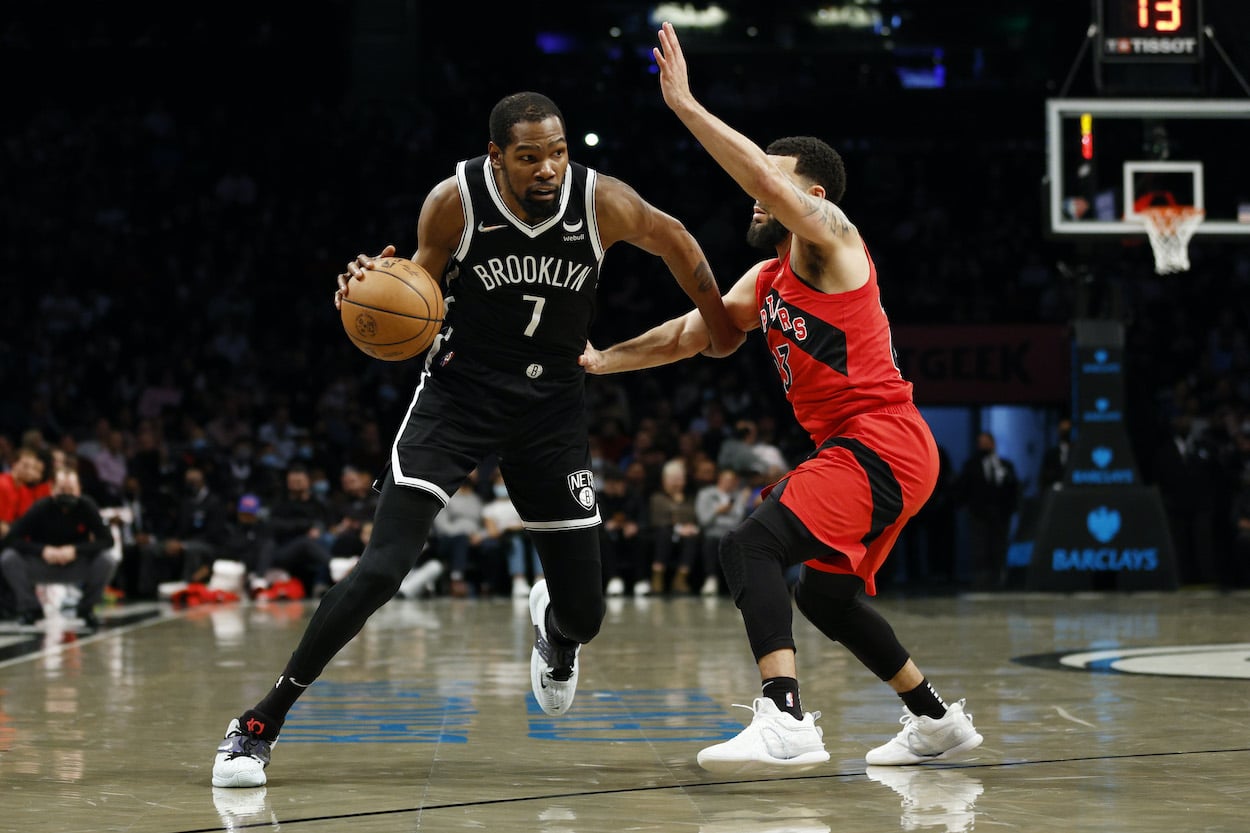 When Kevin Durant handed in his trade request to the Brooklyn Nets, the two destinations at the top of his list reportedly were the Miami Heat and the Phoenix Suns.  
A Kevin Durant trade to either of these teams presents issues, though, for Brooklyn getting the best deal possible. With Phoenix, getting additional players in a Deandre Ayton sign-and-trade would be complicated. With Miami, Brooklyn couldn't take back Bam Adebayo with Ben Simmons on the roster because of the types of rookie extensions they both have.
This all means that Durant probably won't get a move to either of his top preferred spots.
The Memphis Grizzlies could have offered an excellent package. However, with news of Jaren Jackson Jr. going out for four to six months with foot surgery, that deal is now less appealing. The New York Knicks could also put together an interesting mix of prospects and picks, but chances are slim to none that Brooklyn would trade KD within its own city limits.
With Phoenix, Miami, Memphis, and New York likely out, who steps up and becomes the Kevin Durant trade destination that works for both the player and both teams?
Woj might have the answer.
Are the Toronto Raptors the team that can put together the best deal for a Kevin Durant trade?
The latest Woj Bomb from ESPN's Ardian Wojnarowski suggests that the Toronto Raptors may be the sleeper team that could come in and get a Kevin Durant trade deal done.
On ESPN's NBA Today, Woj laid out the case that the Canadian NBA franchise could be the team to watch in the KD sweepstakes:
I think a team that's lurking — and is gonna lurk in this — is Toronto. They have all the kinds of pieces that you would want and their picks to do a deal for Kevin Durant, and they have an organization leader in Masai Ujiri who, certainly, you saw the chance he took on Kawhi Leonard with one year left in his deal. How far are the Raptors willing to go in an offer to Brooklyn? Would they offer Scottie Barnes? … I think you keep watching Toronto to see how involved they might get for Kevin Durant.

Adrian "Woj" Wojnarowski on a Kevin Durant trade to the Troronto Raptors
Woj also mentions the Raptors have Pascal Siakam and "other contracts that might match up" to facilitate a KD deal. It's a fascinating idea, and, as Woj said, Ujiri has made a bold move like this before, which resulted in the franchise's first NBA title in 2019.
So, what would a Kevin Durant trade to the Raptors look like?
What could a Raptors/Nets trade look like? 
After looking at the picks, players, and prospects haul that the Utah Jazz got for Rudy Gobert, you have to think that a Kevin Durant trade package will be astronomical.
The best the Brooklyn Nets could do for KD to Toronto would likely be Pascal Siakam and 2022 NBA Rookie of the Year Scottie Barnes, plus a young prospect or two like Precious Achiuwa, Malachi Flynn, or 2022 second-round pick Christian Koloko and picks.
Masai Ujiri and the Raptors would likely want to hold on to either Barnes or Siakam to pair with Durant, though.
If Siakam's $35.4 million salary is out of the deal, the Raptors would likely have to include Gary Trent Jr. ($17.5M) and OG Anunoby ($17.3M) to make the salaries match. The Nets could also take Saikam/Anunoby/plus-plus. But if Brooklyn wanted more players, it would have to include more salaries from its side in the trade.
The different options that Toronto has for a Kevin Durant trade are fascinating and likely makes the Raptors the lurker that Woj says they are. It's definitely a team that NBA fans should keep an eye on as the KD saga plays out for the next few weeks.
All contract figures courtesy of Spotrac