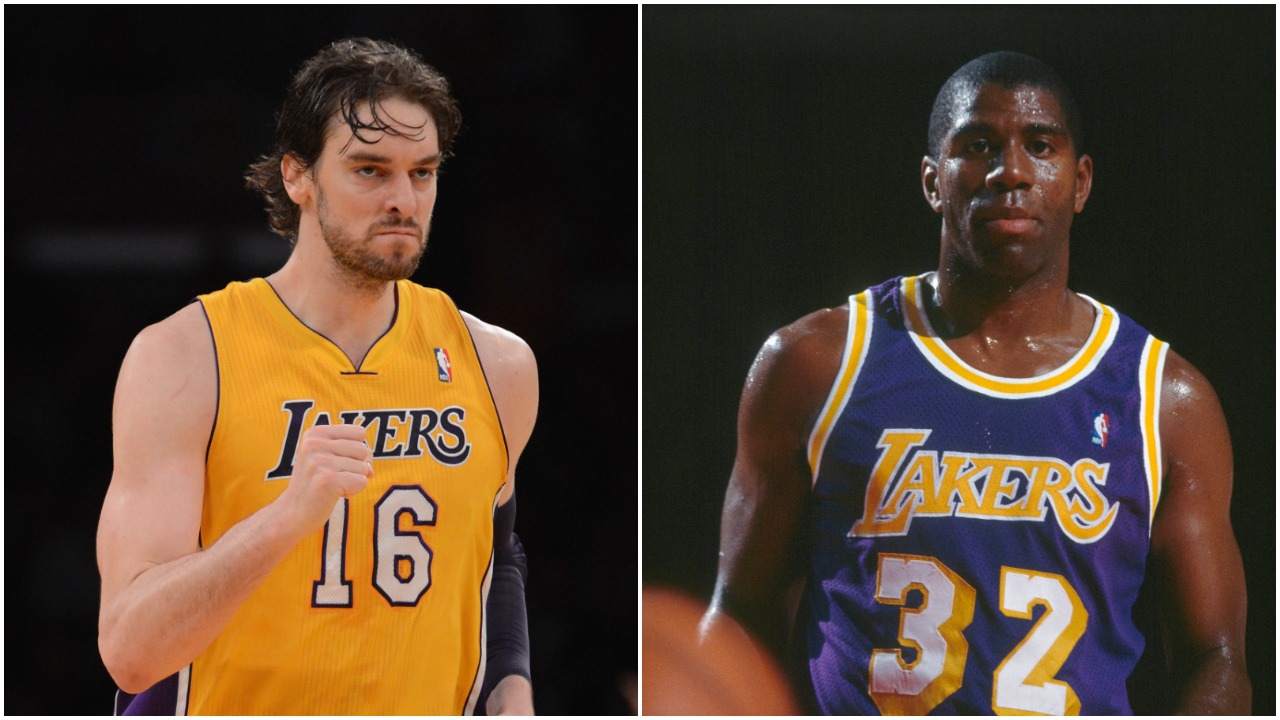 11-Year-Old Pau Gasol Vowed to Become a Doctor to Find a Cure for AIDS the Day Magic Johnson Announced He Had HIV
Pau Gasol wanted to become a doctor the moment he found out Magic Johnson had contracted HIV.
On November 7, 1991, Magic Johnson made the shocking announcement that he had contracted HIV, the virus that causes AIDS, and would immediately retire from the Los Angeles Lakers. As he was one of the biggest sports stars in the world at that time, the news sent shockwaves all around the globe. While much more treatable today, at that time, HIV was seen as a death sentence, and millions of kids who idolized Magic were heartbroken by the thought of losing him. One such youngster was a 12-year-old from Central Illinois who grew up to be a sportswriter. That would be me. But another was an 11-year-old boy from Spain who vowed to become a doctor to find a cure. And that would be a young Pau Gasol.
Pau Gasol vowed to become a doctor when Magic Johnson announced he had HIV
vid
Born in Barcelona, Spain, in 1980, Pau Gasol was a huge Magic Johnson fan growing up. Of course, Magic owned the decade as he became one of the biggest stars in NBA history and led the Lakers to eight NBA Finals appearances and five championships. He made a ninth appearance in the Finals in 1991, losing to Michael Jordan and the Chicago Bulls.
But just ahead of what would have been his 13th NBA season, Johnson learned he was HIV-positive after taking his team physical. He didn't appear in the Lakers' first three games of the 1991-92 season, and on November 7, 1991, he told the world why.
Gasol took the news extremely hard and vowed to become a doctor as soon as he heard Magic's announcement so that he could find a cure for AIDS. But it's not as if Pau was a stranger to the health care field as his mother was a surgeon while his father was a nurse administrator. Gasol wanted to somehow help his idol, and as rumors swirled about how Magic had contracted HIV, Pau never changed the way he thought about him (h/t Los Angeles Times).
"My perception didn't change when I heard the news. It was just sad to hear that he was retiring from basketball and that his life was in serious risk."

Pau Gasol on Magic Johnson
And Gasol was truly serious in his declaration.
Gasol enrolled in medical school before choosing a basketball career
vid
As Gasol grew up, he became one of the best young players in Spain. He started playing for FC Barcelona's at the age of 16 and helped his country's national under-18 team to wins in the highly prestigious Albert Schweitzer Tournament and the FIBA Europe Under-18 Championship.
But a career in medicine was still on his mind, and he enrolled in medical school at the University of Barcelona at the age of 18, all the while still suiting up for FC Barcelona's senior team. After a while, Pau had a decision to make as he became one of the best players in all of Europe. He obviously chose basketball and was eventually taken with the third overall pick in the 2001 NBA Draft by the Atlanta Hawks, who then traded him to the Memphis Grizzlies, with whom he became the first non-American to win NBA Rookie of the Year.
Gasol spent the first six and a half years of his career with the Grizzlies, making one appearance in the NBA All-Star Game, but his career truly took off when he was traded to Magic's Lakers in 2008.
Pau won two titles with the Lakers and was once given an award named for Magic Johnson
vid
When Pau was traded to LA in February 2008, one of the first people to greet him at the Lakers' practice facility was Magic, who Gasol says flashed him that trademark smile. At the time, Johnson was still a part-owner of the team, and Pau gave him plenty of reasons to smile as he and Kobe Bryant led the Lakers to three consecutive appearances in the NBA Finals and back-to-back championships in 2009 and 2010.
But Gasol was always so much more than just a basketball player. While still with Memphis, he became an ambassador for UNICEF, with whom he visited South Africa and visited families affected by HIV and AIDS, and has consistently worked with St. Jude Children's Research Hospital. And that desire to be around medicine never went away.
While with the Lakers, he was a frequent visitor at Children's Hospital Los Angeles. But he didn't go just to sign a few autographs and brighten the day of some of his young fans. Yes, he did those things, but he also scrubbed up and sat in on spinal surgeries and absorbed as much information as he could. The staff was so impressed with the knowledge Gasol already possessed that one surgeon said he and his fellow doctors treated him "like a surgical colleague."
Pau has won numerous awards for his charity work, and in 2015, following his first season with the Bulls, he was given the Magic Johnson Award by the Professional Basketball Writers Association, who once said Gasol "personifies everything that is good about the NBA and their charity projects.
Gasol has long used his celebrity status to help others, as has Magic, who, by the way, is in great health three decades after his frightening announcement. While there's still no cure for HIV, it's much easier to control with proper medical care. And who knows? With Pau's basketball career seemingly at an end, perhaps he'll attempt to finish the fight he wanted to start on Magic's behalf all those years ago.