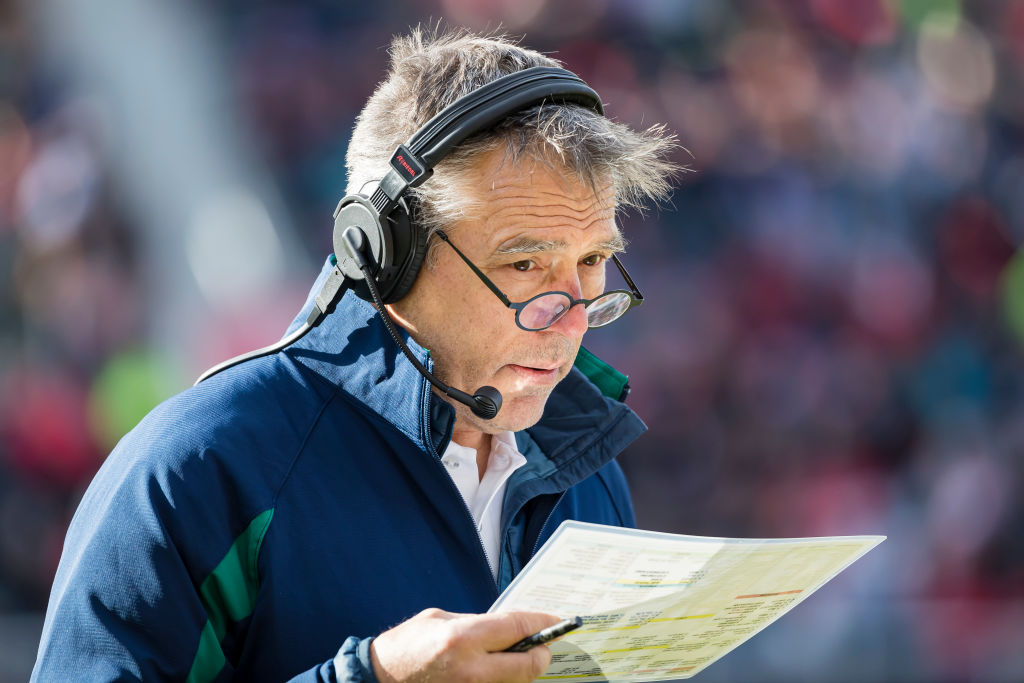 A Smart XFL Move Completely Shocked Coach Jim Zorn
XFL coaches didn't realize that a major policy difference from what the NFL does would expose their secrets.
You might think that a former quarterback Jim Zorn, whose professional career goes back to 1975, would be used to being on TV by now.
You'd be wrong.
Zorn was stunned as he watched tape from the opening weekend of XFL game telecasts. What he saw is the very reason why casual football fans who think they had their fill of football by the time Super Bowl LIV wound down might want to reconsider and give the XFL a look.
XFL coaches were live and worldwide on the opening weekend
The XFL, which has four games scheduled each weekend of the regular season, mimics the NFL by showing all of its games on TV. What's radically different in the XFL telecasts is that ABC/ESPN and Fox are peeling back the curtain to let viewers see and hear the stuff they don't get access to in NFL broadcasts.
There may not be great insight from in-game sideline interviews with winded players seconds after 60-yard interception returns, but fans get a treat by being allowed into the replay booth as off-field officials review plays to confirm or overturn calls on the field.
The audio captures the replay officials talking to the referee and even to themselves as they dissect the video. Viewers know exactly why a ruling was upheld or overturned, which they don't get from NFL games in which the network's own rules analysts are sometimes left guessing.
Best of all, though, is that XFL cameras and microphones are giving fans unprecedented access to the coaches, to levels that Jim Zorn did not realize.
XFL coach Jim Zorn thought he had seen it all by now
At 66 years old, Jim Zorn can be excused for thinking he had seen and done it all in pro football. The Seattle Dragons head coach and general manager went from undrafted quarterback in 1975 to a 13-season pro career, including nine seasons behind center with the Seattle Seahawks.
He moved right into college and professional coaching, including as head coach of the Washington Redskins a decade ago.  He came on board with the XFL after having been away from work on the sidelines since 2012.
Along the way, he learned to keep secrets. Copies of game plans were closely guarded, signals and play-calling methods were changed frequently during the season and practices were closed.
And then the XFL put a microphone on him and the other XFL coaches for opening weekend, letting viewers – and future opponents – learn everything about the playbook and what was about to happen on the field.
Other coaches concurred that they'll have to be more cautious about what they say during games, but if cautious was what XFL executives wanted then they wouldn't have dared to debut the league a week after the spectacle that is the Super Bowl.
NFL, college coaches go to great lengths to keep secrets
What was especially funny about Jim Zorn on opening weekend was that he could be seen covering his mouth so that no one on the other sideline could read his lips as he made play calls. All the while, the network microphones were picking up every word he uttered.
Zorn comes from the old-school, secretive culture in which head coaches and coordinators have always held the laminated play sheets over their mouths to foil lip-readers as part of the chess game within the football game.
It's a back-forth battle in which teams have been known to go so far as to sign players recently released by others to gain insight into an upcoming opponent.
College and NFL coaches also employ video experts and stats analysts who break down the film of next week's opponent to spot play-calling tendencies and substitution patterns that might tip them off to what's coming in a particular situation.
Taking the spy vs. spy game a step further, many teams also employ quality control coaches whose primary responsibility it is to look at their own club's game video to spot patterns that sharp-eyed opponents could exploit.