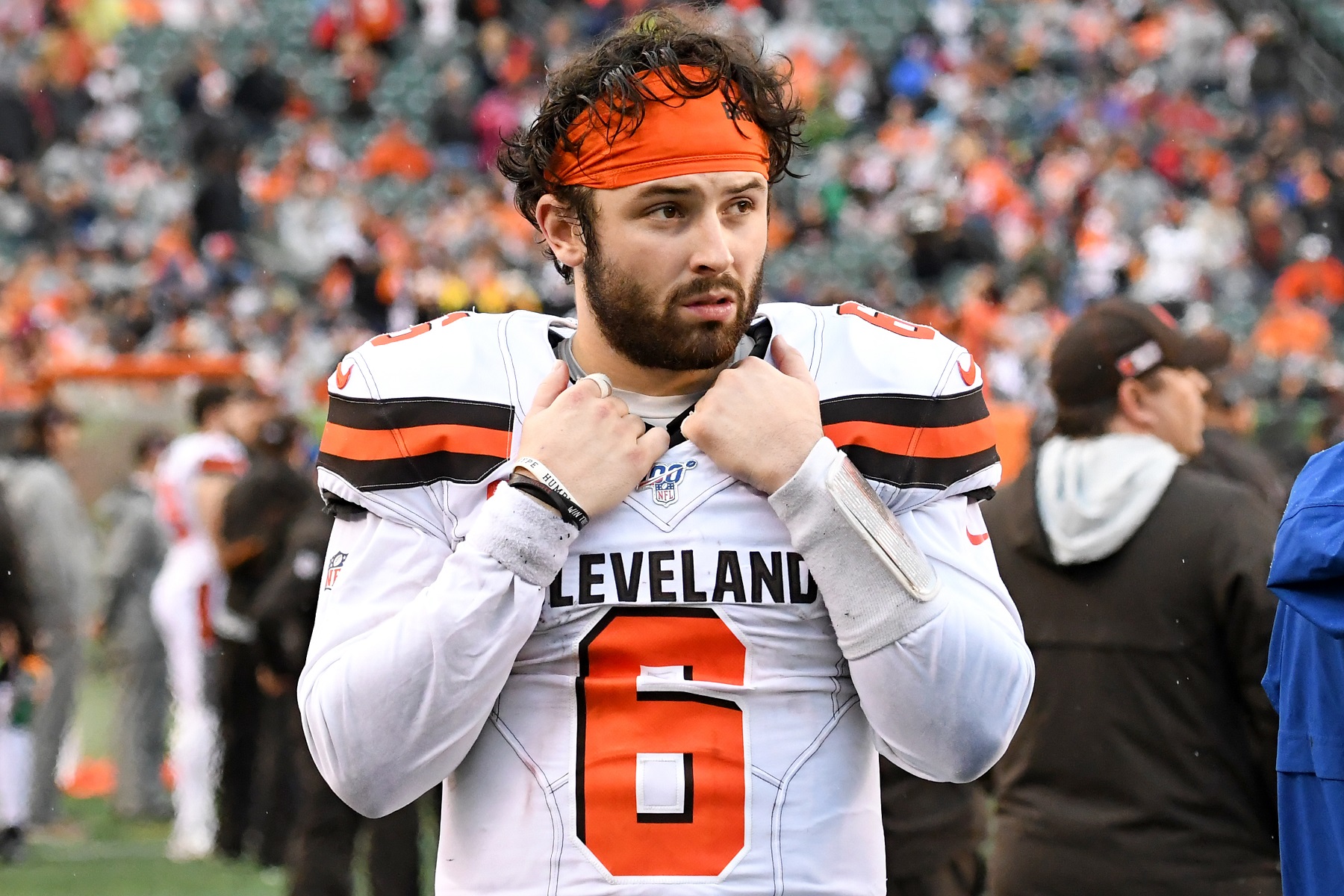 Baker Mayfield Reveals His Embarrassing Past … and Gets Paid for It
Baker Mayfield will need to be all business on the field in 2020 for the Cleveland Browns, but he did find time this summer to do a funny commercial.
Baker Mayfield is aware that this needs to be the season he starts throwing more touchdowns on the football field to match the endorsement home runs he hits off it. That hasn't stopped the Cleveland Browns quarterback from sneaking in at least one more good commercial before he gets down to football business.
Baker Mayfield is a money machine
The Cleveland Browns will have a decision to make at the end of the upcoming NFL season. With quarterback Baker Mayfield going into the third year of his four-year, $32.68 million rookie contract, the Browns must decide whether to pick up the very expensive fifth-year option.
Given his body of work thus far, the fifth-year option could be a difficult call. After 27 touchdowns and 14 interceptions as a rookie, Mayfield's ratio slipped to 22 TDs and 21 picks last fall as the Browns went 6-10.
That hasn't lessened his marketing appeal. The Athletic examined marketing data that the compiled and found that Mayfield ranked ninth last year among active players in earnings from NFLPA licensing at more than $1.1 million. That's separate from his outside endorsements from Hulu, BodyArmor, and Progressive that amount to many millions more.
BodyArmor might be Baker Mayfield's most lucrative deal
Although Gatorade remains the best-known and best-selling sports drink on the market, BodyArmor is coming on strong. The business was co-founded by Mike Repole, who made his first fortune with the Smartwater and Vitamin Water brands that Coca-Cola snapped up in 2007. He moved on to Pirate's Booty, where he quintupled sales in five years and cashed out again.
Repole and Lance Collins then founded BodyArmor and made two savvy moves: They marketed the drink as a healthy alternative to other sports drinks and they let Kobe Bryant take a 10% stake in the company in 2014. Everyone's stake in BodyArmor went up 30-fold when Coca-Cola came calling again, this time taking a minority stake in 2018.
Annual sales are now reportedly in the $1 billion range, and BodyArmor has carefully assembled a lineup of endorsers, including Mike Trout, Christian McCaffrey, Trae Young, and Megan Rapinoe. Among others to sign on have been Baker Mayfield, Donovan Mitchell, and Diana Taurasi.
Many if not all of the athletes have taken equity positions in BodyArmor, making the potential payoff much more lucrative.
A fun new commercial
Athletes frequently tape a series of commercials during the offseason. The spots roll out over time during the season as advertisers hope to cash in on their endorser's success on the field. Peyton Manning was the king of that strategy over his final few years in the NFL.
Despite the pandemic, Baker Mayfield has likely shot a few commercials for the products he endorses. Based on the 30- and 45-second versions just released, here's hoping there are more BodyArmor commercials in the pipeline.
Mayfield and several other athletes, including Donavan Mitchell and Diana Taurasi, are displayed in montage fashion confessing to embarrassing facts about their past.
Mayfield admits to having worn jorts and rocking a mullet in the past. The punch line to the spot is the athletes also admitting that they used to drink the rival Gatorade product before switching to BodyArmor.